Gold
Big bang tax reform roils India gold demand as buyers adjust
August 3, 20171.2K views0 comments
Gold demand in India, which vies with China as the world's biggest user, will hold below a five-year average in 2017 as buyers adjust to a new uniform tax regime, according to the World Gold Council.
Consumption is seen between 650 and 750 metric tons this year, compared with the annual average of about 850 tons in the previous half decade, P.R. Somasundaram, managing director for India, said in a phone interview. Bullion demand was 666.1 tons last year and totaled 857.2 tons in 2015.
India is an important source of demand in the global gold market, and it's the second year in a row that policy changes may have restrained sales. In 2016, consumption was undermined after the government banned higher-denominated currency to boost financial transparency and bring unaccounted cash back into the banking system. This year, it's consumers adjusting to the tax overhaul, which makes Asia's third-largest economy a common market for the first time.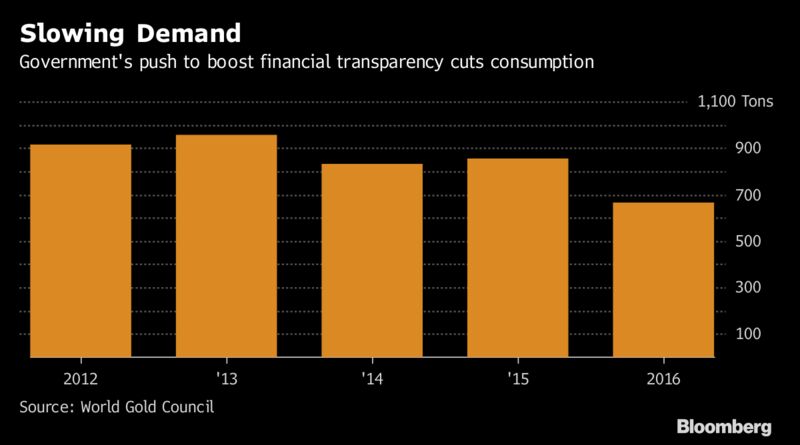 The uniform goods-and-services tax, which was implemented last month, is a major transition that will take about six months to complete, Somasundaram said by phone, speaking before the release of the council's quarterly global report. The shift won't just impact purchases of gold but also the buying patterns of other goods and working capital for businesses, he said.
The price of gold fell for a fourth day to trade at $1,262.14 an ounce as of 10:17 a.m. in London, while it declined 0.4 percent to 28,329 rupees ($445) per 10 grams in Mumbai.
Prime Minister Narendra Modi's reform has seen a patchwork of taxes and levies that varied state-by-state replaced with nationwide rates. The goods and services tax for gold was fixed at 3 percent, sweeping away more than a dozen domestic levies including excise tax and local tariffs.
As consumers and businesses adapt there are signs that the transition is retarding activity, and policy makers are responding. Earlier this week, a private gauge showed manufacturing output fell to the lowest since the financial crisis. On Wednesday, the Reserve Bank of India cut interest rates.
Gold inventories are plentiful at present, and consumers who've recently purchased are unlikely to do so again in the short term, the council said the report. As the market digests this gold and adapts to the new tax system, the environment should become more settled toward the year-end, it said.
India, which imports almost all the gold it consumes, saw a spike in purchases in the run-up to the new tax's implementation amid concerns that it may be set at a higher rate. Flows from overseas more than doubled to 248.5 tons in the three months to June, while demand rose 37 percent to 167.4 tons, it said.
"We will see things coming back after the remonetization, but there will still be that hesitancy about buying gold under the transparent system that is now playing out," Somasundaram said. Still, a good monsoon, which boosts rural incomes, should underpin demand in the second half, he said.
---
Courtesy Bloomberg news service