Government
$2.9bn tax hole looms over South Africa's finance minister as revenue gap likely to reach 40bn rand, survey reveals
October 23, 20171.5K views0 comments
Malusi Gigaba, South African finance minister faces a gaping budget hole and will have to consider cutting spending, raising taxes and selling state assets if he wants to avoid further rating downgrades.
According to the report by Bloomberg, the economy he oversees is hampered by a deteriorating growth outlook, partly stemming from a battle for control of the ruling party that's stoked political uncertainty and deterred hiring and investment. Gigaba will outline policy changes in his first mid-term budget speech on Wednesday at a time when economists estimate he is confronting a 40 billion-rand ($2.9 billion) revenue gap.
"We are entering a very dangerous phase in our budgetary process," said Lumkile Mondi, an economics lecturer at the University of the Witwatersrand in Johannesburg. "It will be extremely difficult to stick to expenditure ceilings and deficit targets. There will be a push towards moving things off balance sheet. Gigaba is in a very, very hard place and he knows it."
While the minister is encountering political pressure to allocate money to the national airline and other cash-strapped state companies, a failure to keep government debt and the fiscal deficit in check would put South Africa at risk of having its local debt lowered to non-investment grade — a move that may trigger massive fund outflows. S&P Global Ratings and Fitch Ratings Ltd. cut the nation's foreign-currency debt to junk in April after President Jacob Zuma appointed Gigaba to his post in place of the respected Pravin Gordhan.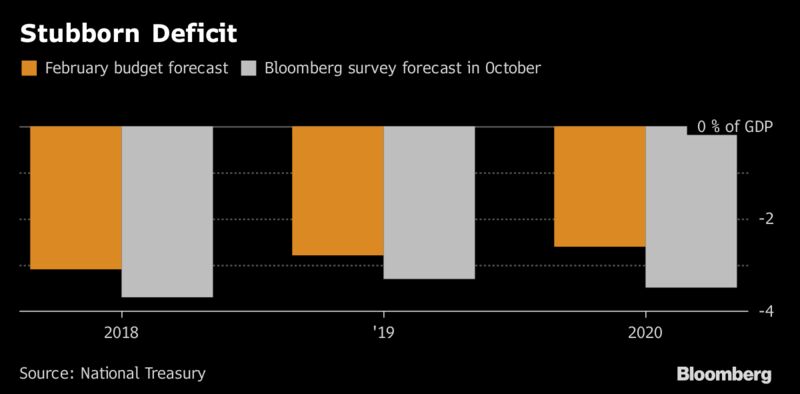 The rand was little changed at 13.6542 per dollar by 7:47 a.m. in Johannesburg on Monday.
Gigaba said in an Oct. 12 interview the economy is going through a rough patch and the government needs measures on the revenue side and the expenditure side to achieve its budget targets.
Bloomberg surveys conducted Oct. 12-18 illustrate the extent of the challenges confronting the minister:
The economy is expected to grow 0.7 percent this year and 1.2 percent in 2018, according to the median estimate of 22 economists. That's well short of the February budget's forecasts of 1.3 percent and 2 percent expansion.
The revenue shortfall for the year through March 2018 is set to reach 40 billion rand, the median estimate of 11 economists shows.
The budget deficit for the current fiscal year is seen at 3.7 percent of gross domestic product, more than half a percentage point higher than the February budget's forecast, according to the median estimate of 16 economists.
Gigaba may reveal how much money he intends to raise through additional taxes and asset sales, while saving the details for next year's budget speech, said Dennis Dykes, chief economist at Nedbank Group Ltd.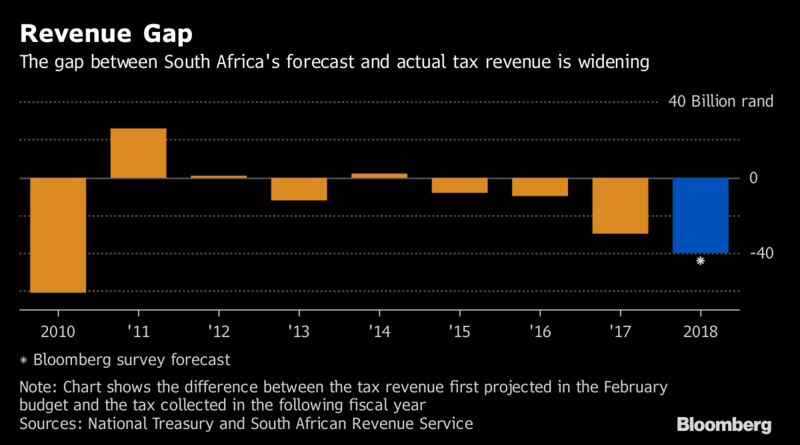 While higher taxes, spending cutbacks, and asset sales could help South Africa get a temporary reprieve from ratings companies, the country needs a shift in its fiscal policy, said Arthur Kamp, chief economist at Sanlam Investment Management in Cape Town.
"The Treasury can only do so much," he said. "There has to be a very strong drive in other government departments and state-owned entities to improve governance, to improve efficiency and to improve their financial situations. If that doesn't happen you will just continuously be looking to sell off the family silver."
Gigaba's speech comes less than two months before the ruling African National Congress is due to elect a new leader, who will also be its presidential candidate in 2019 elections when Zuma steps down. Deputy President Cyril Ramaphosa and Nkosazana Dlamini-Zuma, the former African Union Commission chairwoman and Zuma's ex-wife, are the front-runners for the post.
"What we do need, is a bit of a miracle in December and that the person who comes in just starts cutting the fat," Nedbank's Dykes said.