Companies
Admirals expands global footprint with opening of New Office in Nigeria 
May 18, 2023130 views0 comments
By Business A.M.
Admirals, a global fintech leader with 22 years of experience and expertise, has announced the establishment of its physical presence in Nigeria, aiming to further position itself as a major financial services provider in the African continent.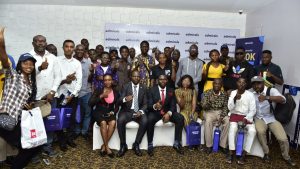 With the launch, Admirals is expected to offer a wide range of financial products and services to the Nigerian traders, such as trading with Stocks, Forex and CFDs on indices, metals, energies, stocks, bonds and digital currencies, as well as boosting financial literacy in the region with the help of its educational materials such as courses, webinars, seminars, e-books to name a few.
Expressing his excitement at the launch of the inaugural event held recently  in Lagos,
Boriss Gubaidulin, Admirals' Africa director said the organisation  is extremely thrilled to have opened another hub in the African continent. The veteran in the financial industry reiterated the firm's end goal of enhancing financial accessibility and literacy for traders in the local region by providing them with strong financial services and support.
"Being a well-regulated and renowned fintech company, we plan to expand our conventional trading by granting access to international financial markets and educational resources in Nigeria. Admirals is looking forward to helping the growth of our traders, investors, partners and anyone who is interested in expanding their financial knowledge," he said.
On his part, Davies Babalola, Admirals' Nigeria manager and sales team lead, remarked that the company has received significant traction from traders in Nigeria, prompting it to establish a local presence to better support the community of local traders in Nigeria.
"With this launch we are reiterating our goal to allow traders to safely engage in online forex trading in developing countries and diversify their investment portfolio with our tailor-made solutions," he added.
The Admirals launch event was a great opportunity for attendees to learn about the Admirals brand and the world of trading and investing. Attendees were also informed about the Admirals special trading features such as the Welcome bonus and the No Deposit Bonus, for new and advanced traders to sign up and start trading.