Commodities
AFEX report sees spike ahead for commodities prices in 2022
January 31, 2022450 views0 comments
On carry-over inflationary pressure from 2021
The prices of major grain commodities in Nigeria will experience a bullish trend this year driven by the carry-on effect of the inflationary pressure on food prices that marked 2021, says AFEX, a leading commodities market player, in its annual commodities outlook report for the 2022 crop production and market year.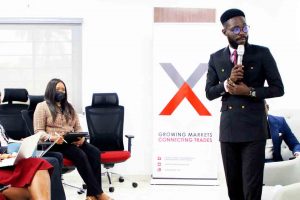 The report titled, "Annual Commodities Review & 2022 Outlook," asserted that the combination of a rise in energy prices in the global market, which ultimately results in a hike in farming inputs, such as fertilisers; increased demand that has surpassed supply levels across the country; FX rate deterioration; market uncertainty exacerbated by the fact that 2022 is a pre-election year; hoarding activities by traders in expectation of higher valuations, are dominant factors that would lead to a significant surge in the prices of grains during the new 2021/2022 trading season.
Commodities performance in 2021
In its 2021 review of crop production and prices in the global market, the report noted that global food prices rose steeply to hit record highs, noting that extreme weather conditions across production regions,  synchronised global economic recovery, COVID-19 induced disruptions in supply activities, all contributed to pressured prices, income losses and exacerbated food insecurity in 2021.
It noted that this transcended to a similar trend in Nigeria's domestic market as prices of staples and export commodities closed the 2020-2021 marketing year with record high returns.
According to the country's first licensed private commodities exchange, domestic commodities were "roiled" with huge swings and volatility as staples like soya beans, maize, and sorghum reached all-time high prices of N370,305; N275,565; and N268,665 per metric tonne, respectively.
"As we had anticipated at the beginning of the season, a strong combination of poor weather and production conditions, poor macroeconomic conditions, and capital control policies by the Central Bank of Nigeria triggered a massive rally in prices," the report stated.
Production and market expectation for 2022
In its outlook for 2022, AFEX predicts that the new Omicron variant will have a negligible impact on Nigeria's commodity supply chain.
It also stressed that the naira's depreciation against the US dollar and the CFA Franc has raised demand for most staple commodities, particularly sorghum. This is expected to lift prices of export commodities including cocoa, sesame, ginger, and cashew.
AFEX listed other upside risks to domestic commodity prices in 2022 to include; insecurity, government policies and the inability to close the supply shortfall by increasing harvest from dry season farming.
David Ibidapo, senior research analyst at AFEX Commodities Exchange, speaking at the report launch, observed that unresolved issues across the value chain which include low absorption capacity, infrastructure gap, hoarding activities by marketers, translatory effect of FX movement, and insecurity will continue to weigh on supply and pressure on prices.
He added that the elongation of export restrictions of fertilisers in China and Russia (two dominant  producers/exporters of the product) and failure to resolve the Russia-Ukraine conflict, will have a translatory effect on energy prices, which will ultimately affect fertiliser production and swing food prices upward.
"In 2022, we anticipate a continuous rally in the prices of most of the food commodities, driven by heightened demand and relatively bleak outlook for the Fx market and an increase in cross-border trade threatening the current available supply of food commodities," Ibidapo said.
He further projected 85 percent increase in maize price, 25 percent rise in the value of soybean, 61 percent increase for sorghum, while paddy rice, cocoa and ginger are expected to rise by one percent, 14 percent and 29 percent, respectively.
Nigeria's agriculture performance and challenges
Reviewing the performance of Nigeria's agriculture sector in 2021, the report showed that the sector expanded by an average of 1.60 percent in the first three quarters of the year and contributed an average of 25.35 percent to the country's gross domestic product (GDP) to emerge the country's largest GDP contributor. 
Although the expansion was lower than the 1.72 percent recorded in 2020, AFEX noted that it depicted some resilience compared to other significant sectors such as industry and services.
While the CBN seeks to boost the domestic production of staples through various policies and interventions such as restricting access to FX for grain importation, the Anchor Borrowers Programme (ABP), and many others, the report showed that production remains way below consumption demand.
Insights into the demand-supply dynamics for grains in the country show a production weakness and a grossly underperforming yield-per-hectare in comparison to soaring demand, one of the factors resulting in the continuous surge in prices of food commodities in the country.
Ibidapo pointed out that the country produces about 30 million metric tonnes of grains annually but due to poor storage systems, can only store five percent of total production, a factor that hinders production/supply levels.
The senior research analyst also noted that budget allocation to the agriculture sector is low compared to the Maputo Declaration, which stated that at least 10 percent of the country's budget should go into the agricultural space.
Akinyinka Akintunde, chief operating officer (COO) at AFEX, said core producers of basic food commodities who are majorly smallholder farmers still face low access to finance and high input cost.
According to him, the poor production capacity and the removal of subsidy for fertiliser eroded the production capacity of farmers and further exerted pressure on the already heated market.
Akintunde emphasised that the commodities market in 2022 presents a good position for investors to trade.
He, however, posited that to achieve food security and shift towards lower food prices, farmers must have easy access to finance and warehouses/storage facilities to increase productivity.
The AFEX report recommended better access to financial services, the provision of technology infrastructure, improved storage facilities, and a more concerted effort from both the public and private sectors to improve the productivity of farmers across the major grain producing regions in Nigeria.
It added that the African Continental Free Trade Area (AfCFTA) could play an important role in facilitating intra-regional trade in agri-food products, thereby stabilising food prices and improving food security.