Oyeleye
Africa and the decade of COVID-19 (3)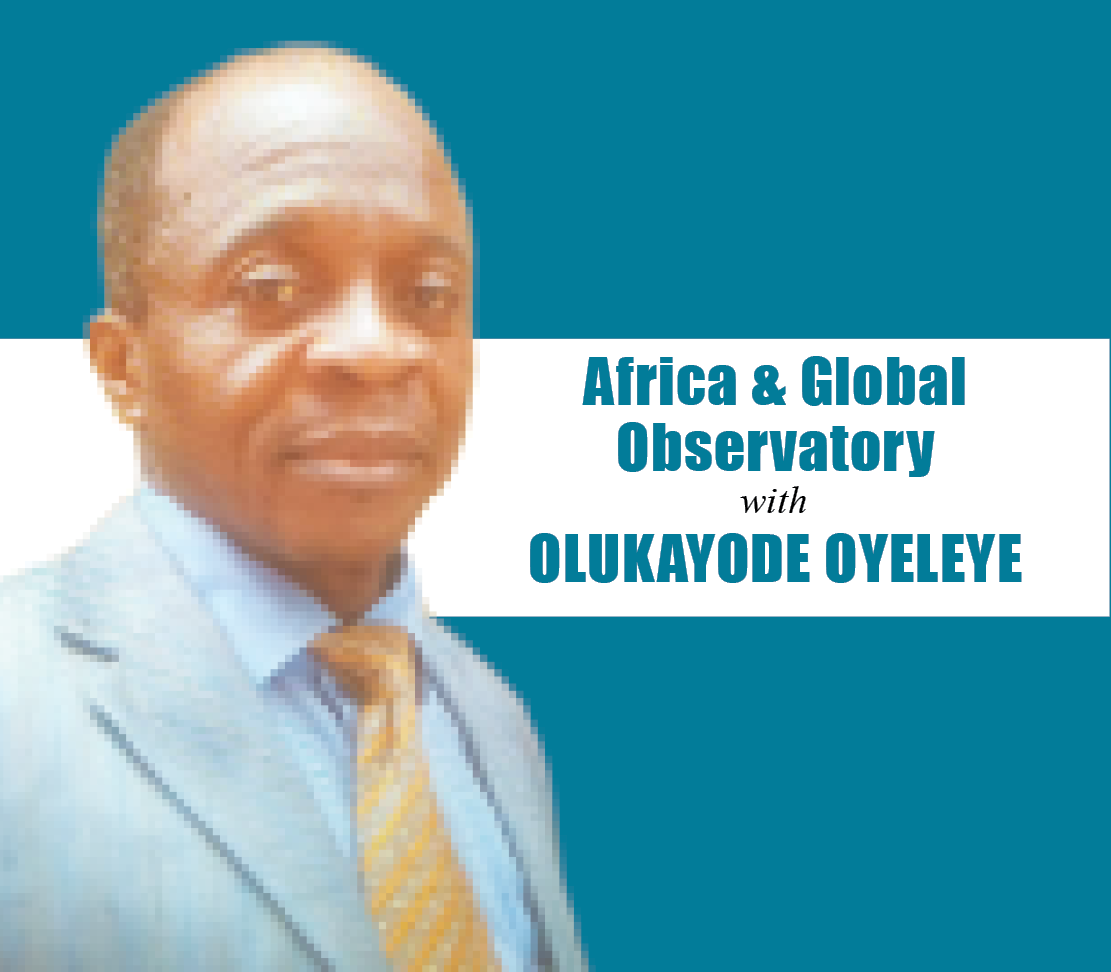 Dr. Olukayode Oyeleye, Business a.m.'s Editorial Advisor, who graduated in veterinary medicine from the University of Ibadan, Nigeria, before establishing himself in science and public policy journalism and communication, also has a postgraduate diploma in public administration, and is a former special adviser to two former Nigerian ministers of agriculture. He specialises in development and policy issues in the areas of food, trade and competition, security, governance, environment and innovation, politics and emerging economies.
February 15, 2021830 views0 comments
ECONOMIES IN AFRICAN COUNTRIES are about to experience some definite changes which could prove positive or negative in the future. But how things turn out will depend so much on how the present is managed by the leaders. There are genuine concerns about what is likely in the position of Africa in the unfolding global economy. The continued pre-eminence of commodities in Africa's international trade does not seem to bode well for the continent for a number of reasons. Commodities – whether agriculture or minerals – by their very nature do not attract significant revenues in their raw, unprocessed forms. To that extent, Africa is standing on a weak ground and is operating from the position of vulnerability. If that does not apply to Ghana's cocoa, Rwanda's tea, Sudan's Gum Arabic or DR Congo's timber products, then what else applies?
Some additional comments on the Central African country of DR Congo are considered appropriate here. The significance of DR Congo's pristine forests has been acknowledged globally by environmental campaigners who say unequivocally that the preservation of Congo's forest (and that of South America's Amazon) is essential and necessary in the world's quest for means of slowing down the rate of global warming and keeping the temperature increase at 1.5oC or below. But Congo is in dilemma. A poor country, easily classified as the second poorest in the world, is still in the woods economically. Despite its vast land, which makes it the second-largest country in Africa, with an estimated area of 2.3 million square kilometres, poverty still roams freely, as United Nations Development Programme (UNDP), in 2020 report, classified DRC as having a dismally low a human capital index (Human Development Index or HDI) score of 0.480 and ranking 175th out of 188 countries. Considering an average annual income of $785, an HDI of 0.435 and a ranking as the 176th least-developed country 2016, no appreciable progress has been made. The livelihoods challenge and the need for individuals' economic survival have placed the fragile natural resources in DRC under siege and increasing strain, with immediate and long-term consequences.
DRC's desperate situation predisposes it to frantic options in the quests solutions, much of which is short-term. This is rather a contradiction in a country reputed to produce 60 per cent of the world's supply of cobalt, the mineral used to produce lithium-ion batteries used for powering electric cars. It is troubling to know that a country so pivotal to the emerging global green economy is being so mindlessly exploited by cobalt value chain actors while it suffers environmental degradation and child labour, with little financial returns to show for it. The same can be said to the insidious but gradual destruction of the prized forest by clandestine logging and loading business magnates at home and as representatives of foreign business interests. The weaknesses of the regulatory authorities therefore become apparent, with the prevalence of a lot of sharp practices that further put the DRC in jeopardy as a country. The pride of a green Africa is therefore becoming gradually eroded. The outbreak of Coronavirus (COVID-19) pandemic has further weakened the global economy, making poor countries even more vulnerable. The coming of COVID-19 occurred when hunger or undernourishment was rising, such that as many as between an additional 83 million people and possibly 132 million people may have been going hungry since 2020, according to the latest UN estimates.
The accompanying economic recession, triggered by the pandemic, could have driven the DRC further into the mire of poverty, as individuals and households face desperate economic situations which must have taken a toll on their access to quality food and basic health services. Without any vibrant manufacturing or service sector jobs to keep the economy afloat, DRC will most likely fall for any economic carrot dangled at it by foreign "investors" who may be operating with impunity. The DRC may be unlikely to meet the core Sustainable Development Goals (SDGs) before the target date. For instance, the Goal 1 and Goal 2 on zero poverty and zero hunger respectively might remain a mirage in DRC for a long time to come as the country grapples with the realities and complications of COVID-19, a pandemic that may remain for much longer than pundits could imagine. The UNDP has noted that "broken societies put people and planet on collision course." In DRC's particular case, China has become an influential and overbearing trading partner, the largest importer of tropical wood and is the destination of more than three-quarters of Africa's timber exports.
This demand for Africa's wood has come under scrutiny and has raised international concern about the environmental and socioeconomic impacts of Chinese timber supply chains in Africa, particularly in the timber industry in the Congo Basin and the Miombo Woodlands. The growing number of Chinese private logging companies and traders facilitating timber exports to China has caused some disquiet as they operate according to the local standards of legal, customary or informal practices.  Research on Chinese timber supply chains has reportedly shown that "illegally harvested timber finds its way to China through complex networks of large and small Chinese and non-Chinese companies, local loggers operating in largely informal local timber markets, and local elites connected to the trade. Though such practices may infringe on state laws, they may involve active participation from local small producers and may be aligned with local informal sector norms." Tropical forests and the people who depend on them are particularly vulnerable to changes in the sources and volumes of demand for resources including timber, minerals and fertile land for agriculture," observed the Centre for International Forestry Research (CIFOR). It did research on the impacts of globalised trade and investment on forests and communities seeks to understand the main global trends affecting resource and capital flows and their impacts.
The involvement of CIFOR in regional initiatives on the African continent could help policy makers gain recognition on the "long-term economic and ecological impacts of foreign investment as a major hindrance to the forestry sector having a voice in decisions, with potentially significant consequences for forests." As Africa implements the free trade area agreement, it is evident that many countries will have a hard time trading within that framework at the onset, depending on the peculiarities of their economies. The Central African region remains highly vulnerable and weak, based on the preponderance of their commodities as their major items of trade, particularly in their raw, unprocessed forms. More worrisome, particularly for the DR Congo, is the foreboding of environmental degradation as the country's cherished forests give way to woods for export to China. The continued exploitation of DR Congo's forests for wood export could turn out to predispose the country to environmental and economic problem if no policy measures are evolved to curb or regulate such transactions. Left unchecked, the problems have a way of mutually reinforcing as the purchase of the woods by the Chinese would create financial incentives for the locals to embark on restless measures and sharp practices as a way of making money. This, in turn, could fuel violence, leading to insecurity and arms dealing, emergence of non-state local militias as some rival groups would spring up, trying to outdo each other. Ultimately, the wood business itself could become the springboard for internecine crises and violence, the type that the government may find difficult to rein in. The Central African region could become a hotbed of social and security crises, which could also spread to other regions, further complicating the security crises in the continent.
For a long time to come therefore, Africa will need to redefine its perception and approach to trade, giving cognisance to those trading activities that entail the exploitation of nature and selling the commodities in primary forms. Sustainability is therefore a key issue that must be well embedded in African trade at the continental level and at countries bilateral trade with countries outside Africa. Rules of engagement must be firm. Future impacts of trading in some particular commodities need to be assessed and strategic partners need to be carefully chosen before they become entrenched and intractable problems emerge. Bilateral trade relations that would jeopardise the interests of African countries should be carefully and meticulously assessed for risks, threats and other forms of hazards, to enable African countries prepare to tackle such head-on. Unequal yokes in trading partnerships would need to be avoided or treated with utmost caution. Those that are environmentally destructive should be avoided as much as possible. The dilemma for Africa in this case is, what and where is the alternative? Without viable and reliable alternative means of revenue accruals, African countries that depend heavily on the extractive industry in agriculture and mining for raw commodities will continue to find it difficult to resist the temptation to embark on environmentally harmful practices. Economic recovery from the COVID-19 –induced recession will require innovative thinking and proactive actions. But for many poor countries and regions in Africa, this could be long in coming. Overall, the tasks of tackling these foreseeable crises need to be done through coordinated efforts of the African Union (AU) in the main. Other organisations from within and outside Africa can support the AU in its efforts. African countries should brace for challenging times ahead, occasioned by the COVID-19 and climate change, and shun commercial endeavours that undermine the environment as much as possible, or find ways to minimise their negative repercussions.