Oyeleye
Africa and the global intangible economy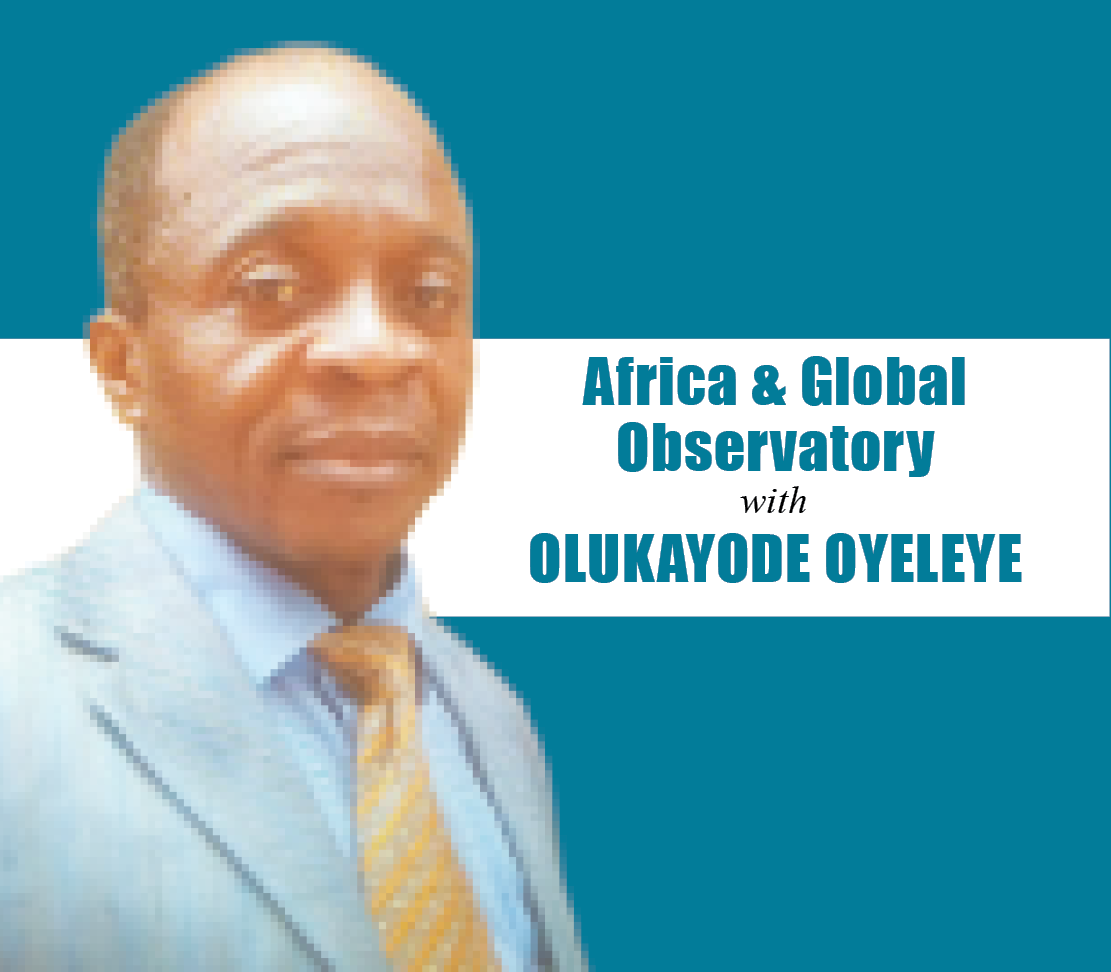 Dr. Oyeleye, a consultant, journalist and policy analyst, can be reached via:
oyeson2@yahoo.co.uk
Twitter: @OlukayodeOyele1
November 26, 20181.1K views0 comments
Much has been hyped about Africa's pride of place in agricultural potential. Some solace has also been found in the significant contribution of commodity exports from Africa into the global marketplace. Where Africa clearly lags behind are critical and very essential to the continent's prosperity, now and in the future. With Africa's lack of comparative advantage in manufacturing, it would have been expected that the continent would be well positioned to be a strong contender in the global intangible economy. Evidences to support Africa's progress in this direction are yet to emanate, not even from pretence!
While Europe, North America, Asia and the Pacific countries are capturing the values of intangible assets, albeit at varying degrees depending on the region, Africa is yet to show significant signs of spill-over effects of the world's emerging leading economic sector. Apart from the trickle down effects that brought about some notable changes, there are yet to be remarkable impacts in any way similar to what has transformed the economies of some hitherto third world countries that have climbed the ladder of progress and now rank among leading economies of the world such as South Korea, Singapore, India and, to some extent, China.
Brand Finance, a think tank, in its finding from a recent research, observed that, globally, although top brands have surpassed $50 trillion (£38 trillion) for the first time in history, three quarters of this remains unaccounted for on balance sheets. Its Global Intangible Finance Tracker (GIFT) report estimates global intangible value for leading brands, headed by Amazon, Microsoft and Apple, reached $57.3 trillion recently. This constitutes 52 per cent of the overall enterprise value of all publicly traded companies worldwide, which, it calculates, now amounts to $109.3 trillion, exceeding the $100 trillion mark also for the first time. Check out the bourses: NASDAQ, DOW, FTSE, SSE, DAX, S&P and some other indicators. Their outputs tell tales of roaring economies, which are roaring higher still.
While many of these roaring economies and their corporations are built on intangible assets, the same cannot be said of Africa's. A World Bank comparative study on manufacturing showed that, as at 2011, the value added per worker was $1,860.42 in agriculture, $25,911.85 in agriculture and $26,927.51 in services. Given that manufacturing and services sectors together take a small share of the economic pie in Africa, it is easy to discern, from labour perspective, what proportion of the global economic values accrue to Africa. Extending the analysis beyond labour, and into the wider market, the proportion of products of manufacturing and services that find their ways into Africa may be extrapolated with some educated guess. More difficult, however, are those of the intangibles.
Intellectual property supports much of the intangible assets that are now driving the global economy. It is reckoned to now account for over 87 per cent of all company value globally, in the forms of brands, patents, trademarks, franchises, goodwill, copyrights, data, software code, content, confidential information, regulatory approvals, product designs, inventions, R&D findings and industrial know how. Their relevance will continue to increase as the largest repository of value today and in the future. They, and not agricultural raw products, will continue to be dominant in the stock market.
In the ICT sector, Africa still continues to search for more great breakthroughs after MPESA in Kenya. Even then, the quantum leap of Snap Chat, Instagram, Whatsapp or UBER (with global influence) dwarfs the modest impact of the modest MPESA, with its regional influence within Africa. But MPESA was a commendable disruptive intangible economy that should motivate more tech savvy Africans to bring up more new interventions in various sectors, including health, agriculture, transportation, and marketing. Africa needs intangible assets that are internet-based, software programmes and other discoveries.
In any new innovation, like with MPESA, brand equity, which is considered an intangible asset because the value of a brand is not a physical asset but is ultimately determined by consumers' perception of the brand, can help create vibrant economies.  Africa needs to advance faster and take advantage of spill over effects of technologies from the intangible economies of the advanced countries. Quoting the World Economic Forum, "the global innovation race is heating up, with advances in artificial intelligence, blockchain, biotechnology, data storage and other cutting-edge technologies transforming sectors and global markets. To compete, companies can innovate in-house, or they can acquire others' innovations."
WEF reckoned that spending on R&D is one metric by which investments in innovation are measured. It referred to an earlier study by the European Commission, surveying 2,500 companies across the world that invested a combined €24 million in R&D in the 2016 fiscal year. Among them were 481 Chinese companies, including 105 Taiwanese companies. The report noted that 10 of them have now entered the top 100 global R&D spenders. As noted by Morgan Stanley Capital International (MSCI), over "80 per cent of the enterprise value of the S&P 500 today is in intangible assets such as patents and trademarks, as well as software, brands and IT acquisitions."
According to the United Nations Educational, Scientific and Cultural Organisation (UNESCO), "despite the progress made in terms of economic growth, Africa continues to present the paradox of widespread poverty in a continent that abounds in human and natural resources. There are several economic, political, social, cultural, environmental and technological factors that could explain this paradox. It is clear, however, that most African economies remain dependent on one or a limited number of products with low added value and are heavily dependent on foreign aid for the funding of their development; there is little intra-African trade in spite of the willingness to promote regional integration of economies and markets."
In every economic transformation, there are leaders and laggards. This situation creates inequalities in wealth, income and status. Sadly, this is now a reality when Africa is compared with technology-driven economies. Economic growth, wealth creation, resource accumulation, intellectual influence, and technical or socio-organisational innovations go hand in hand and are mutually reinforcing. The intangible – represented by software, socio-organisational processes, partnership or collaboration and, generally speaking, science and technology – is an inevitable part of economic processes and outcomes now. With the sea change in global economic dynamics, knowledge has become the most important raw material and knowledge access and knowledge sharing are key issues. Science and technology are leading drivers of the emerging economies.
Cultural industries can contribute to the development of African economies and need to be promoted and ranked among the most dynamic economic sectors. Given weak economies and the weak roles of the private sector, emphasis should be on critical infrastructure to leverage the intangible assets which can serve as basis for building robust economies. These can help the continent transit from low to middle-income, or even a high-income economy. But available findings are not yet encouraging. The outcome of collaborative efforts on data collection spanning over a 12-month period ending in May 2018, by the Open Technology Institute, Google Open Source Research and Princeton University, on 163 million internet broadband speed tests in 200 countries could be of some interest.
The data was compiled to measure accessibility and quality of broadband, still the most widely used form of internet access, in terms of average download speeds. "While European nations dominated the top ranks, it is Singapore that holds the number one spot on the survey. Countries in Sub-Saharan Africa are disproportionately concentrated in the bottom rungs, bar Madagascar, a country which landed the 22nd ranking, primarily attributed to an underwater high-speed bandwidth fibre optic cable." What does this tell us about Africa at present? UNCTAD's 2017 Economic Development in Africa Report acknowledged the need for diversified means of boosting the continent's economy.
With particular reference to tourism, the UNCTAD report stated that, "to better harness the potential of the tourism sector to contribute to inclusive growth, structural transformation and achievement of the Sustainable Development Goals, Africa should adopt policies that strengthen inter-sectoral linkages, boost intraregional tourism and promote peace." In addition to tourism, Africa needs to think through least cost areas of economies that could easily be scaled up or where it can take advantage of spill overs, to move the continent's economy forward. Jonathan Haskel and Stian Westlake, in their excellent book on Capitalism Without Capital: the rise of the intangible economy, offers some insight that African leaders must consider, take seriously and act upon urgently if the continent is to stand any real chance of catching up with other vibrant economies. It is not enough to be classified as emerging economies. Africa must begin to spawn its own intangible economies now.