Oyeleye
Africa as beautiful bride to Eastern, Western suitors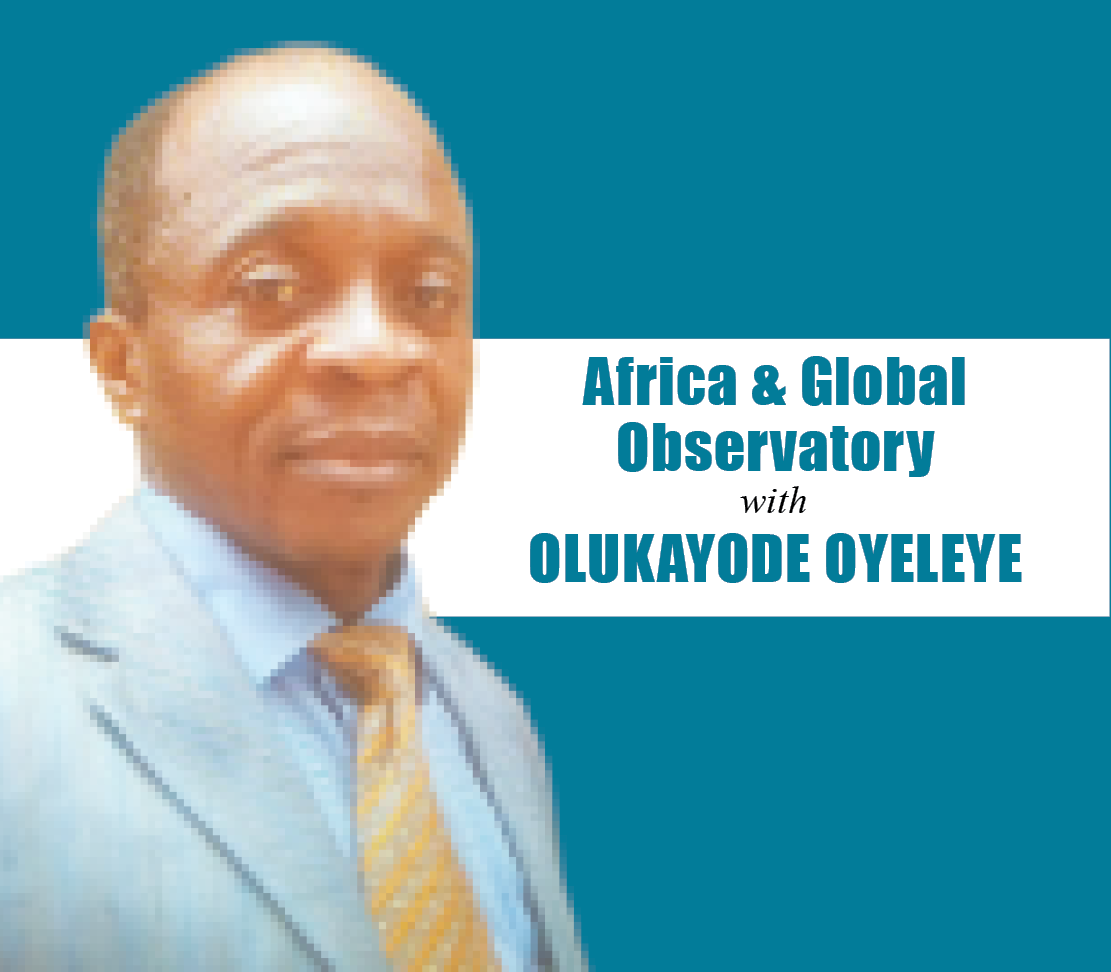 Dr. Oyeleye, a consultant, journalist and policy analyst, can be reached via:
oyeson2@yahoo.co.uk
Twitter: @OlukayodeOyele1
September 2, 2019575 views0 comments
MANY EVENTS happening in Africa are attracting the attention of the outside world. In particular, the major world powers have, in recent times, demonstrated their interests in a progressive Africa. China, Japan, Russia and the US have shown no little interest in the continent through their various investments, development or collaborative platforms.  While some have scaled back on their commitment to Africa, some others are steadily increasing it, albeit with varying degrees of involvement and a wide array of motives. The US, for instance, has recently slowed down in its emphasis towards Africa.
In spite of the US President's apparent indifference towards Africa, however, some established and institutionalised arrangements between the US and Africa still remain intact and functional. Take the African Growth and Opportunity Act (AGOA), created to enable Africa embark on reciprocal trade with the US. The AGOA legislation which incorporated all products (approximately 4,500) classified as Generalised System of Preferences (GSP), means that African countries qualifying for AGOA preferences were not subject to the periodic expiry (or renewal) of the GSP legislation, according to an AGOA source. Under AGOA legislation, "between 6,000 and 7,000 products are free of import duty into the US when produced in a qualifying AGOA beneficiary." 
The AGOA legislation, which was most recently extended to 2025, was initially enacted to cover the period of 2000 to 2008. It has been extended a number of times since then and, in 2015, through an Act of Congress, it now expires in 2025. On the private sector-led initiative, the Corporate Council on Africa (CCA), the leading U.S. business association focused solely on connecting business interests between the United States and Africa has been has been making some efforts. A unique representative of a broad cross section of member companies – from small and medium size businesses to multinationals as well as U.S. and African firms – the CCA, which co-hosted its 12th U.S.-Africa Business Summit with the Government of Mozambique in Maputo on June 18 to 21, 2019, was attended by more than 100 senior US government officials from eight agencies.
On Friday, another summit-level international conference regarding development of Africa was concluded in Yokohama, Japan, the world's third largest economy. The Tokyo International Conference on African Development (TICAD), which had its seventh conference this year, had the theme "Advancing development in Africa through people, technology and innovation." The three-day summit which was held from August 28 to 30, had 26 heads of states in attendance and six other countries represented by high level leaders that are not heads of state. Jointly organised by the government of Japan, United Nations, African Union Commission (AUC), World Bank and the United Nations Development Programme (UNDP), Japan, the host of TICAD 7, introduced itself to Africa as a "quality investor in human resource development."
Although Japan led the way in organising major high level summit meetings of top African leaders, in 1993, pioneering the efforts by Asian countries to engage directly with African leaders, TICAD was held every five years until TICAD5 in 2013. Thereafter, the hosting period was shortened to three years since TICAD 6 in 2016, during which it was held for the first time in Nairobi, Kenya in Africa. It was at Kenya that the Japanese Prime Minister Shinzo Abe, disclosed that Africa was going to benefit from a $30 billion investment package by 2018, including a $10 billion investment in infrastructural development. In addition, Japan has already granted more than $47 billion in official development assistance to African countries.
In this year's TICAD7, Prime Minister Abe reportedly pledged to aggressively promote private-sector investment in Africa in his opening speech but failed to set a new numerical target on funds to be funnelled to the continent. This was happening despite the perceived aversion of Japanese firms to invest in Africa as observed by experts in Tokyo, which at one time made it almost impossible for Abe to meet his earlier pledge for Japanese investments on the continent.
Africa is gaining attention. Two other cases in point are the Chinese Forum on China-Africa Cooperation (FOCAC) which was launched in 2000, and the India's India-Africa Business Forum (IBF), formed in 2010. Often attended by a majority of African leaders, as well as investors and development experts, these gatherings have been opportunities to negotiate international trade and to attract investors and official development aid (ODA). Africa has thus become a platform for testing relevance by these powerful nations. This is more so as Russia is now set to organise a similar summit meeting with top African leaders in October. With this, Moscow appears to be trying to expand its clout in Africa. That Africa is a beautiful bride, therefore, is a fact that should not be lost on the continent. The leaders within the continent must utilise this as a weapon, a resource or an opportunity.
Africa's untapped resources and its resilient economy are powerful magnets for investors. Rather than presenting itself as a beggar continent, Africa needs wield its charm, its beauty and its current attractiveness. Filipe Nyusi, the President of Mozambique, in his welcome address, to this year's CCA, noted that the number of people present and the decision to host the event in an African capital reflected the continent's strategic importance and economic potential. He pointed out that the $62 billion in investment between Africa and the U.S. last year was evidence of "a very encouraging picture of the growing trade and commercial relationship between the U.S. and African countries, and it is up to business owners on both sides of the continent to take advantage of them."
A degree of stability has been observed as African countries enjoyed relatively high real economic growth of 4.3 per cent on average from 2000 through 2017, which has prompted many Western and Eastern firm to believe in the future potential of African economies. "Africa is an important region both politically and economically. That perception is now shared" by top political and business leaders of the world, said Shinichi Takeuchi, professor and head of the African Studies Centre at the Tokyo University of Foreign Studies. The profile of China is looming large among the Asian countries in Africa in terms of investment and influence. Although Japan is currently unable to narrow the gap—in real financial terms—with China, it can provide a credible alternative. Chinese investment may be a challenge, but Japan can still capitalise on its long-standing commitment to Africa.
According to Nyusi, "Africans must continue to devise more assertive strategies to defend our interests and to negotiate as best as possible with our partners, creating the most appropriate conditions for the business environment, without forgetting the wealth of strategic partnerships that we can cement among us." But, Africa should be worried about the hotspots of poverty amidst plenty. It should be wary and worried about the huge transactional stakes of China in Congo's mineral or the golden fetters of loans that create unserviceable debt as in Djibouti. Above all, Africa should refuse to allow its land to be used for political or economic duel among the deep pocket nations in their pursuit of gains within the continent. Africa must define clear rules of engagement and must be prepared to hold these countries accountable for any misdeed.