Oyeleye
Africa: From 2020 quandary to 2021 anticipation (3)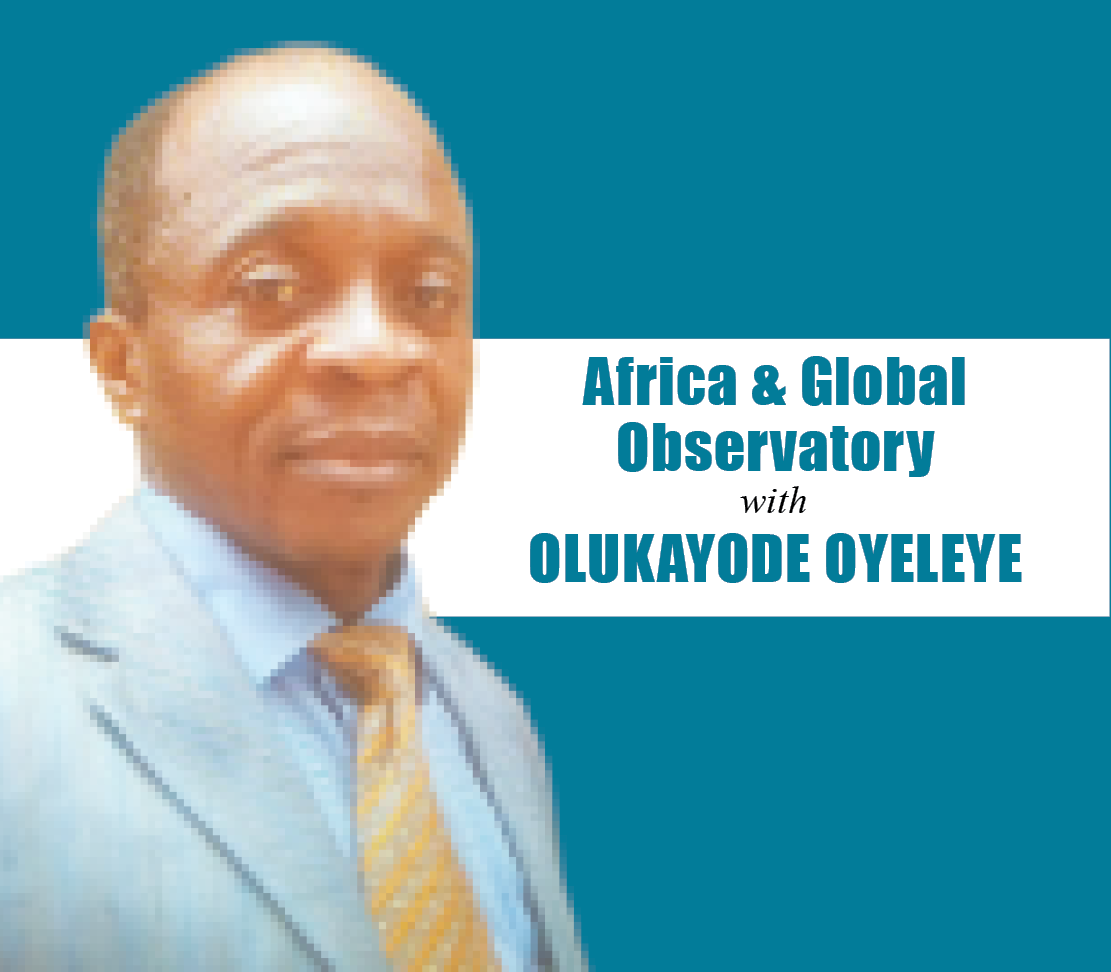 Dr. Oyeleye, a consultant, journalist and policy analyst, can be reached via:
oyeson2@yahoo.co.uk
Twitter: @OlukayodeOyele1
December 7, 2020635 views0 comments
ANXIETIES, FEARS AND uncertainties prevalent at the peak of COVID-19 restrictions all over the world are gradually subsiding as many countries are getting used to the disease, the measures outlined for controlling its spread and as they begin to understand some critical issues about the pandemic. These, however, are not truly indicative of decline of COVID-19 spread as many countries are either undergoing a second wave of restriction or are contemplating it as a way of reining in the infection. Although most countries in Africa embarked on draconian measures to enforce the lockdown order, few considered compassionate and practical measures to ease the burden of compliance on their citizens. A peculiar situation is that of the level of all-pervasive poverty and the need to help most people cope with the aftermath of restriction of movement for months.
One thing stands out, however, during and after the lockdowns. The stark reality of the challenges of feeding the people has become a central theme for consideration: by governments, research scientists, development workers and development finance institutions, humanitarian workers, faith-based organisations and many other groups. Two complex situations that were seemingly intractable before the outbreak of COVID-19 became more aggravated since the outbreak. In Africa, the intertwined problem of poverty and malnutrition has become amplified as a result of the complications introduced by the restriction of movements, which has significantly lowered productivity, reduced income and access to affordable food and good nutrition. It seems the restrictions imposed on people's movement and economic activities have moved African countries further away from the prospects of meeting the Sustainable Development Goals (SDG) of overcoming widespread poverty and hunger in ten years' time. These could, in turn, mean that the resilience of the economies of African countries is threatened as these SDG 1 and SDG 2 have more direct bearing on a greater population of Africans.
Out of the estimated 100 million people projected as vulnerable to extreme poverty as a result of COVID-19 crisis, according to a June 2020 report, sub-Saharan Africa is said to be the most affected region. In the continent, the larger percentage of people are in the informal sector, rely on daily wages of less than one dollar a day, thus living in poverty. These restrict their access to food. In some other cases, a fall in incomes, loss of remittances, and sometimes rising food prices predispose the poor to high levels of acute food insecurity. Many countries relying on tourism for a significant proportion of their national revenues, such as Kenya, Senegal, South Africa, Botswana or Egypt, may have to wait a little longer before such an industry is restored fully. The same applies to countries that are oil-export dependent, such as Angola, Gabon, Ghana or Nigeria. Falling government revenues will affect critical safety nets such as social protection.
Dwindling government revenues mean that critical safety nets such as social protection and school feeding programmes are underfunded and unable to respond to growing needs, thus threatening resilience. Devaluation of several African currencies, alongside declining commodity prices, has put further stress on African countries' capacity to ensure food and nutrition security. Countries with substantial currency depreciation drive up the cost of food imports and commodity export-dependent countries living through commodity prices collapse will experience a reduction in their capacity to import food. In Nigeria recently, news made the rounds about maize export to neighbouring countries even when in short supply for Nigerian consumers. This was primarily spurred by the stronger regional currency – the CFA – of the francophone countries of West or Central Africa, which encourages the francophone importers and favours the Nigerian exporters. This is likely to continue in 2021. Africa's agriculture depends mainly on rain-fed conditions for cultivating most crops, with over 65 per cent of the households in sub-Saharan Africa involved mainly in smallholder farming activities. This is expected to have a spill over effect of the disruption of agricultural activities through restriction of movement during the critical period of planting in 2020, which will affect field productivity and food security in 2021. If the latest UN estimates projects that between 83 million and 132 million people may go hungry in 2020 as a result of the economic recession triggered by the COVID-19 pandemic, which will further complicate pre-existing hunger or undernourishment, with 690 million people going hungry now, the magnitude in 2021 is likely to be greater.
COVID-19 is still a global problem calling for a global response. But Africa's peculiar situation warrants greater intervention on poverty alleviation and provision of nutritious foods for the populace, particularly the poor and vulnerable. Even if there is enough food for everyone, supply chain disruption could still impair access, leading to too many people still suffering from hunger as our food systems increasingly come under strain while the pandemic makes things worse. Things are particularly worrisome in fragile and conflict-affected states, where logistics and distribution are difficult, as in South Sudan, Nigeria, Mali, Somalia and very recently Ethiopia because of the Tigray war. From a July 2020 analysis by the Food and Agriculture Organisation (FAO) and World Food Programme (WFP), 27 countries were identified as prone to COVID-19-driven food crises. Some of the affected countries in Africa have already been contending with hunger or other crises such as annual drought-related crop failure, flooding of farmlands, pests such as Fall Army Worm and desert locust outbreak, insecurity, regional conflicts and poor agricultural policies. Countries in Eastern Africa have been particularly affected, with Sudan – which earlier suffered flooding – has recorded worse levels of acute food insecurity among 9.6 million people between July and September 2020, requiring urgent humanitarian assistance. In Somalia, the numbers in crisis are expected to almost triple compared with pre-COVID-19 estimates.
Africa is a huge net food importer, importing food worth more than $47 billion in 2018. With fewer prospects of massive food importation, arising from economic crisis, reluctance of many food exporting countries to export and global supply chain disruption, significant food security deterioration is to be expected in the coming months, including rising numbers of people pushed into acute hunger, bearing the brunt of the disruptive effects of COVID-19 on food systems, which are stimulating a hunger crisis within a health crisis. According to FAO Director-General QU Dongyu, things are made worse by pre-existing shocks and stressors such as economic crises, instability and insecurity, climate extremes, and, plant pests and animal diseases. The extent of the problem could be imagined in WFP's recognition of, and response to, humanitarian disasters, rewarded recently with the Nobel Prize, which coincided with the time the head of WFP was on tour in some food-insecure West African countries. Deteriorating purchasing power of many low income earners will affect their access to food, while those who depend on remittances from overseas worker relatives might receive far less in 2021 as incomes reduce due to impacts of COVID-19 on global economy.
Beyond 2021, the impact of COVID-19 could still linger for a long while, according to the OECD-FAO Agricultural Outlook 2020-2029, released in July 2020, which hinted that the pandemic is expected to depress demand in the next few years and could further undermine food security. According to PWC, a consultancy, as at April 2020, food inflation rose to 15 per cent compared to 14.7 per cent in December 2019. Logistical problems arising from restriction to movement will exacerbate food crisis in many countries, especially the most vulnerable ones, as they struggle to obtain the needed resources and logistic supports to buy food. Recessions loom for many countries as they experience a tightening of credit, experience higher costs of doing business due to restricted supply chains and more logistical disruptions. A June 2020 OECD report has cut its forecast for global economic growth in 2020 to -6.0 per cent as COVID-19 is expected to exert a deflationary shock for the global economy.
African countries cannot afford a continuation of strict COVID-19-related transport restrictions that hinder the easy transportation of critical production inputs such as seeds, fertilisers, crop protection products, equipment to rural farmers in planting season, and animal feed to aquaculture, livestock and poultry farmers, as these restrictions disrupt production of staples. Such restrictions also trigger additional higher post-harvest losses, as unsold food accumulates and rots on farms, with no insurance or compensation scheme for the producers while there is concurrent fall in consumer spending. Africa's urban economy is also in near jeopardy as informal sector forms the backbone of the economy and provides most employment. Pandemic-related lockdowns have taken a significant toll on informal businesses, aggravated by an effective freeze on travel and tourism. Interventions are desperately needed to revive Africa's economy in the year ahead. For the farming communities, official government intervention is inevitable, to help many jumpstart their farming activities again. Farmers experiencing acute hunger may resort to consuming seeds instead of planting seeds, which could increase the threat of food shortages later on. PWC suggested that palliatives are provided to farmers in the form of improved seedlings, basic farm implements at highly subsidised prices, and free or more affordable farm extension services. There is something to learn from Bari Payam, South Sudan, where FAO has distributed seeds and essential farming tools to hundreds of households.
Home-grown institutional solutions are urgently needed. An example is the response of African Development Bank (AfDB) to the pandemic by putting together a comprehensive package, Feed Africa Response to COVID-19 (also known as FAREC), for the public and private sectors to build resilience, sustainability, and self-sufficiency in food production and distribution, and to minimize COVID-19-related disruptions to the agriculture value chain. The intervention involves identifying resources in existing Bank-funded agricultural loans to finance farm inputs, creating "green corridors" for free movement of food, and stabilising food prices through the targeted release of food and the replenishment of food reserves. AfDB's COVID-19 Response Facility has mobilised up to $10 billion to extend financial assistance to African countries to address fiscal challenges ensuing from the pandemic. More multilaterals should collaborate with governments and companies in Africa to guarantee timely distribution of key inputs to farmers to boost food production and boost harvest.
Prevailing systemic vulnerabilities have been exposed and exacerbated by COVID-19 pandemic. Africa is now expected to do things differently and invest much more in increasing productivity, enabling policies for private sector and market infrastructure. With the increasingly fragmenting world, countries and companies now need to review their supply chain resilience, business models, food safety procedures, and buffer stocks. African agribusinesses henceforth need to lay more emphasises on the value chain and quality as they produce processed goods for domestic consumption and export. It is expected that the new African Continental Free Trade Agreement (AfCFTA) will be supportive of food systems in Africa and will boost trade in agricultural commodities between African countries, from the current $8 billion annually. Since so much of Africa's population dependent on agricultural exports, it is important to prevent trade disruption and its undesirable consequences for the entire continent. As a safeguard measure, African countries need to rethink their strategies and policies for sustainable economic growth. The impacts of COVID-19 are still unfolding and may be more significant and far-reaching than can be seen now. It is important to build resilience and boost the economies to prevent vulnerabilities that could put the continent in a difficult path to recovery in many years ahead.