Oyeleye
Africa in search of development models (2)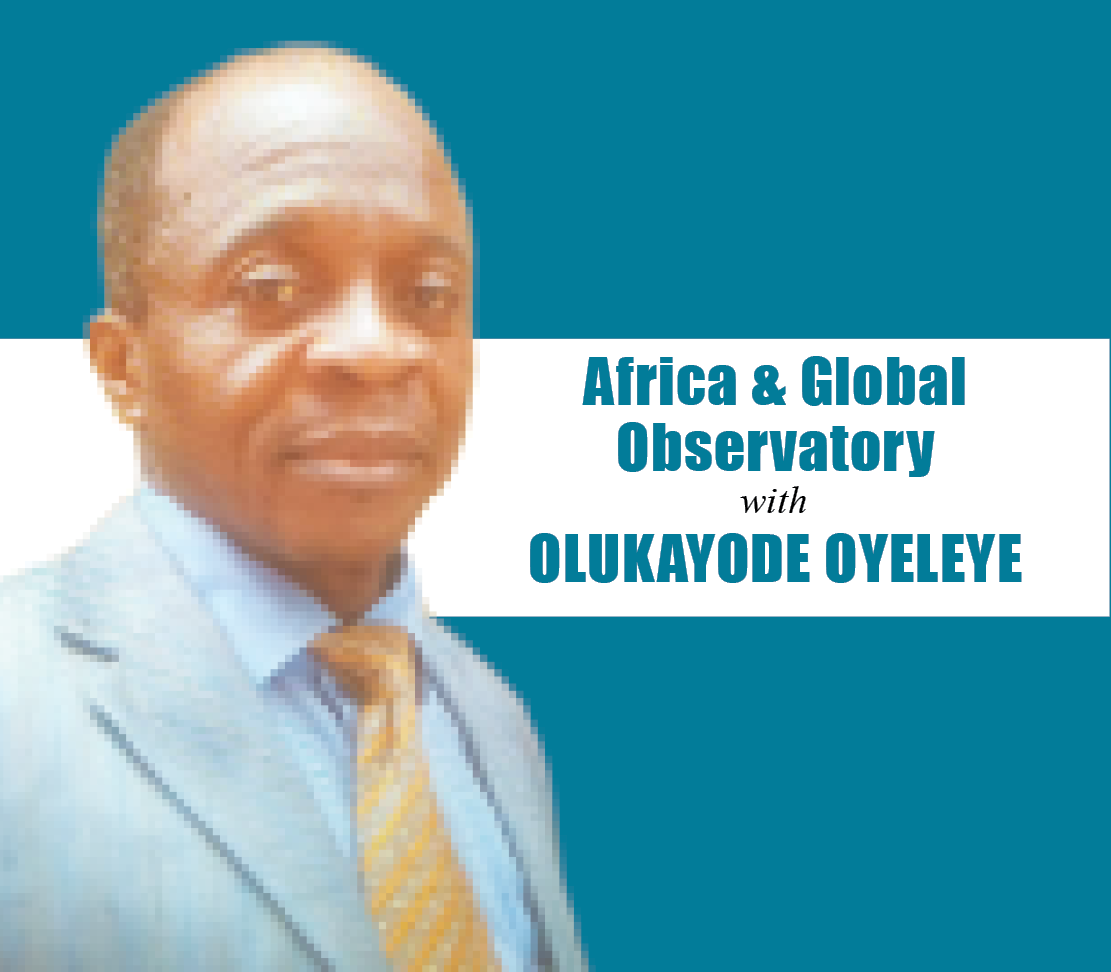 Dr. Olukayode Oyeleye, Business a.m.'s Editorial Advisor, who graduated in veterinary medicine from the University of Ibadan, Nigeria, before establishing himself in science and public policy journalism and communication, also has a postgraduate diploma in public administration, and is a former special adviser to two former Nigerian ministers of agriculture. He specialises in development and policy issues in the areas of food, trade and competition, security, governance, environment and innovation, politics and emerging economies.
April 1, 20191.1K views0 comments
ONE MAJOR HURDLE Africa must overcome in its quest for wealth and prosperity is the challenge posed by health or the lack of it. To create wealth sustainably, Africa needs operating environments that are conducive to innovation, expanded markets, rise in purchasing power and disposable incomes as well as less of shackles of poverty and ill-health. The positive projections about Africa's future can only hold true if the populace is enjoying greater wealth and economic boom. And many factors responsible for Africa's relative backwardness will have to be done away with first.
Africa now stands out for its low life expectancies, slow pace of development, and high rates of poverty and malnutrition. Statista, a statistical portal, shows the average life expectancy in Africa for those born in 2018, by gender and region. It estimated the average life expectancy across the whole continent at 61 years for males and 64 years for females and the average life expectancy globally at 70 years for males and 74 years for females in 2018. According to the source, countries from across the African regions dominate the list of countries with the lowest life expectancy worldwide, Lesotho, in the region of Southern Africa, having the lowest life expectancy of any country for those born in 2014.
An earlier article has attempted to establish the reciprocal effects of poverty and education on each other in Africa, essentially pointing at how an improvement in one leads to an improvement in the other, effectively boosting Africa's chances of attaining SDGs 1 and 4. It can also be argued that these various goals have areas of interface and overlap as the fulfilment in one can also result in a partial fulfilment in the other. For instance, success in education could very well improve earnings, leading to opportunity to eat well, live well and enjoy good health, free of diseases, while helping to achieve Sustainable Development Goal (SDG) 3. The converse could also hold true.
Recurring and sustained events in many parts of Africa have significantly lowered the prospects of a healthy continent. Many factors that favour or trigger ill-health are common and have varying degrees of impacts on the health of the various countries. Wars, droughts and high temperatures, floods (as in recent case of Cyclone Idai), poor infrastructure and lack of access roads to nearby health facilities, poor access to communication facilities (hindering efforts on case reporting or feedback to improve services), costs, purchasing power. Others include absence of robust health insurance as economies remain mostly informal and statistics are poor, logistic constraints and low quality of manpower, constituting some of the major obstacles to Africa's wealth and health.
Many diseases that ravage Africa are preventable or treatable. Many are infectious while many are non-infectious, communicable or non-communicable. Many of those early poorly amenable to treatment once established now have established preventive protocols which, if followed strictly, would be sufficient to keep such diseases – which could be debilitating –at bay. Prevention of malnutrition and ill health, for instance, could have enormous benefits in terms of longer and more productive lives, higher earnings, and averted health care costs.
The World Health Organisation (WHO) posits that one in five children in Africa do not have access to life-saving vaccines in Africa. It is estimated that about three million children under five years of age die each year in the African region and a significant number of these deaths could be prevented by vaccines. Yet one in five children does not receive them. The situation in the remote areas is even worse as poor access leads to inefficient service delivery, including that of vaccine administration. WHO Regional Director for Africa, Dr Matshidiso Moeti, has noted that "vaccine-preventable diseases include but are not limited to measles, polio, whooping cough, tetanus, diphtheria, meningitis, yellow fever, hepatitis B, tuberculosis, pneumonia, diarrhoea and cervical cancers. Among these diseases, measles remains one of the leading causes of death among young children globally, despite the availability of a safe and effective vaccine.
The Regional WHO officer estimated that "measles have caused 145 700 deaths globally in 2013, of which it is estimated that 38 000 were in the countries within the WHO African Region." The highly contagious disease reportedly caused an estimated 2.6 million deaths each year before 1980, when widespread vaccination began to keep it in check. Some progress has, however, been reported as the WHO/ UNICEF coverage in 2013 was estimated that 74 per cent of children in the region have received one dose of measles vaccine by their first birthday, up from 53 per cent in 2000. It added that, since 2001, more than 750 million children have been vaccinated in the African region against measles through supplemental mass vaccination campaigns.
The African Union's 'Africa Health Strategy' and the 'Catalytic Framework to End AIDS, TB and Eliminate Malaria by 2030' provide key goals, strategies and milestones for the journey towards a healthy and prosperous Africa. It emphasises that making optimal use of technology, including digital communications platforms where feasible, will play a pivotal role in achieving these aims. This should be achievable, especially when implemented in partnership with other programmes aimed at the same end. The World Bank is advocating a Universal Health Coverage (UHC), in which everyone receives needed health services without financial hardship. According to a World Bank publication on the UHC, "many countries still contend with high levels of child and maternal mortality, malnutrition is far too common, and most health systems are not able to deal effectively with epidemics and the growing burden of chronic diseases, such as diabetes."
It has been well recognised that strong health and disease surveillance systems halt epidemics that take lives and disrupt economies. It was reported that, in 2015, the forgone economic growth due to Ebola amounts to more than $1 billion in the three countries hit by the epidemic. Top among the priorities for Africa's intervention is the maternal and child health care. Without adequate attention, research and funding, this may remain only a mirage. International Development Research Centre (IDRC) is supporting the Innovating for Maternal and Child Health in Africa (IMCHA), an initiative which seeks to improve maternal, new-born, and child health outcomes by strengthening health systems, using primary healthcare as an entry point.
IDRC states, among other things that, "in sub-Saharan Africa, approximately 550 women die every day from preventable causes related to pregnancy complications and childbirth — accounting for 66 per cent of pregnancy and childbirth-related deaths worldwide. Children under the age of five in sub-Saharan Africa are also 16 times more likely to die than in high-income countries due to poor access to quality healthcare services." The African region has large intraregional disparities in terms of coverage of basic maternal health interventions like antenatal care. While Southern Africa reported almost universal coverage in 2010, in West Africa about one third of pregnant women did not receive antenatal care visits.
A paper published in the Pan African Medical Journal, based on a study in Mauritania, stated that "it is estimated that any progress made towards improving maternal and child health in Mauritania has likely stalled. A lack of reliable and up-to-date data regarding maternal and child health indicators makes it difficult to identify current gaps and adapt international programmes to meet local needs. The dearth of reliable health information on the current state of maternal and child health across Mauritania's 13 health departments makes it difficult to identify current gaps and adapt international programmes to meet local needs."
 A paper, originally presented in 2015 in a conference at the University of Illinois at Urbana-Champaign in the US noted thus: "The statistics with reference to sub-Saharan Africa are startling. Recent statistics from the United Nations Inter-Agency Estimates indicate that from 1990 to 2015, the global maternal mortality ratio declined by 44 per cent – from 385 deaths to 216 deaths per 100,000 live births. While every region in the world experienced declines in levels of maternal mortality between 1990 and 2015, levels in sub-Saharan Africa remain unacceptably high. According to the World Health Organisation in 2013, there were an estimated 289,000 maternal deaths globally, of which 62 per cent occurred in sub-Saharan Africa. Each year, 2.6 million new-borns die within their first month of life, and an additional 2.6 million are stillborn. The main causes are complications due to prematurity, complications during delivery, and infection."
The authors lamented that "proven, high-impact interventions are still not reaching all of those in need. Although facility births are increasing across regions and income groups, quality of care also remains a challenge. Primary health care systems are often ill-equipped to prevent or address underlying causes of illness or other complications."
It has been argued that health expenditure in Africa has increased significantly, but domestically financed government spending has stalled. Total health expenditure has grown rapidly over the last two decades, in particular in middle-income countries. But this increase has been driven mainly by out-of-pocket spending by households and development assistance, about half of which was earmarked spending for HIV/AIDS. In contrast, government spending on health as a share of total government spending has decreased in half of the countries in the region. Philanthropic support is helping to fill the void and drive positive change. The Bill and Melinda Gates Foundation's Maternal, New-born and Child Health programme envisions a world in which healthy mothers deliver healthy babies, receiving quality care from skilled and well-equipped health care workers. The agency seeks to address underlying vulnerabilities and promote resilience among women and children.
 The cost of receiving care has been very prohibitive in the absence of a robust, dependable and responsive official state support throughout Africa. Overall, the sum of direct medical costs (for instance, treatment costs), direct non-medical costs (such as transport and food during visits), and indirect costs (involving loss of earnings) to the patient, is estimated to exceed 20 per cent of total annual household income. Since a lot of cases of vaccination have to do with early childhood apart from adulthood, they are quite relevant in the considerations for maternal and child care. Accordingly, going by the advice of Dr Moeti, "countries and stakeholders must raise the visibility of vaccine-preventable diseases, address barriers to vaccination, and make substantial and sustained additional investments to strengthen health systems and achieve equitable access to immunization services."
It is possible for Africa to make positive progress in the health sector, with particular emphasis on diseases preventable through vaccination and also the maternal and child health which – it is hoped – should benefit enormously. The efforts towards achieving much-anticipated universal health should leave no one behind, in particular the vulnerable groups, including women and children. Africa's future depends much on them.