People & Places
African leader son's multimillion-euro splurge on $80,000 a year
June 22, 20171.2K views0 comments
The son of Equatorial Guinea's president bought real estate, a Bugatti Veyron, a Cartier watch and bottles of prestigious Romanee Conti wine on his $80,000-a-year position as a government minister. French prosecutors are demanding he account in court for these and other purchases, which total more than 100 million euros ($112 million).
Teodoro Nguema Obiang Mangue, agriculture minister for more than a decade, is accused of amassing real estate and pieces from Europe's biggest-ever art auction by using ill-gotten gains including state funds and payments for administrative permits from the state forestry company, according to a French indictment for his trial, which started Monday at the Paris criminal court.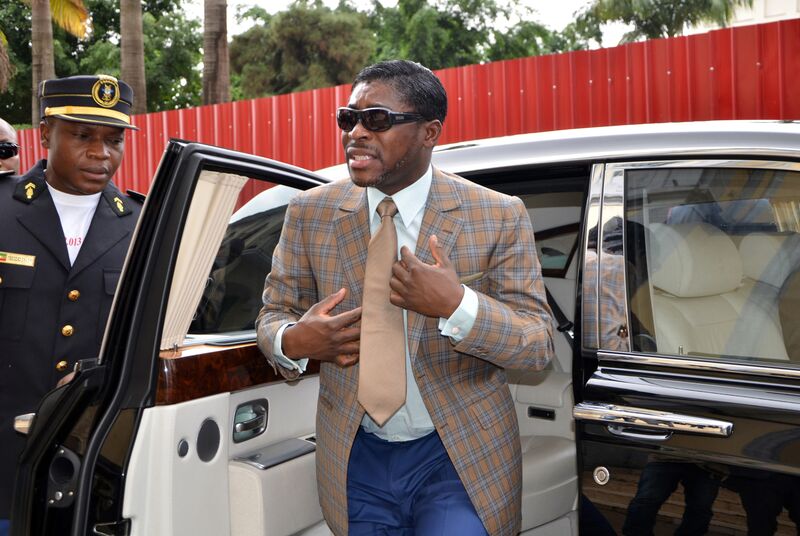 Nguema Obiang — the 47-year-old son of president Teodoro Obiang Nguema Mbasogo, Africa's longest-serving leader — has also been under investigation by Swiss and American authorities. He was accused in the U.S. of using his government position to collect corrupt money, enabling him to buy a $30 million mansion in Malibu, California, a Gulfstream jet, Michael Jackson memorabilia and a Ferrari.
In France, investigators say Nguema Obiang spent tens of millions to acquire and maintain a mansion on Avenue Foch near the Champs-Elysees in Paris. He also bought jewelry worth 10 million euros and a fleet of cars worth about 6 million euros, according to the indictment. Nguema Obiang spent 18 million euros at an auction in February 2009 that included the private art collection of Yves Saint Laurent and his partner, Pierre Berge.
One of Nguema Obiang's lawyers, Emmanuel Marsigny, said Wednesday that France is overstepping its bounds with the money-laundering case because it implies he paid for this expenses using ill-gotten gains — a charge that was dismissed by investigators in Equatorial Guinea.
"You're being asked to sit in the seat of the judge in Equatorial Guinea with the French criminal code," Marsigny told the panel of three judges on the second day of the trial. "It's a legal aberration."
William Bourdon, a lawyer for Transparency International, a plaintiff in the case, complained that the presentation made by the defense was "a total caricature."
Transparency International lodged a complaint in 2008 with a French investigative judge, requesting the start of a criminal probe into suspicions of ill-gotten gains and asking for reparation. French law allows a person or organization to become a plaintiff if they can show personal harm from the actions of the accused.
While Nguema Obiang already reached a settlement with the U.S. Justice Department in 2014, Swiss prosecutors said last year that their investigation is still at a preliminary stage. Nguema Obiang's lawyers say he gained diplomatic immunity in 2012, just as French authorities issued an international arrest warrant for him, when he becameEquatorial Guinea's vice president.
Read this article: Billionaires, spies, oil men: Meet the board of a Russian giant
Nguema Obiang started his three-week trial in absentia with his lawyers unsuccessfully requesting an indefinite postponement to allow the International Court of Justice to reach a verdict in a parallel case. Bourdon lambasted the delaying tactics of Nguema Obiang's lawyers.
"It's nauseating to brandish the rules of a fair trial when these same rules are are trampled" in Equatorial Guinea, Bourdon said Monday. Nguema "Obiang has a pathological obsession to avoid a trial," he said when Marsigny interrupted him by stamping his fist on his desk and said "this is a political trial."
On Wednesday, Marsigny said that next week he will cite as a witness for the defense Simon Mann, the British mercenary jailed in Equatorial Guinea in 2008 for plotting a coup against the oil-producing nation's government and subsequently pardonedalong with four co-conspirators.
Sergio Abeso Tomo, another of Nguema Obiang's lawyers, said he planned to shift some blame onto Societe Generale SA during the Paris trial. Judge Benedicte de Perthuis noted that the bank had avoided facing trial even after investigators decided the bank had insufficient controls on its unit in Equatorial Guinea to be held accountable.
Representatives at Equatorial Guinea's embassy in France didn't immediately respond to requests for comment.
---
Courtesy Bloomberg