Oyeleye
Africa's agriculture and climate, like Brazil's, at crossroads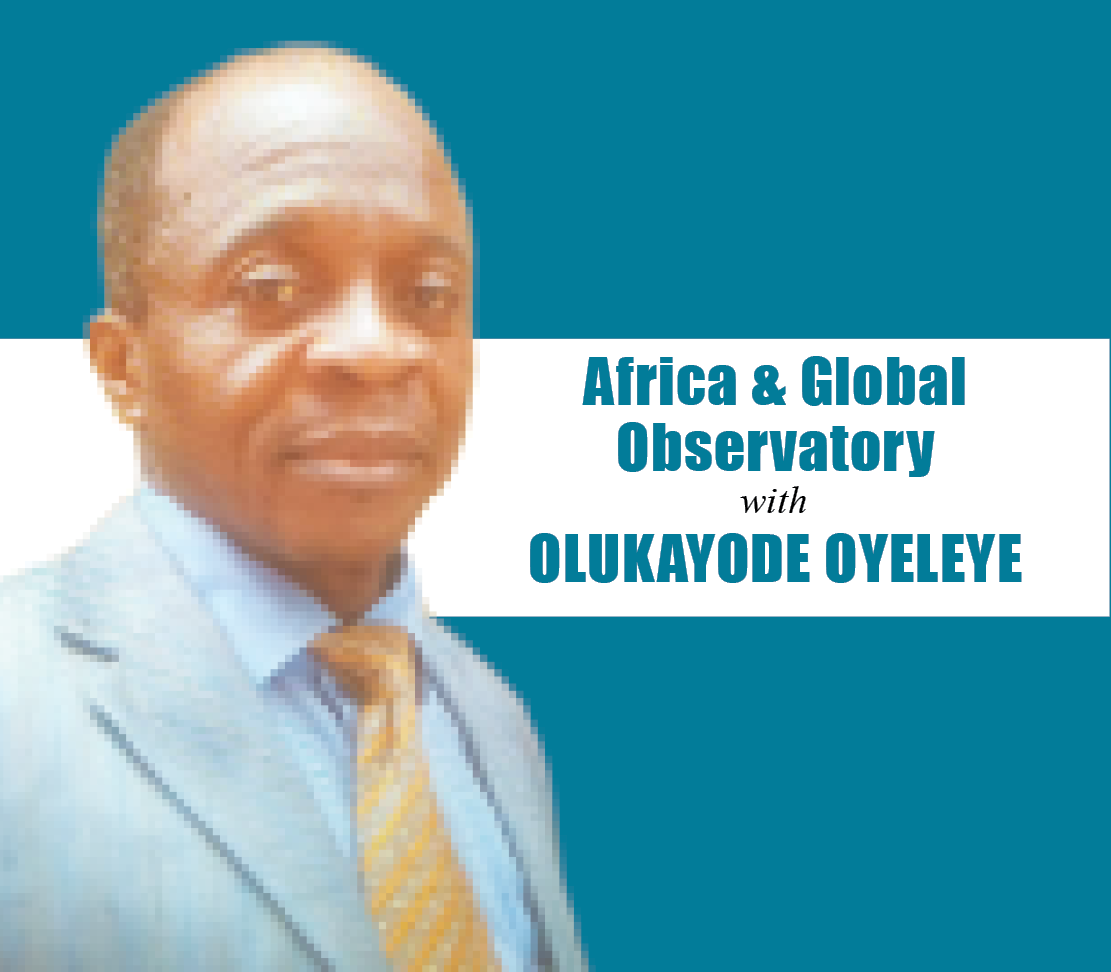 Dr. Oyeleye, a consultant, journalist and policy analyst, can be reached via:
oyeson2@yahoo.co.uk
Twitter: @OlukayodeOyele1
January 7, 2019776 views0 comments
On the New Year day, Jair Bolsonaro was sworn in as the President of Brazil after he has won a popular acclaim through his victory at the polls last year. The new president did not waste time or mince words about his intention to bring about sweeping changes in many areas of governance in Brazil, chief among which is agriculture. To give effect to his intention, he swiftly issued an executive order, a form of civilian government decree, to hasten his intervention by declaring that the prized Amazon rainforest would be open to exploitation by the agribusiness community in Brazil. He was very clear in that he would promote natural resource exploitation, within the ambit of which agriculture falls.
Bolsonaro's announcement may sound bizarre to many and may evoke outrage, especially among the environment watchers and self-proclaimed custodians of nature. But this is the new Brazilian president's policy. The timing may be queried as coming within weeks after the Conference of Parties (COP) 24 global gathering at Katowice, Poland, a town that is notorious for doing one of the things that climate advocates detest – continued burning of coal to generate power. Parties to the Paris accord (COP21) must be befuddled now by Bolsonaro's seeming audacity and determination to upturn the apple cart. And they have good reasons to do so. In reality, Brazil, touted globally for its Amazon rainforest, is slipping away from climate activists' hands.
The Amazon represents one-third of the planet's remaining rainforests, and comprises the largest and most bio-diverse tract of tropical rainforest in the world, with an estimated 390 billion individual trees. This region includes territory belonging to nine nations. The majority of the forest is contained within Brazil, with 60 per cent of the rainforest. Until recently, it absorbed as much CO2 pollution every year as the amount produced by all the cars on the planet. Now, scientists fear that deforestation and climate change are pushing the forest to a tipping point beyond which it will actually release more CO2 into the atmosphere than it captures.
At 6million km2, the Amazon forest covers an area 25 times that of the UK, and spans large parts of nine countries. Half a century ago, the Amazon reportedly covered an area about the size of the lower 48 United States. Since then, more than 16 per cent of that area has fallen to loggers, miners and land-grabbers. In 2012, Brazil celebrated a dramatic reduction in its deforestation rate. A sharp annual decline took forest loss to a record low, down 76 per cent from 1990. Accomplishing this milestone — achieved alongside GDP growth and a major financial incentive scheme for reducing deforestation in collaboration with Norway — Brazil was hailed as an example for other nations to aspire to, especially during the landmark 2015 climate summit in Paris. Today, that situation is largely reversed.
The expanse of rainforest that covers nearly half of Brazil is about to go fully into the hands of agribusiness concerns. This prospect has been obvious for a long while, and the idea couldn't be put off indefinitely. Brazil is under pressure to turn more of its 'idle' natural capital into financial capital through production of more food, and Amazon forest readily comes to mind in this case. There are two broad options for increasing agricultural productivity, particularly in crops: either by expanding the land area cultivated or by increasing the yield per area. While agricultural scientists and environmental advocates have been promoting the latter, the reality is that it cannot solve agricultural growth problem ad infinitum in the contexts of rapid population increase that calls for more food and the commercial interest in local and international food trade. Every crop has a limit to production increase irrespective of the genetic interventions to improve its breed or yield potential and the supporting agronomic practices to make the breed express the improved traits on the field. There is thus a need for dynamic equilibrium as the demand for food rises.
It is thus important to come to terms with the harsh reality of the former – land area expansion – which Bolsonaro has decided to choose, unmindful of the consequences. Brazil, a country reputed for its leading role in global production and export of soybean, sugar, poultry meat as well as beef, is understandably going to be under intense pressure from the agribusiness community to rethink its stance on the Amazon. The biofuel crops which power many of Brazil's cars and the soybeans which feed millions of chickens, cows and people within Brazil and across the planet are part of the reasons why the Amazon will not be spared this onslaught.
UBABEF is an acronym for what translates, in English, to Brazilian Poultry Association and the Brazilian Chicken Producers and Exporters Association. UBABEF, formed at the end of 2010 through the merger of the Brazilian Poultry Association and the Brazilian Chicken Producers and Exporters Association, is the country's largest poultry organisation. Among the priorities of the association are: accessing new markets and improving the export sector; guaranteeing the highest quality of Brazilian chicken and prioritising the sector's interests with government authorities and international organizations. UBABEF is thus a powerful pressure group, a distinct lobby and wields enormous political influence.
Brazil thus has a choice, either to continue to keep the Amazon as an environmental monument or to convert – even if in part – to an agricultural production machine. And Bolsonaro has clearly indicated that, against all odds, he has chosen the latter. Unpopular as this may sound to the proponents of the Sustainable Development Goals, promoters of carbon sequestration through forest preservation, environmental scientists who have demonised agriculture as contributing hugely to greenhouse gas emissions, it is time to come to terms with Bolsonaro's reality.
While Bolsonaro's Amazon intervention, in its coming, was rather sudden and would raise an eyebrow, Africa's interventions are rather insidious, gradual and more widespread. If Brazilian authority could systematically convert hitherto forest sanctuaries into agricultural land, African agricultural lands have suffered multiple misfortunes of being converted into many other endeavours without proper co-ordination. The intensity varies from country to country and is essentially related to the absence of proper land laws or any other statute that effectively prevents unwarranted incursions.
The DR Congo is famed for its forests, covering an area of 2.3 million km2 and comprising 15 per cent of global forests. The region is undergoing major change from land use and climate as deforestation in Central Africa is accelerating, similar to deforestation patterns in the rest of the tropics. Two years ago, British scientists discovered one of the richest stores of carbon on Earth. They found 145,000 square kilometres of peatland – an area larger than England – in the forests of the central Congo basin. And this pristine and undisturbed sink of peat is the estimated to be equivalent of about two decades of fossil fuel combustion in the United States. A scientific publication countered, noting that Tropical forests are 'no longer carbon sinks' because of human activity. The findings suggest that curbing deforestation and protecting existing forests could be instrumental in removing greenhouse gases from the atmosphere and fighting future climate change.
But the pressure on DR Congo will put the forests in jeopardy. With the weak government institutions, Congo's and indeed Africa's agricultural land is fraught with its own predicaments. A country nearly the size of Europe may be strong at the centre but weak at the periphery as its government does not keep tab on all that is important at the regions. One of the consequences is the lack of control over the forest that the country prides itself in. With uncontrolled deforestation, it is just a matter of time that the Congolese forests will be gone! For a poor country that primarily depends on natural resources, the forests are unlikely to remain for too long.
The Congo forest is another reason African leaders need to come up with a strategy. On sustainability, African leaders need to come together to save DRC early. Without adequate investment in surveillance, human resources, support for modern agriculture and alternative means of livelihoods, the Congolese forests might disappear sooner than later. As the pressure for agriculture, urbanisation, infrastructure and logging grows, chances of about 25 per cent of the modern prescription drugs that come from plants from rainforest vegetation might become slimmer. Countries must come together to avert the fate of Brazil in DR Congo in particular and Africa in general. The future of agriculture and environment has to be secured and collaboration has to be established to achieve this.  Africa needs more food, but it needs to preserve its forest as well. How to strike the delicate balance is now up to leaders and policy advisers. We need proactive intervention now.