Oyeleye
Africa's deserts, security and sustainable future (2)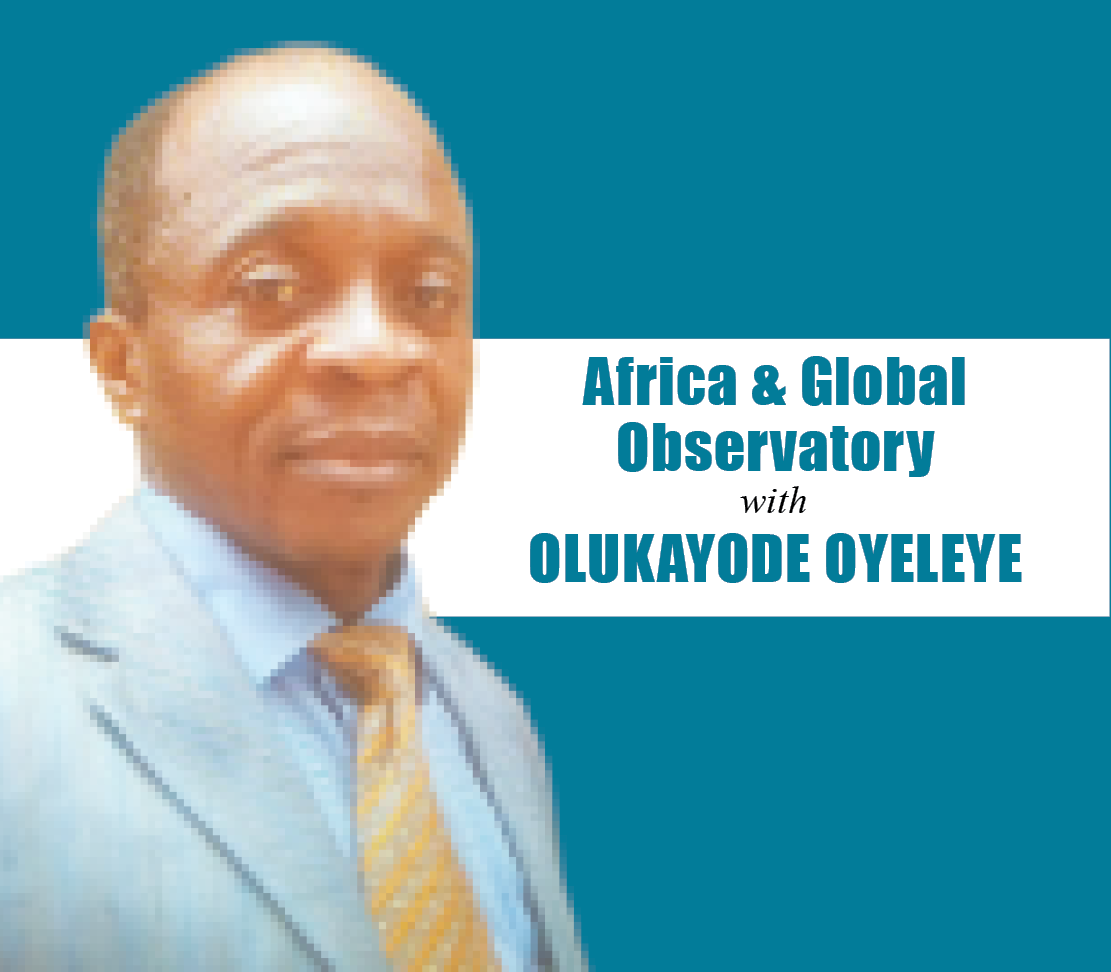 Dr. Oyeleye, a consultant, journalist and policy analyst, can be reached via:
oyeson2@yahoo.co.uk
Twitter: @OlukayodeOyele1
January 27, 2020641 views0 comments
SAHARA DESERT OCCUPIES an important place in Africa, in terms of size, location and history on the continent. It has assumed such significance that it is used to define or delineate parts of the continent when considering it in the two broad categories as north or south. Of the 54 countries in Africa, 12 are within the Sahara desert region. Algeria, a small part of Burkina Faso, Chad, Egypt, Libya, Mali, Mauritania, Morocco, Niger, Nigeria, Sudan and Western Sahara are the countries that lie partly or wholly within the desert landscape. With a combined population of about 511 million people, these 12 countries occupy a third of the landmass of African continent, having a population a little less than half of the entire population on the continent.
Chad, Mali, Niger and Sudan are easily four of the largest countries in Africa in terms of landmass and among the 12 desert countries. By contrast, these countries are demographically incongruous when considered against the backdrop of their landmass. They confirm, however, the geographical truism that desert and savannah populations are sparser than those of thickly populated forest regions. The latter issue have some implications on the prospects of the forests too as the higher populations tend to exert disproportionate pressure on the areas, creating irreversible changes to the climate, weather and general environmental conditions there.
The countries within the Sahara desert range should be of great concerns for a number of reasons.  Their poor economies, infrastructure, health services, communication, energy supplies, food supplies, climate and security are worrisome. A convenient link could be established between desertification, poverty and insecurity. Their poor economies could be blamed on what is generally an African peculiar problem. They are essentially commodity-dependent, particularly agricultural commodities. The increasingly precarious weather and climate are exacerbating unprecedented rates of rural-urban drift as drought and desertification force people to seek alternative livelihoods by abandoning the rural farming and non-farming rural lifestyles and embracing the urban slums and other inconveniences such as joblessness, homelessness and various forms of crimes.
The Organisation for Economic Co-operation and Development (OECD) is an intergovernmental economic organisation with 36 member countries. In its 2019 report on Africa, the OECD listed the countries that received its OECD Development Aid (ODA) and the percentage of the total that went into the countries. Of the top 10 ODA receipts by recipient countries, Nigeria and Morocco were two of the countries with desert problems that had the sums of $3,359 million and $1,885 million, which were six and four per cent respectively. Morocco and Nigeria are the two documented Saharan countries receiving food aid as at 2017.
Each year, governments, NGOs, and the World Food Programme (WFP) deliver millions of tons of food. The WFP, the UN frontline agency mandated to combat world hunger, channels almost half of all this food aid. The World Food Programme's International Food Aid Information System (INTERFAIS) disclosed that, between 1996 and 2008, many countries received various amounts of food aid. Of the various countries of Africa benefitting from such aid, the beneficiary countries bordering on or are within the Sahara desert include Chad, Mali, Mauritania, Niger and Sudan. Researchgate, research think tank and information hub, asked if foreign aid in Sub-Saharan Africa countries actually make a difference in development. The answer can best be arrived at upon examining some relevant facts.
The Food and Agriculture Organisation (FAO), in its December 2019 report stated that, out of all the 42 countries requiring external food aid, 32 are from Africa. Looking more closely, the FAO report stated that Chad had about 594 000 people estimated to be food insecure between October and December 2019. About 170,280 people were reportedly internally displaced, almost entirely on account of the insurgency in the northeast. The country had about 438,000 refugees. In Niger Republic, civil conflict was prominent and about 1.4 million people were assessed to be in need of immediate humanitarian assistance in the fourth quarter of 2019.
Chad, sadly, had to host 218,261 refugees, an outcome of civil conflict in neighbouring states, of which 161,359 were from Nigeria and 56,000 are from Mali, while an estimated 187,359 people were internally displaced.
Common denominators apply in all the desert countries. In Nigeria, the persisting conflict in northern areas has created situations leading to as many as four million people becoming desperately in need of humanitarian assistance in the fourth quarter of 2019. Burkina Faso had an estimated 26,000 refugees, most of them from Mali, apart from about 486,000 individuals internally displaced. In Libya, the total number of people in need of humanitarian assistance was estimated at 0.82 million – 11 per cent of the population – of which 0.3 million persons required food assistance. The situation in Mali revealed persistent civil insecurity, with the country hosting approximately 27,000 refugees, 199,000 internally displaced people and 74,000 returnees relying on humanitarian assistance. Mauritania is experiencing reduced availability of pasture as it grapples with its own fair share of about 299,000 people needing assistance between October and December 2019.
The case with Sudan involves conflict, civil insecurity and soaring food prices, with the number of severely food insecure people estimated at 5.8 million for the June to August 2019 period. Still, according to FAO, one of the biggest challenges for agriculture in the Near East and North Africa region is water scarcity. It stated that 85 per cent of all fresh water resources are consumed by agriculture. It estimated the Internal Renewable Water resources (annual river discharge and groundwater recharge) per capita as less than a tenth of the global average. It added that 70 per cent of the region's land area is under desert or arid conditions. Taking over Somalia is an unprecedented desertification leading people from rural areas to flee hunger and move to the urban centres as the country has dried up faster in the past 20 years than in other time in history. This has also affected the rural animal rearing.
Overall, the situation in the desert countries north of Africa calls for urgent attention and a reversal of the trends.  In such which the food balance sheets have been more in the negative. It is doubtful if any of those weather-prone countries has any climate resilience mechanism is in place, such as weather index insurance to help cushion the effects of the harsh environment on their businesses. It might be easier therefore to imagine the inflation rates, high cost of living, unemployment rate and security issues as well as their prevalence in the countries used for illustrations. The demographic dynamics within the affected desert countries pose a lot of concerns as rural populace abandons the rural farming in pursuit of alternative livelihoods in the urban centres. This, on the aggregate, puts the future of food security in jeopardy and may raise the spectre of external food aid dependence, displacement of people and other humanitarian crises.
Sahara desert thus needs monitoring on account of its impacts on lives and livelihoods as well as the economy of the region. With the growing impact of climate change and the limited commitment of national governments to limiting the carbon emission increase to 1.5 per cent, it is time for the affected countries to put their acts together for common goals of turning a large part of their lands to productive ventures for the benefit of the present and coming generations. The future consequences of doing nothing now will be enormous. Migration, displacement, resource-instigated hostilities and growth of regional armed bandits will increase. We don't have to wait until these get out of hands. A stitch in time, as rightly posited, will save nine. Africa's biggest desert should not be allowed to enlarge further. Rather, it must be turned into means of generating wealth, food and business-friendly enterprises. If Israel was able to transform a barren desert into rich arable land in its agrarian transformation, Africa can do just the same. Where there is a will, there is a way.