Oyeleye
Africa's environmental safety, energy security and Agenda 2063 (4)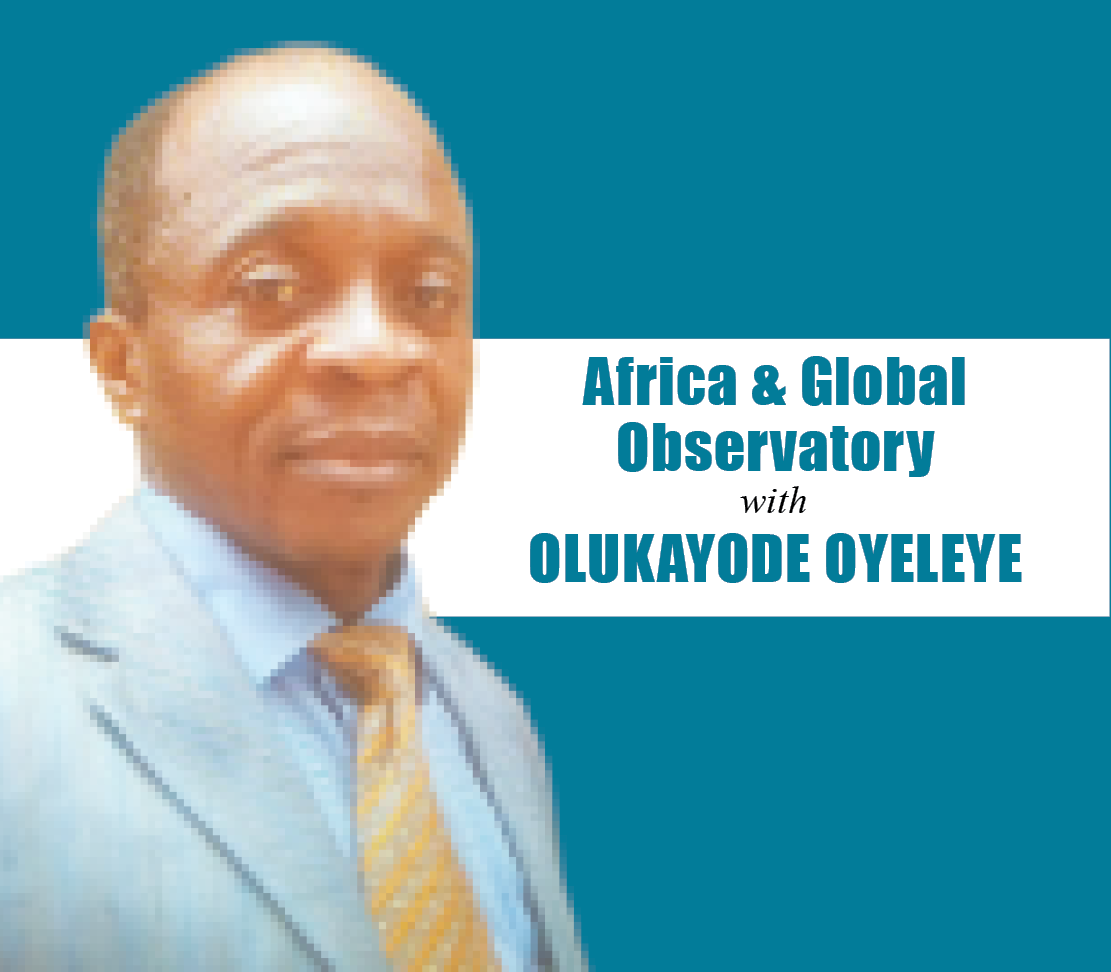 Dr. Oyeleye, a consultant, journalist and policy analyst, can be reached via:
oyeson2@yahoo.co.uk
Twitter: @OlukayodeOyele1
May 17, 2021400 views0 comments
CHANCES THAT environmental safety challenges in Africa could get more complicated are showing troubling signs. Governance dysfunction is a major overarching cause for concern in many countries within the continent. While despotic national leaders – and there are many of them – show no signs of stepping down or tolerating political and economic reforms, new threats are emerging, some of which are offshoots of poor governance and maladministration by formal state authorities. These have inadvertently created greater existential threats that now have multiplier effects, going beyond what the resource-poor Africans can independently and individually deal with.
Climate change has added to an existing and long-term environmental crisis in some parts of Africa. Beginning from the northern fringe of West Africa and stretching through Central Africa to the Horn of Africa in the East is the Sahel, a region that has suffered much official state neglect for far too long. This Sahelian stretch is one with harsh environmental conditions, including extreme heat and declining vegetation cover, with sparse population of people. Although the inhabitants have become familiar with the environmental conditions within and along that belt, the distances from their respective nations' seats of power could partly explain the reasons for their neglect. While the ambitious Great Green Wall programme has been under consideration for some years now, the impact is yet to be felt in these neglected areas as deserts are among the most poorly monitored and understood biomes in the world, Africa inclusive. The Sahel region has therefore become a safe haven for terrorists, bandits and armed insurgents, some of which are trying to lay claim to territories and are setting up mini governments within the areas captured by them.
Energy is critical to the world economy, and these armed militiamen seem to be well aware of this. Seizing control of oil installations therefore has been observed among their activities. Terrorist activities in the Middle East provides a template for others elsewhere as oil production and smuggling was the largest source of revenue for the finances of ISIL in Syria as well as in the ISIS-controlled oil fields in Iraq where oil provided a huge chunk of the militants' revenue stream. The interventionist air strikes meant to dislodge them would likely create long term environmental consequences within those areas in Iraq and Syria. The traction gained by Boko Haram in the northeast of Nigeria in the Lake Chad region seems to have emboldened other terror cells in Africa. The dismal achievement of the Nigerian military campaign against the Boko Haram brings concerns about Nigeria's prospect of tapping into the oil purportedly discovered in the troubled region. Nigeria's petroleum resources ministry reportedly discovered crude oil in vast quantities recently in the Boko Haram-occupied Borno State. This, obviously, is a fulfilment of "a thirty-year old obsession of the Nigerian National Petroleum Corporation (NNPC), the search for oil in the Lake Chad Basin began under president Muhammadu Buhari's time as petroleum minister in the late 1970s" which has gulped a fortune, a source reported.
But this discovery could as well cause Boko Haram to be more lethal in its operations in that region as in Palma village in Mozambique earlier this year in which an ISIS terror group reportedly attacked oil installations, particularly an LNG project, killing some expatriates. Where these terror groups succeed in taking over any energy installation, they are not expected to follow global best practices. They are therefore likely to leave environmental degradation in their trail. Africa, therefore, cannot afford to have a continued free reign of terrorists and armed militias within the continent and they should be prevented at all costs from having access to energy installations. The cost of dislodging them and the strategies for achieving the purpose may not have to be borne only by the countries within which they operate, especially those in the Sahel. This might require joint efforts and contributions for the safety of all as it is now evident that armed militia activities are becoming problematic in Africa, operating seamlessly across the Sahel and across the border between Tanzania and Mozambique on the eastern fringe of the continent. Although terror attacks on Algeria, Burkina Faso, Mali, Mauritania, Guinea, Chad, Niger, or Ghana, rarely make international headlines, they are often no less in scale of devastation than what is reported about Afghanistan, Yemen, Iraq or Pakistan.
It is therefore a big mistake to assume that what these countries suffer is inconsequential or has no bearing on the security, stability and prosperity of the world. West African countries in particular are witnessing an unprecedented surge in terrorist activities. The region is now a new battlefield for Jihadists, with record numbers of deaths and mass displacements in those countries, including Nigeria. These local terror groups are coalescing and forging alliances with deadly international terrorist organisations. They will disrupt and try to take over industrial scale energy projects, mining and other extractive activities that could finance their ambitions, particularly through procurement of sophisticated ammunitions. The conventional and renewable energy industries will not be spared. The trouble might be further compounded by their incursion into extraction of highly sensitive raw materials for producing renewable energy technologies. Their involvement in extraction of minerals such as uranium, cobalt and copper, could upset the value chains of the essential components of electric vehicles or cell phones and could put the renewable energy industry in a tailspin. Seizing uranium mines in Niger Republic, for example, could set the economy and security architecture of the impoverished country tumbling and could upend the energy security of a country like France that depends on Niger's uranium for its electricity generation.
For strategic diplomatic and economic relevance, institutions such as Brookings, Chatham House, US Council on Foreign Relations and Institute of Peace will do well to bring the energy issue into focus in the context of insecurity and terrorism in West Africa in particular and Africa in general. The scale of negative environmental impacts if terrorists control energy sources and supplies could be unprecedented and far reaching for the whole world. To ignore Africa's insecurity could therefore be a costly mistake for the world's prospects in conventional and renewable energy. The environmental impacts of their activities will be enormous as they will be brutal on the environment. Presently, the world appears indifferent to Africa's security challenges and seems to consider insecurity in parts of Africa as a supposedly distant threat, despite the continent's centrality to the future of the world in terms of energy and food. Apart from France which – understandably – has deployed close to 5,100 military personnel to troubled areas of West Africa, helping local forces in pushing back terrorists, not much can be said about other countries which are critical stakeholders in the continent.
Africa deserves priority attention. Countries that recently began to engage Africa in high level business and diplomatic relationship will soon find out that the very foundation of such relationship is under threat and will be shaken by terrorism if nothing meaningful is done to prevent an escalation or festering. The high-level international conferences such Forum on China-Africa Cooperation (FOCAC), Tokyo International Conference of African Development (TICAD) and Russian-Africa Summit, the international development programmes such the United States Agency for International Development (USAID) or UKaid intervention and even the populist World Economic Forum for Africa will end up achieving very little without stable governments and in failed African states. A delicate balance needs to be struck between the decisions to uphold the autonomy of states and non-interference in state matters, especially where and when territorial integrity of nations is under the threat of terrorism. Although, the recent intervention in Italy's leadership was mostly aimed at saving the country's economy, a group of leaders nonetheless decided to impose unelected Mario Draghi on Italy in a spirited attempt to save its economy. Nigeria, the largest country in that area is going adrift rather quickly and is increasingly under pressure from the infiltration of the terrorists that have become emboldened and now operate in many other parts of the country's north. The significance of Nigeria in Africa's security architecture is that whatever destabilises Nigeria will have ripple effects in all other African countries. Talk of refugees, arms movement, trade restrictions and many other socio-economic problems.
Mozambique needs more emphasis because of its misfortunes coming in quick succession. The oil-rich northern part of Mozambique that came under the siege of terrorists since 2017 is still in the throes of recovery from two consecutive cyclones that wreaked havoc and rendered many people homeless. This is further complicated by recent attacks on helpless and unarmed civilian populace as well as on military personnel in April around the communities close to the border with Tanzania, which led to the loss of many lives and forced displacement of many individuals and families. Countries around the Horn of Africa in the east are going through a season of turmoil that should rattle the African Union, the G20 nations and the United Nations. From the self-inflicted war in Ethiopia that commenced in November 2020 under the watch of the Nobel Peace prize-winning Abiy Ahmed, to the neighbouring Eritrean tacit support for him against Tigray people of Ethiopia, or the 30 year-old instability of Somalia and the ubiquitous reign of Al-Shabab within the country and its threat to a neighbouring Kenya, or the threat to the small Djibouti, sandwiched between the troubled Somalia, Ethiopia, Eritrea and the Red Sea. The heavy presence – at Bab El Mandeb strait in Djibouti – of military bases from the US, France, China and some other world powers should not be because of the Red Sea strait alone. It should be to assist African countries in combating insecurity.
The blockage of Suez Canal earlier in the year was beyond just a technical hitch. One unmistakable message it has sent to the world is its indispensability in the world maritime transportation and trade. Within the few days of the obstruction of Suez Canal by the massive Evergreen ocean liner, no fewer than 300 ships were delayed on either side of the Suez until the Evergreen ship was dislodged and refloated. As could be inferred from the past disruptions caused by Somalia's Al-Shabab, major armed terrorist activities within the region of the Horn of Africa, spreading through Sudan to Egypt could render the Red Sea unsafe for global maritime logistics and could paralyse trade between Asia and Europe and between Asia and North America. In the hinterlands of Eastern and Central Africa, the sustained armed hostilities in the Ituri and Kivu provinces of the expansive DR Congo is a recipe for disaster as it may open a door for terrorists to infiltrate. The South Sudan's smouldering armed conflicts are yet to be over while Sudan too is still embroiled in crisis as the Darfur people are yet to know a lasting peace. If the world's new green energy wave is to be a lasting reality, Africa's security threats need to be considered in that context and everything possible should be done to keep Africa safe and stable for Africa and the entire world.