Oyeleye
Africa's leaders walk old path again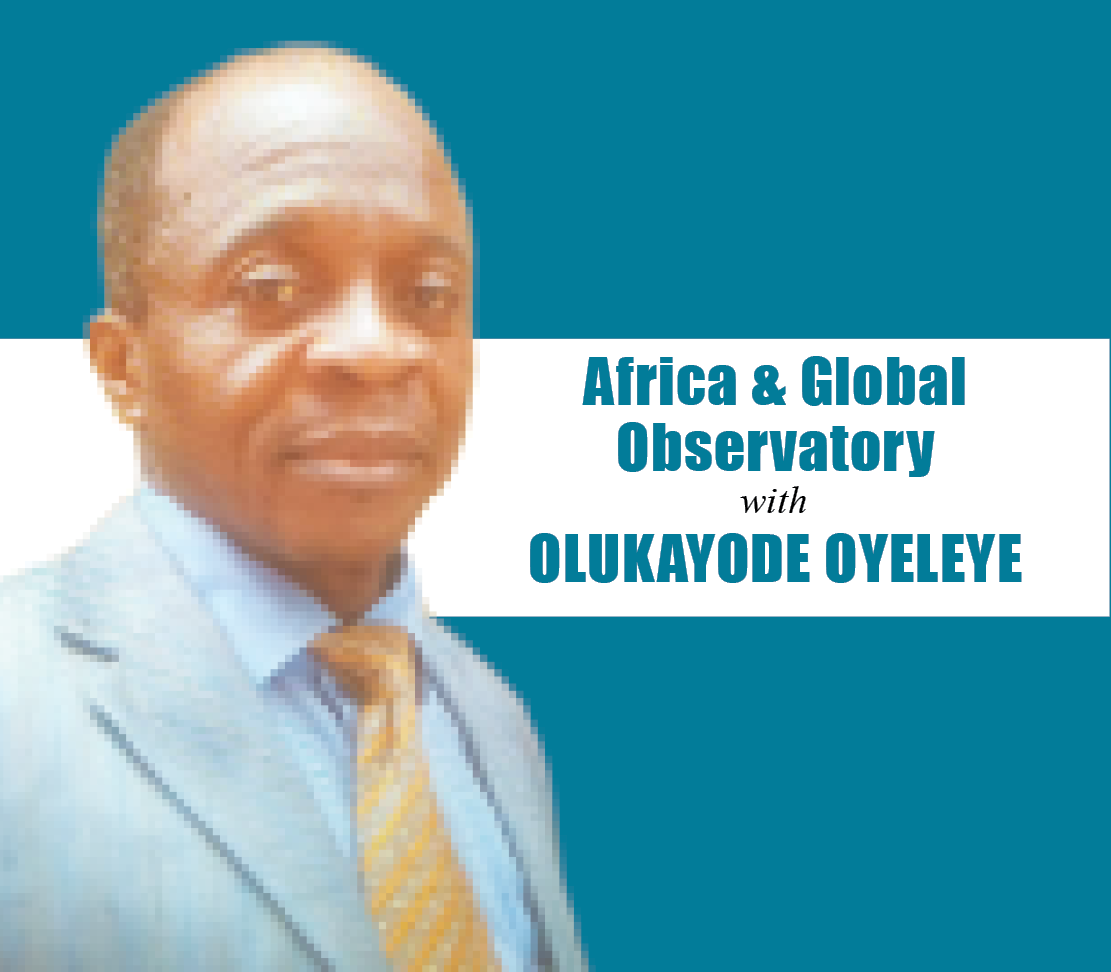 Dr. Oyeleye, a consultant, journalist and policy analyst, can be reached via:
oyeson2@yahoo.co.uk
Twitter: @OlukayodeOyele1
November 9, 2020755 views0 comments
THE UNITED STATES' 2020 ELECTION has just proved chaotic and controversial as incumbent President Trump has disputed the outcomes in some key states considered pivotal to his re-election. Accordingly, the US Supreme Court is expected to intervene and clear the path for the true winner. Notwithstanding this glitch, the country braces for another four years before another presidential will have to be held. Despite all the rancour, the anticipation, the standoff and allegations of vote stealing, America's elections still have some safety valves allowing for checks and balances, preventing a contestant from unilaterally having the last say. These checks and balances exist because of virile, time-tested institutions that operate with a reasonable level of independence and freedom from political influence. With these in place, and functional, the US electoral system remains resilient. This remains so even when there are internal differences and threats from supposed election interference by outsiders and their domestic turncoats who want to determine the direction of political leadership in the US.
Observers who depend on superficial or superfluous stories about the just concluded US presidential election are likely to tell disparate stories, depending on which sources they depend on. This is made worse by the sudden but pervasive influence of the social media allowing multiple – and often confusing – contents, many of which are misleading and created for selfish and sometimes inexplicable purposes. Spinning and manipulation therefore must have put many pundits in a quandary, thus influencing their opinions, inferences and conclusions, none of which would make American election comparable in any way with Africa's. Opposing contestants may throw verbal tirades at each other, sue each other in the law courts, publish banal, vulgar and disparaging articles against each other or even lean heavily on their relative strengths to influence some things within the corridors of power, everyone knows that there is no room for encroaching on the fundamental human rights of aggrieved parties to raise questions, dispute results, stage protests or express disagreements by appealing to the public's sentiments.
The year 2020 is significant for Africa because of many high-stake elections, those forcefully standing for election, the threat to peace as well as the conflict between the official conducts of such elections and the will of the populace. Africa's record in the implementation of its ambitious declaration of commitment to silence the guns by 2020 has been both dismal and disappointing after seven years of the declaration. The slogan of "Silencing the Guns" while "creating conducive conditions for Africa's development" rings hollow as the theme chosen at the 36th Ordinary Session of the Executive Council of the African Union (AU), is expected to be coming into fruition in 2020.But that will still continue to be propagated beyond 2020 by political leaders who rather create conditions for the proliferation of guns through their conducts and actions. Guns are found mostly in the areas in conflicts. And many conflicts in Africa have their roots in political instability, caused by political leaders who embark on ambitions that cause a breakdown of peace and promote violence.
Tanzania in East Africa has just released the results of a crucial election, vehemently disputed by the leading opposition candidate. Tensions rose as the opposition figure was hounded by the government of incumbent President John Magufuli. The main opposition Chadema Party had alleged that the opposition presidential candidate, Tundu Lissu, was briefly detained and subjected to interrogation for hours, along with other prominent opposition figures, sequel to the police response, preventing opposition parties from holding protests. Such a high-handed official response to the country's main opposition parties' rejection of official election results, indicating that the incumbent President John Magufuli won a second term with a majority vote is typical of Africa's elections. Their demand for a rerun of the poll, alleged to be full of irregularities, was considered an offence against the state, which must be punished. Still in East Africa, Yoweri Museveni of Uganda, another long-standing president – hoping to contest again in 2021 – is reported to have picked a nomination form for the election after ruling for over 30 years. As usual, he is expected to win by a wide margin. Robert Kyagulanyi, 38, popularly known as Bobi Wine, is a reggae musician, a lawmaker and the strongest opposition presidential aspirant who is no stranger to official harassment by Museveni's government as he has been rattling the incumbent's ruling party. He was reportedly arrested, beaten and tortured by soldiers and police last week shortly after it was confirmed that he has successfully registered as a presidential candidate for the upcoming election. Such is the precariousness or risk of challenging incumbents through elections in Africa.
In the West African sub-region, two incumbent presidential contestants of advanced ages are generating rumpus, as deaths were reported where people protested against them for contesting for third term in office in violation of the constitutionally approved two terms. Alpha Condé, an 82 year-old president of Guinea Conakry, in a high-stakes presidential election, is in for a controversial third term, secured through a backdoor and deceptive modification of the country's constitution through a referendum earlier in March 2020, used as a veneer for circumventing the two-term limit under the guise of modernising Guinea. His insistence and the ensuing election process have sparked of months of political unrest in Guinea, leading to the death of about 50 Guinean protesters killed through security crackdowns. Guinean opposition was repressed as main opposition leader, Cellou Dalein Diallo, 68, was placed on house arrest while security forces were withdrawn from opposition strongholds in and around the nation's capital, Conakry. It took a high-level delegation from the United Nations (UN), AU and the Economic Community of West African States (ECOWAS) to persuade Condé to ease the restriction on Diallo who earlier declared himself the winner of the October 18 election before the electoral commission announced the final results.
Ivorian President Alassane Ouattara, has just secured a third term election victory. His path to this "extra time" is not different from that of Guinea's Condé. He tinkered with the constitution through a constitutional referendum in 2016, paving way for his re-election bid. Although he argued feebly that the death of his groomed successor, Prime Minister Amadou Gon Coulibaly, in July 2020 led him to consider running for the third term, it was obvious he had his eyes on this bid earlier than now. His decision to hand-pick Coulibaly to succeed him could have been a ploy or a decoy after all, especially if the latter still remains alive. An economist by profession, Ouattara, who has worked for the International Monetary Fund (IMF) and the Central Bank of West African States or Banque Centrale des Etats de l'Afrique de l'Ouest (BCEAO), ought to remember how he got into government and the crises he has seen since becoming president in 2010. But he was unperturbed about an election that was boycotted by the opposition, even when no fewer than 300 people have reportedly crossed the border to a neighbouring Liberia for fear of a repeat of the two bloody civil wars in 2002 and 2011, which led to the deaths of thousands of Ivoriens. Their fears may not be misplaced as least 30 people have been reported dead in pre-election violence.
International observers would be right to be apprehensive about the "restrictions on civil liberties, freedom of expression, and the right to vote and be elected," observed by the US-based Carter Center, commenting on Cote d'Ivoire's election. It is unsafe to under-estimate social disruption and unrests that could follow as opposition leaders could direct their followers to embark on protests, which could escalate into war in the end as the main opposition camps chose to boycott the election in civil disobedience, thereafter announcing the creation of a 'transitional council' to organise new elections – a sign of rejection of the outcome of the election that gave victory to Ouattara. The standoff could be compounded by Ouattara's bellicose and hardened tone against the opposition and the official crackdown on them shortly after the election. Maurice Kakou Guikahué, a prominent opposition figure, had held a press conference to denounce the intimidation, in which the police had thrown stun grenades near the homes of Mr. Henri Konan Bédié and other political figures, Pascal Affi N'Guessan, the spokesperson for the opposition coalition, former minister Albert Toikeusse Mabri and Assoa Adou, very close to former president Laurent Gbagbo. Mr. Bédié who has referred to himself as "president of the national transitional council" and urged the Ivoriens "to remain mobilised and to demonstrate publicly to overcome any attempt to prevent the establishment of the transitional government," is obviously already beating war drums.
These despotic ambitions in Guinea and Ivory Coast will significantly affect the ECOWAS bloc economically, socially and politically. In the event of war, the Abidjan-based African Development Bank (AfDB) may have to temporarily relocate elsewhere once again. Last time, it relocated to Tunis, capital of Tunisia, while the war in Cote d'Ivoire lasted. The cocoa and coffee industries in the country may suffer tremendous setback. Poverty may rise in both Cote d'Ivoire and Guinea and the illicit trade in small arms in the ECOWAS sub-region may increase. The guns may not be silenced for a long time to come. How easily these despots mutate while in power is an interesting subject. Robert Gabriel Mugabe of Zimbabwe rose from being a teacher to a freedom fighter and an activist before becoming a politician. His records as Zimbabwe's president were pathetic. Condé, an opposition activist for decades, got the reins of power in 2010 as Guinea's first democratically-elected president. He was re-elected in 2015. Yoweri Museveni fought his way into office, but has since remained unwilling to leave.
The social stature of these despots will ever remain diminutive because of their ill-informed decisions. They stand little or no chance of ever comparing with Nelson Mandela – a man who remains revered on the world stage years after his death. With their selfish decisions, they cause panic, pain, poverty and perpetuate underdevelopment under their watch. Their tactics for sustaining their hold on power remain sometimes ridiculous, indefensible and lacking in sound logic. In his inane third term bid, Ouattara ridiculously claimed a landslide 94.27 per cent of the votes. In a barefaced absurdity, one source – Commission Electorale Independente (CEI) – allocated 99.45 per cent of the votes to Ouattara; 1.75 per cent to Pascal Affi N'Guessan, another candidate; 3.55 per cent to Henri Konan Bédié (a former president), another candidate and 2.33 per cent to Kouadio Konan Bertin, another candidate. This meant that the total votes cast were over 100 per cent, amounting to 107.08 per cent. Condé won 59.49 of Guinea's total votes during the first round and Tanzania's Magufuli scored the magic figure, with 84 per cent of the vote. The colouration of pan-Africanism to expect from these types of leaders is becoming apparent. They are likely to clamp down on conventional and social media, arrest and incarcerate political opponents and muddle through periods of little or no commercial activities because of unrests. Do we really need to search too far for the causes of conflicts, civil unrests, banditry and insecurity in many African countries? They are found right here: in Libya, South Sudan, Sudan, Algeria, Burundi, Cameroon and many more. Until these despots learn to know the right time to quit and do so on time, Africa will continue to experience needless crisis, caused by mindless leaders. It is time to have a change for the better. Africa deserves better deal and more rewarding social contract.