Oyeleye
Africa's leadership bright spots, dark blots and fading stars (4)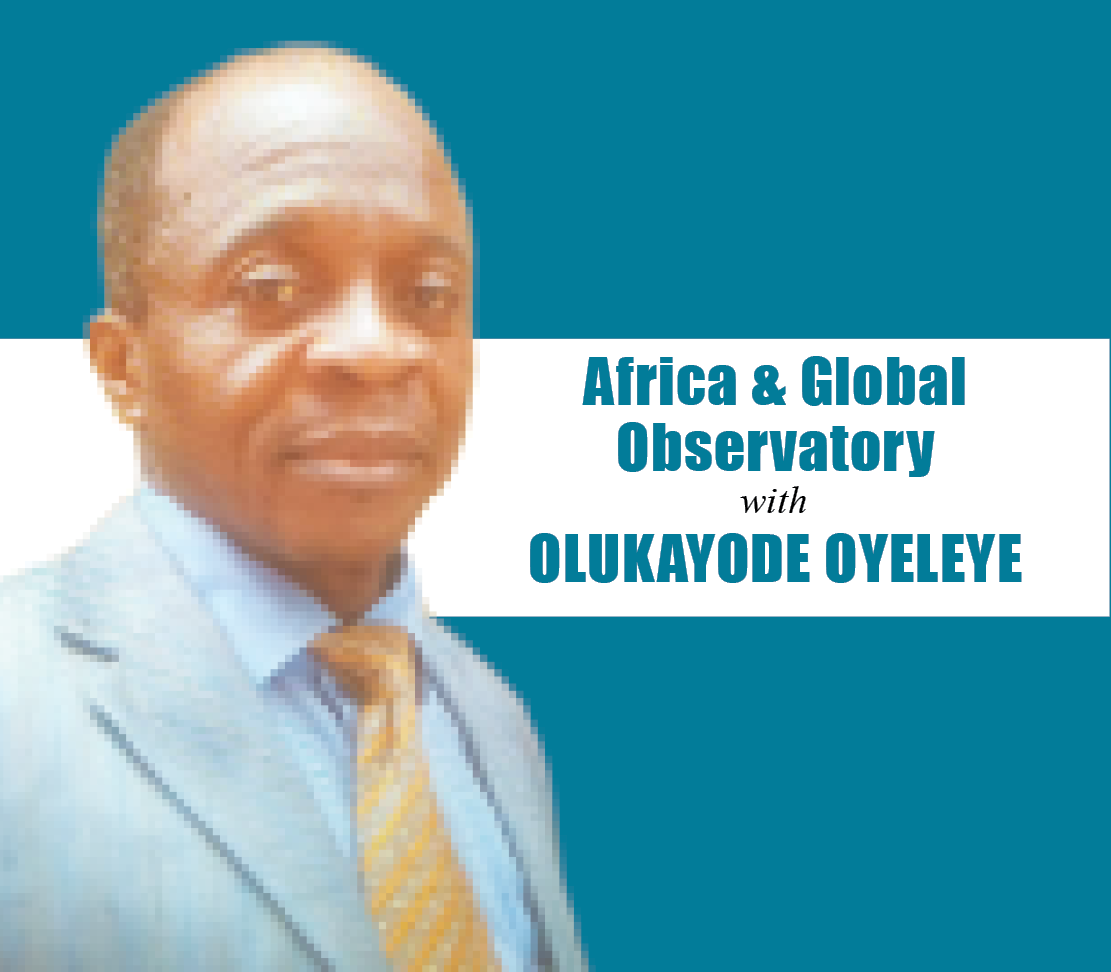 Dr. Oyeleye, a consultant, journalist and policy analyst, can be reached via:
oyeson2@yahoo.co.uk
Twitter: @OlukayodeOyele1
March 20, 2023145 views0 comments
INTERNATIONAL relations between African countries and their foreign partners outside the continent are currently undergoing some modifications. There seems to be a redefinition of bilateral relations now between African countries and the West, particularly the Europeans, as old accepted norms are now being aggressively challenged. More specifically, African countries seem ready to confront and disrupt the age-old status quo that made them subservient to their former colonial masters for decades and prospered those colonists at the expense of the former colonies. Very recently, President Félix Tshisekedi of the DR Congo exemplified that in Kinshasa during the visit of French president, Emmanuel Macron. His retort in response to Macron was very clear and unequivocal. Tshisekedi didn't mince words about his stance on the old order in relation to France as he pointed out that the old concept of Françafrique no longer exists. In his reckoning, African countries that were former French colonies must establish a policy of equals. For emphasis, Françafrique is an international relations stereotypical term referring to countries within France's sphere of influence (and derisively referred to as pré carré in French, meaning 'backyard'). They are former French and Belgian colonies in sub-Saharan Africa.
France, another big country by population and size of the economy in the European Union, has depended on former African colonies for far too long. The future of France is somehow now threatened as the colonies are questioning what they have allowed in the past up till now. Those countries seem ready to stand up to France this time as they are now protesting and speaking out loudly. Although these former colonies still pay colonial tax to France, some, like Mali, Burkina Faso and Guinea Conakry are now trying to move away. Meanwhile, Benin, Togo, Senegal and Côte d'Ivoire are among the countries that are still paying the colonial tax. During Macron's visit, Tshisekedi said French former colonies no longer want to be treated as subordinates but as equal partners. In a press conference that almost turned into a debate, Tshisekedi literally put Macron on the spot, stressing the need to "change how we cooperate." Addressing Macron, he said pointedly that, on "the way Europe and France treat us,… you must begin to respect us and see Africa in a different way. You have to stop treating us and talking to us in a particular tone, as if you are always absolutely right and we are not." In response to Macron's spirited attempts to deflect Tshisekedi's charges and blame them on French journalists for misinformation, Tshisekedi doubled down on his accusations, clarifying that he was referring to previous comments made by Mr. Jean-Yves Le Drian, a past French foreign minister who served recently in Mali.
In addition to colonial tax, the former colonies deposit over 50 percent of their foreign reserves in France, under an arrangement that perpetuates the France-backed African CFA franc system in the West and Central Africa, a system that has been viewed as "an enabler and barrier to development." This system is already proving precarious as some African former colonies are now resisting its continuation. In 2019, Patrice Talon, president of Benin Republic, rattled the establishment's club on France-Africa relations, saying that the Francophone nations in West Africa were ready to take more control over their CFA franc currency and planned to transfer some of their reserves away from France. Some analysts sympathetic to Western countries described the proposal of eight West African countries to withdraw their currency reserves from the French central bank as fraught with implications on the French economy, just as it has political ramifications. Yet it was largely hailed in the African continent. For those analysts who care to see it coming, the EU economy could be seriously jolted if those eight countries make good their threat. And time will tell, because they may do it anytime, even if not now, as the awareness grows and becomes widespread.
Security concerns have significantly shaped the relationship between France and those former colonies in the past couple of years. The same concerns have formed the main plank of the excuses for military takeover in Mali, Guinea Conakry and Burkina Faso since the past three years. The plausible arguments were plain and simple: that the security situation worsened under democratic rules in all of these three countries. In a recent interview in Doha, Qatar, Malian Prime Minister Abdoulaye Maiga, attempted to justify this. According to him, Mali's transition to military rule was in response to pervasive insecurity. It was clear that the military cashed in on this sentiment to win support and legitimacy. He tried to justify the military regime of Assimi Goita by saying that election is not the problem. He faulted democracy, saying that there were elected presidents in Guinea Conakry, Burkina Faso and Afghanistan – a landlocked country located at the crossroads of Central Asia and South Asia – yet the countries failed the citizens and were riddled with insecurity. He said democracy was an imposition and what mattered more was to feed the people and provide basic necessities. In Maiga's opinion, "the other power outside the US is Russia." This was said as he sought to defend Russia's presence in Mali in recent times. This is clearly a sign of reconfiguration in the diplomatic dealings of African countries with Europe, to which the latter needs to carefully adjust rather than denying or discountenancing.
The case of Mali is a microcosm of the shift of attention of some former French colonies to the East. Apart from China that is now having a robust presence in many countries of Africa, Russia is gradually enlarging its territorial influence. Maiga was specific about Malian authorities working with Russia as he tried to cast the views critical of Wagner's involvement in Mali as fake narratives. He said it was misleading to think that nothing can be done without the help of France. He likened France to a doctor and Mali to a patient. He said a sick person will either die or find a new doctor if the first doctor could not help find a cure. Maiga was unhappy about ECOWAS sanctions against Mali in the wake of Goita's military takeover. Last year, Maiga had complained that his country had been "stabbed in the back." The argument of Mali's military rulers is that France voluntarily withdrew its soldiers from Mali in 2022, thus ending a nine-year unsuccessful military operation in the country's fight against armed groups. To fill the vacuum, Mali's military rulers brought in Russia's Wagner group, made up of mercenaries, a group that has been variously accused of involvement "in acts of violence and multiple human rights abuses, including extrajudicial killings." France now complains about Russia's Wagner mercenaries, as the former still considers those countries as their own former colonies.
As long as Europe and France continue their imperialist dispositions toward African former colonies, their grip on such countries will continue to weaken and they will continue to create opportunities for Russia to supplant them. Knowingly or unknowingly, Maiga may have conceded that Mali is now a Russian Wagner Group's mercenary outpost. In recent times, Sergey Lavrov, Russia's foreign minister, has visited many African countries, including South Africa, Angola, Eswatini, Mali, Mauritania, Sudan, Egypt, Congo-Brazzaville, Uganda and Ethiopia. On his diplomatic shuttle, Lavrov has been trying to discredit Western democracies and self-determination and actively legitimising the Russian authoritarian model as an alternative for leaders trying to maintain power. The claims of those surmising that Russia is supporting a continent-wide disinformation campaign designed to prop up authoritarian governments and weaken democracy could not be less credible as Wagner Group's disinformation campaign has evidently shown that it aims to do practically the same thing: to discredit democratic governments. In countries that have security crises internally or externally, Wagner Group has reportedly made inroads in the Central African Republic (CAR) and Mali where its mercenaries are in partnership with the governments.
The widespread insecurity blamed on democracy by Maiga may simply have been a rehash of Russia's diplomatic message in a spirited attempt to sell Putin's archetype and mercenary support as a credible alternative to democracy. Unfortunately, however, violence and human rights abuses have become widespread and intensified in every country where they operate since the past couple of years of operations of the Wagner mercenaries in Africa. Wagner forces, while supporting the troops led by General Khalifa Haftar, left behind hundreds of booby-trapped explosives and other weaponries in civilian areas after Haftar's forces retreated following their failure to take Tripoli in 2020. Wagner is now being accused of involvement in illegal dealings in gold, diamonds and oil to help Russia finance its on-going invasion of Ukraine. Wagner's tactics reportedly include the killing and driving out of miners along the Sudan-Central African Republic border as gold smuggling operations in Sudan, support Sudan's military government even when Sudan is losing millions of dollars in mining revenue and experience degradation of its environment. It is now time to assess the cost and benefits of the continued presence of new and old invaders in Africa and decide which one to adhere to. It is also important to recognise the need to start asking pertinent questions and set clear rules of engagements with them in ways that involve terms dictated by African leaders and not by the invaders. President Félix Tshisekedi has set an example. Let others follow.
business a.m. commits to publishing a diversity of views, opinions and comments. It, therefore, welcomes your reaction to this and any of our articles via email: comment@businessamlive.com