Comments
Oyeleye
Africa's leadership bright spots, Dark blots and fading stars (6)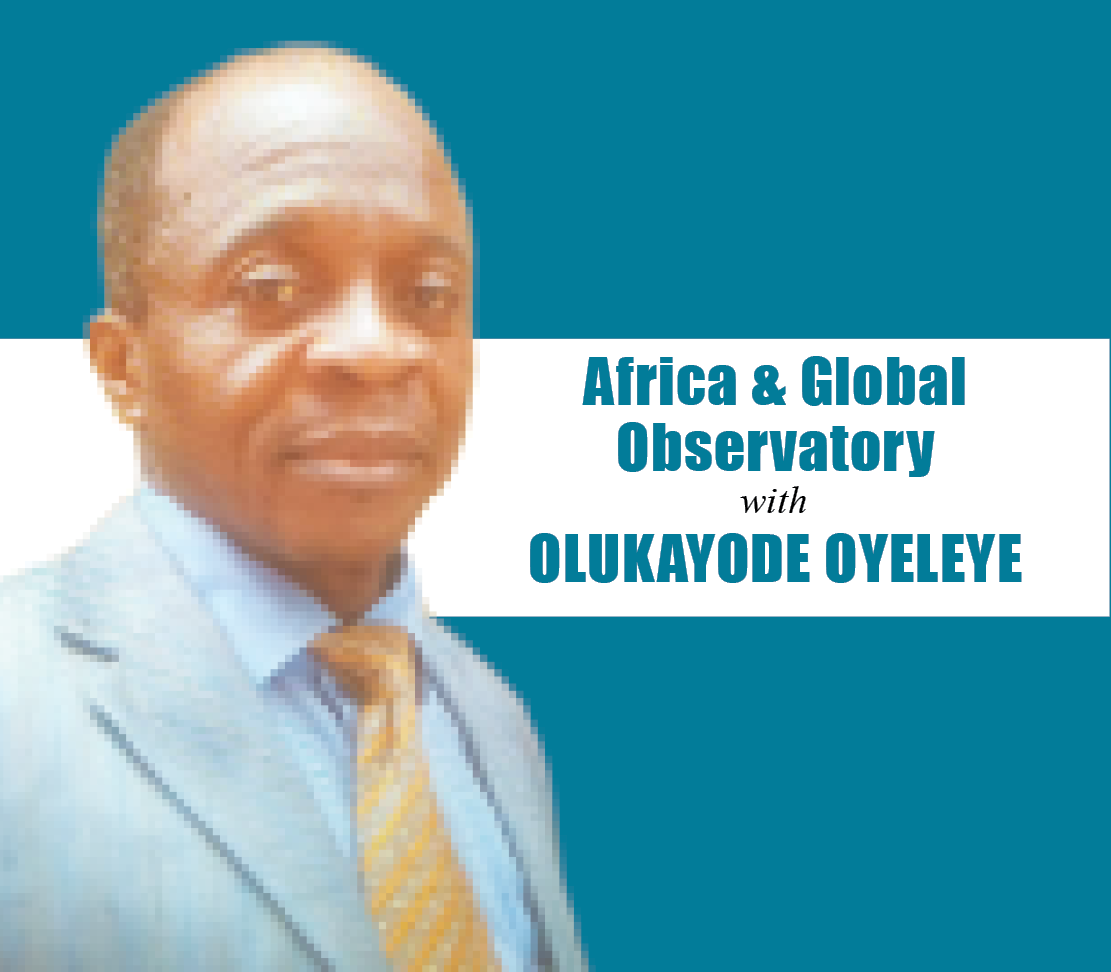 Dr. Oyeleye, a consultant, journalist and policy analyst, can be reached via:
oyeson2@yahoo.co.uk
Twitter: @OlukayodeOyele1
April 3, 2023232 views0 comments
AFRICA, THE CONTINENT that was once described as "hopeless" by The Economist magazine in its May 13, 2000 edition, is now becoming a cynosure, a centre of attraction and diplomatic battleground for superpowers of the Western and Eastern power blocs. China, European Union bloc, Japan, Russia and the US are now increasingly making their presence known and felt in the continent. Every now and then, they organise high profile conferences on Africa as platforms for meeting African heads of government. The Forum on China-Africa Cooperation (FOCAC), Tokyo International Conference on African Development (TICAD), US-Africa Leaders' Summit and the Russia-Africa Summit are among the common platforms devised by those countries for business engagement with Africa. Lately, Turkey has joined in the scramble, with its Turkey-Africa Economic and Business Forum which had its third conference in October 2021.
Most commonly, heads of governments of various African countries are invited to the host countries where they attend with great pomp. In some cases, like FOCAC, events are now held alternately between Africa and the host and organising countries. The terms and agenda were almost always set for Africa by the host countries, calling to question the contributions and roles of African participants in them. One of the most recent of those summits was the US-Africa Leaders' Summit held in Washington DC from December 13 to 15, 2022. The organisers claimed that the summit focused on deepening and expanding the US-Africa partnership and giving voice to Africans in meeting current global challenges. How much voice has been given to Africa remains a sort of conjecture and anticipation. Whereas the US promised last December to support the African Union to become a member of the G-20 nations, signs of work-in-progress to that end are yet to be visible.
Although the US has earlier approached its intervention in Africa by laying emphasis on governance while attaching string to assistance for country in the continent, the North American country would do well to come to the realisation that it cannot singlehandedly dictate the terms of democracy to Africa, a continent with over 50 disparate sovereign states. It could have been safely assumed that the tone from U.S. diplomats lately has taken a new turn in form of Africa's agency and partnership, especially as statements by Biden administration officials have emphasised that the US' intent is to listen, not lecture countries. But the statements made last Monday in Ghana by the visiting Vice President Kamala Harris raise some concerns. In her speech during the stopover visit to Ghana as part of her visit to three African countries, Kamala Harris made a veiled reference to a controversial Ghanaian bill currently still with the nation's lawmakers. The "Promotion of Proper Human Sexual Rights and Ghanaian Family Value" bill, when passed into law, would legally punish and jail those who identify as LGBTQ.
In what appeared like subtle dictation of terms to Ghana on the bill, Harris diplomatically said she felt "very strongly about the importance of supporting the freedom and supporting the fighting for equality among all people, and that all people be treated equally. I will also say that this is an issue that we consider, and I consider, to be a human rights issue, and that will not change." Ghana's President Nana Akufo-Addo, trying to sound tactful and deliberate in his response, was more explicit. The president said that "substantial elements" of a draconian anti-LGBTQ bill being considered by its parliament "have been modified" after an intervention by his government. "The bill is going through the parliament," he said. "The parliament is dealing with it. At the end of the process, I will come in." He elaborated further that the proposed legislation was not introduced by his government but was a private members' bill. This statement may have been construed by some left-leaning Western media outlets to mean that Akufo-Addo was trying to backpedal on the issue. However, the statements of two of Ghana's parliamentarians will provide some clear contrasts. Samuel Nartey George, one of the parliamentarians who introduced the bill, insisted that the proposed law remains "rigid and tough," adding that "when the bill is laid before the House (of parliament), you will realise that the focus of the bill which has to do with voiding (gay) marriages, preventing them from adopting or fostering children, the clampdown on platforms and media houses that are going to do promotion and advocacy or push those materials still remain enforced."
It can be argued with some certitude therefore that the US seems not to be getting right some aspects of its Africa engagement. Why should the officials of government trying to engage with African countries be selling the LGBTQ rights message in their engagement? In the fierce struggles going on among the superpower countries trying to establish their presence in Africa, this is one of the reasons the US might lose grounds to China and Russia in Africa. Applied circumstantially, the straitjacket logic of the US about freedom could actually imply that Africans should be allowed to choose and practise their beliefs, and external assistance should not be tied to arm-twisting conditions during diplomatic engagement. The comments made by Kamala Harris have been vehemently opposed by Ghanaian Speaker of Parliament, Alban Bagbin, who berated Kamala Harris for advocating LGBTQ+ practice in Ghana. According to Bagbin, the assertion made by Harris on the matter was devaluing the people and the country.   He also criticised Akufo-Addo, contending that the president cannot control Parliament on this bill. Bagbin said "there's no way he can intervene. That answer he gave, wait until we pass it, and we will direct you to execute it. That is where you come in. In terms of the law which is part of the policy, we will finalise it. Then the executive has the authority to implement it. Let's get this clear." George, in his own opinion, added that "when he (Akufo-Addo) says the bill has been watered down, he doesn't know what he is talking about." Although Harris did not make statement directly on the Anti-gay Bill in Ghana's Parliament, she nonetheless repeated her perspective on human right violation against minorities, stressing that her position remains unchanged, in "supporting the fighting for equality among all people, and that all people be treated equally."
During her interaction and joint press conference with the President of Tanzania on Thursday, Harris diplomatically avoided the prescription on LGBTQ+ rights.  She probably chose to skip the subject as it could sound distasteful to Samia Suluhu Hassan, the Tanzanian president who is a Muslim. She encouraged Tanzania's fragile progress toward a more inclusive government and commended the lifting of ban on opposition rallies and encouraging more press freedom as "important and meaningful steps" toward democratic reforms in the country. That pretty much sounded like different strokes for different folks as Harris took up different issues on Friday in Zambia, the last of three nations she visited on her trip to Africa to deepen US engagement with Africa to counter the growing influence of China and Russia. This is a lofty task in the circumstances involving aggressive campaigns against democracy by Russia and China in many African countries in which some African diplomats have described U.S. policy as ignoring the continent's own objectives and impeding its freedom to form ties with both America's allies and adversaries like China and Russia.
Undoubtedly, Africa needs help. And the US has indicated readiness to help in some definite ways. At the December Summit in Washington DC, for instance, Africa was promised $55 billion in aid over the next three years. It is important to emphasise that Africa will be one of the reasons for heightened diplomatic row between France and Russia and between China and the US as interests and values come at cross purposes. What seems to be the loss to one might in certain circumstances serve as gains to another. While the US is upbeat on issues like climate change, food security and human rights, it does not appear that easy to pull African countries into the trenches on its concern about Chinese or Russian influence on the continent. Amusingly, deniers and presumptuous gainsayers in the US don't seem to reckon well with the ascendancy of China, but at the same time treat it with contempt, scorn and concerns as a threat. In Africa, the US will have to do a lot to match China on diplomatic influence, especially China's debt diplomacy. Currently, some African countries – particularly, but not only, the Francophone – are gleefully welcoming Russia and China, while simultaneously kicking out France. Recent developments have shown that the old French colonies in Africa now desperately want to cut the umbilical cord tying them to France, and the latter is not finding it funny at all. Not only will this have significant repercussions on French economy, the decades-long idea of Françafrique will suffer tremendous setback as former colonies decouple politically and economically from France.
In Zambia, during her meeting with President Hakainde Hichilema, Vice President Kamala Harris commended the Zambian president on "an ambitious democratic reform agenda" under his leadership. She stressed that "democracy and good governance around the world is a priority for the United States, and we will always stand with those who are fighting for those principles." She announced "more than $16 million for new programmes in Zambia, including a focus on anti-corruption and other reform efforts." She also advocated "for speedy finalisation of Zambia's debt treatment and the restructuring. But it was the same Zambia in 2018 that China proposed to take over its Kenneth Kaunda International Airport in Lusaka on the pretext of China loan default. On Friday, Harris made a point for "all bilateral official creditors to provide a meaningful debt reduction for Zambia." Beyond debt, African countries still depend on donations from these countries. But, for how long shall they have to depend on donations? And how would those countries share lump sums pledged to them? Where is the policy on industrialisation of Africa? How can these foreign countries help Africa overcome instability and insecurity? How can they help Africa to boost the African Continental Free Trade Area arrangement (AfCFTA)? How can divisions among the 54 or 55 African countries be overcome and forge a common front against foreign invaders? It appears like engaging with African countries will no longer be business as usual for the foreign countries. However, African countries should be mindful of their strengths and weaknesses in all cases of bargaining. Small economies can't negotiate alone and big ones cannot afford to overshadow the small ones when numbers count. Countries in the continent must muster the courage to work together and overcome their common challenges. A problem for one is a problem for all.