Oyeleye
Africa's place in a period of global warming (2)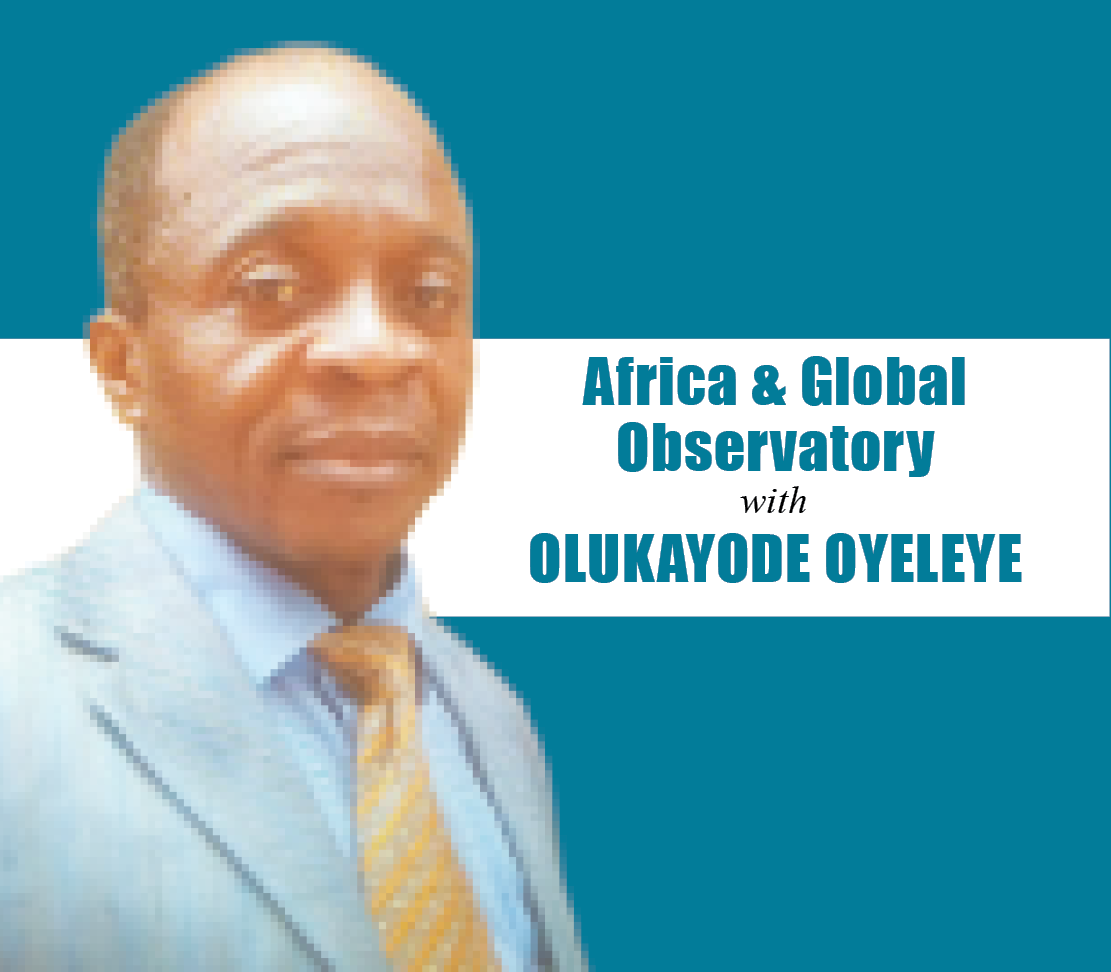 Dr. Oyeleye, a consultant, journalist and policy analyst, can be reached via:
oyeson2@yahoo.co.uk
Twitter: @OlukayodeOyele1
August 15, 2022407 views0 comments
IN ABOUT 100 DAY'S TIME, the city of Sharm El Sheikh in Egypt will host the world's 27th United Nations Climate Change Conference, commonly referred to as Conference of Parties (COP) 27. This will be from November 6 to 18. This conference will have a lot of implications for Africa's future in many different ways for a number of reasons. The Olympic Games have been known for one thing: the landmark stadia built in the host countries outlast the events and serve as reminders that such events were once held in the host country. For it to be of benefit to Africa, COP 27 should leave a permanent footprint and act as a platform that is able to chart a new and sustainable economic blueprint for the continent. So much will be expected of global leaders – particularly those from Africa – in favour of Africa's development on the social, political and economic fronts as these have direct and indirect bearings on the climate in terms of causes and effects in what can be described as a two-way traffic. It should not be just another "COP where we go and meet and talk, but that it has to be a club that delivers," according to Vera Songwe, under-secretary-general and executive secretary of the UN Economic Commission for Africa (ECA). With Egypt's presidency of COP27, Africa's place in global conversations on climate change should be very prominent and key issues raised should be more Afro-centric, especially with the home advantage and relevance to the hosting continent as no one else is likely to speak for Africa better than Africans. Since climate issues have been up for discussions, Africa's own peculiar climate challenges have tended to be viewed through parochial lenses of ignorance, underestimation, distortion and outright misperception both from within and outside the continent.
Africa's climate narratives have been such that those who discuss African climate subjects tend to be more of people from outside of the continent rather than from inside. The former category has also been more influential than the latter. This seems to have been recognised by the Intergovernmental Panel on Climate Change (IPCC) as it once noted in a report indicating such narratives as "usually a framing that wraps Africa's own climate challenges as victims without agency." They may have a point to the extent that the institutions spearheading responses to climate issues may not have a heavy presence in Africa, and in the sense that much of Africa's environment-related events go either unreported or underreported. Of all said so far about climate, Africa's vision and strategy that link climate resilience with economic resilience are yet to receive remarkable attention and policy response from within the continent by state actors and non-state actors alike. Concerns about the future consequences and impacts of commodity dependency which put most African countries within the bracket of enclave economies led by natural resource base and extractive industries are well justified. Africa's economy is still tied to commodity export, with a lot of suppressed truths about the environmental consequences, as many countries' leaders seek to shield their regimes away from international opprobrium. While various leading voices on climate have spoken about the need for a shift away from fossil fuel energy sources to renewable energy, a point seems to have been missed about the global economic inequalities and the unfair distribution of opportunities and wealth in which case Africa has been at a disadvantage. Adequate emphasis has not yet been placed on the possibility of widening economic gap between the global north and global south, especially in the context of a new economy that is expected to be spawned by energy transition.
While many would hail the growing interests in Africa's mineral resources as critical for the clean energy revolution, the side of the reality various commentators operate from is a matter of great importance. It could be argued that coal, oil and gas extraction should be replaced with "clean energy." But real putative issues revolve around the ideas of establishing how clean the "clean energy" sources are, in the first place. Secondly, how broad, even and sustainable the economic impacts have been on individuals, households and countries of Africa should be given critical and dispassionate attention. Africa's poverty story is not a straitjacket one of absence of wealth-generating resources but rather one of governance, utilisation, industrialisation and productive use of available resources. Those who argue that the percentage of Africa's contribution to global warming is negligible at about three percent, may be missing an essential point on the global value chain, particularly on massive commodity export from the continent. Emanating from countries that have previously built their civilisation, industrialisation and national wealth on extractive industries that rely primarily on fossil fuels before undergoing structural transformation of their economies are now the growing armies of champions of "phasing out" of fossil fuels. In their unidirectional logic, they are so passionately concerned about a world that is heating up and the need to check global warming. Their theoretical and moral pontificating about the environmental impacts seems to play down on the north-south economic dichotomy and the increasing secular stagnation experienced by those that are energy deficient, particularly in Africa.
The suggested "phasing out" of fossil fuel energy during COP 26 which ended up being modified to and adopted as "phasing down" appeared to have irked many idealists that have a different idea about the universe. Those who left Glasgow disappointed wanted a hasty transition that seemed to show disregard for the possibility of upending the world economy in unimagined ways and unprecedented magnitude. In reality, sudden and abrupt phasing out of traditional fossil fuel would very likely create a monumental and impactful disruption of the global energy system and economy. This will be particularly so in a circumstance of yet-to-be-comprehended full ramifications of the anticipated replacement – the renewable energy source. It is doubtful if energy transition will go hand-in-hand with anticipated inclusive growth and more even spread of economic benefits expected to arise from it. There are justifiable reasons to be suspicious of the aggressive push for renewable energy as some leaders have clearly positioned themselves to determine the direction as well as the material gains and geopolitical consequences emanating from it. Varun Sivaram, in his publication on "The Dark Side of Solar," elaborated on how the rising solar industry empowers political interests that could impede a clean energy transition. The same can be said of other forms of the so-called "clean energy" sources. Africa's largest source of cobalt is the DR Congo. The same country is the source of 60 percent of global deposits of the metallic commodity. Yet DR Congo remains an economically disadvantaged country while China, a major investor in DR Congo's cobalt extraction, is growing its relevance and economy on the back of renewable energy-driven electric vehicles. In 2021 alone, around 2.9 million battery electric vehicles were reportedly sold in China, in what was considered an increase of 162 per cent over that of 2020. It is doubtful if DR Congo has 2.9 or three electric vehicles on its roads.
Commercial extraction, processing and export of cobalt have only just exposed the tip of the iceberg in what to expect in the future of some other similar commodities that are projected to drive the new world of clean energy. For instance, while those linked with trade involving artisanal mining of cobalt have been condemned for the use of child labour, environmental degradation and other forms of human rights infractions, the industrial miners and processors use fossil fuel in their operations, thus polluting the air and water. China, a major culprit, thus smartly transfers part of its industrial pollution to the source country of the DR Congo from which it imports its cobalt. Thus far, developed and more resilient economies are busy working on ensuring resilience against climate risks, as they reckon an increase in national income and household income as supporting a more self-reliant growth path. The opposite seems to be the case with Africa's climate diplomacy during each of the previous COP meetings. At the national levels, Africa has not made any remarkable progress in climate policy – be it on adaptation, mitigation, or climate finance – in any observable way to boost its future economic trajectory, social inclusion and global competitiveness.  It could therefore be said that advanced economies and blocs like the EU, or the US with its Green New Deal under the Democrats' leadership, now see the world from European or American standpoints while COP becomes their platform for advancing such policies that suit only their fancy. Their ideas drive many decisions, strategies, narratives and talking points: on scaling up clean solutions, sustainable environments, fines on flows of carbon-intense goods into Europe and access to preferential finance for low-carbon technology. They even go as far as discouraging certain types of time-tested and nutritionally relevant agricultural activities such as cattle farming on the premise that cows consume a lot of water and release a lot of methane into the atmosphere from its constant eructation. They pointedly suggest that commercial beef and milk production should be scaled down in a world that desperately needs more protein of animal origin. In essence, the EU and the US are already positioning themselves as the de facto leaders and rule makers in the new technology as they now ensure that the new standard for competitiveness depends on decarbonised sectors.
Africa's participation under circumstances in which the great custodians of environmental standards cast a long shadow on COP negotiations is fraught with risks. It is akin to bringing a featherweight wrestler into the ring or fighting arena with multiples of heavyweight champions in a free-for-all wrestling contest. At COP 27, therefore, Africa needs a whole lot of new approach to climate diplomacy. In Africa, most countries that participated in COP and signed on to the Nationally Determined Contributions (NDC) toward reducing national emissions and adapting to the impacts of climate change have so far fallen short of expectation, except perhaps South Africa, which has turned its NDC ambition into a platform to secure large-scale climate finance toward clean energy investments. Most countries still struggle hard on mitigation, adaptation and resilience. While country platforms are meant to combine climate ambition, political will and credible investment plan for leveraging climate finance and various other sources of funding, it is doubtful if many countries of Africa are ready yet. A forum organised by ECA earlier in the year towards COP27, according to Vera Songwe, was with the aim of catalysing "climate finance and investment flows towards building climate resilience in Africa." For African countries that are yet to take any serious step on climate matters, Egypt COP27 could just be another jamboree while serious-minded foreign countries steal the show.
African Development Bank (AfDB), the continent's main multilateral development finance institution, has committed a significant sum of money to climate finance where whole countries are foot dragging.  According to the AfDB, "Africa faces exponential collateral damage, posing systemic risks to its economies, infrastructure investments, water and food systems, public health, agriculture, and livelihoods, threatening to undo its modest development gains and slip into higher levels of extreme poverty." The multilateral bank identified some factors considered as contributing to Africa's vulnerability. It observed that Sub-Saharan Africa has 95 percent of rain-fed agriculture globally. The import of this is that it does not produce much food off-season, using performance enhancing technologies. A bulk of what is considered as agricultural activities still remains too vulnerable and weather-sensitive, especially herding and fishing, resulting in income losses and increased food insecurity. The bank affirmed that seven of the 10 countries that are most vulnerable to climate change are in Africa, whereas in 2015, four African countries ranked among the 10 countries most affected, namely: Mozambique, Malawi, Ghana and Madagascar. It follows therefore that apart from country-level environmental strategies, there is an urgent need for a well-coordinated continental strategy for addressing climate and environmental issues. The time before COP27 may appear rather short, but so much can be made of this period to enable Africa to present a very strong and influential common front in Egypt. It will be both amusing and alarming if the gathering does not produce outcomes that are favourable to Africa or that strengthen Africa's position in the unfolding world of climate diplomacy. Such an opportunity as that of Egypt's COP27 comes once in a long while. Africa has no excuse for not making the most of it.
business a.m. commits to publishing a diversity of views, opinions and comments. It, therefore, welcomes your reaction to this and any of our articles via email: comment@businessamlive.com