Oyeleye
Africa's place in a period of global warming (5)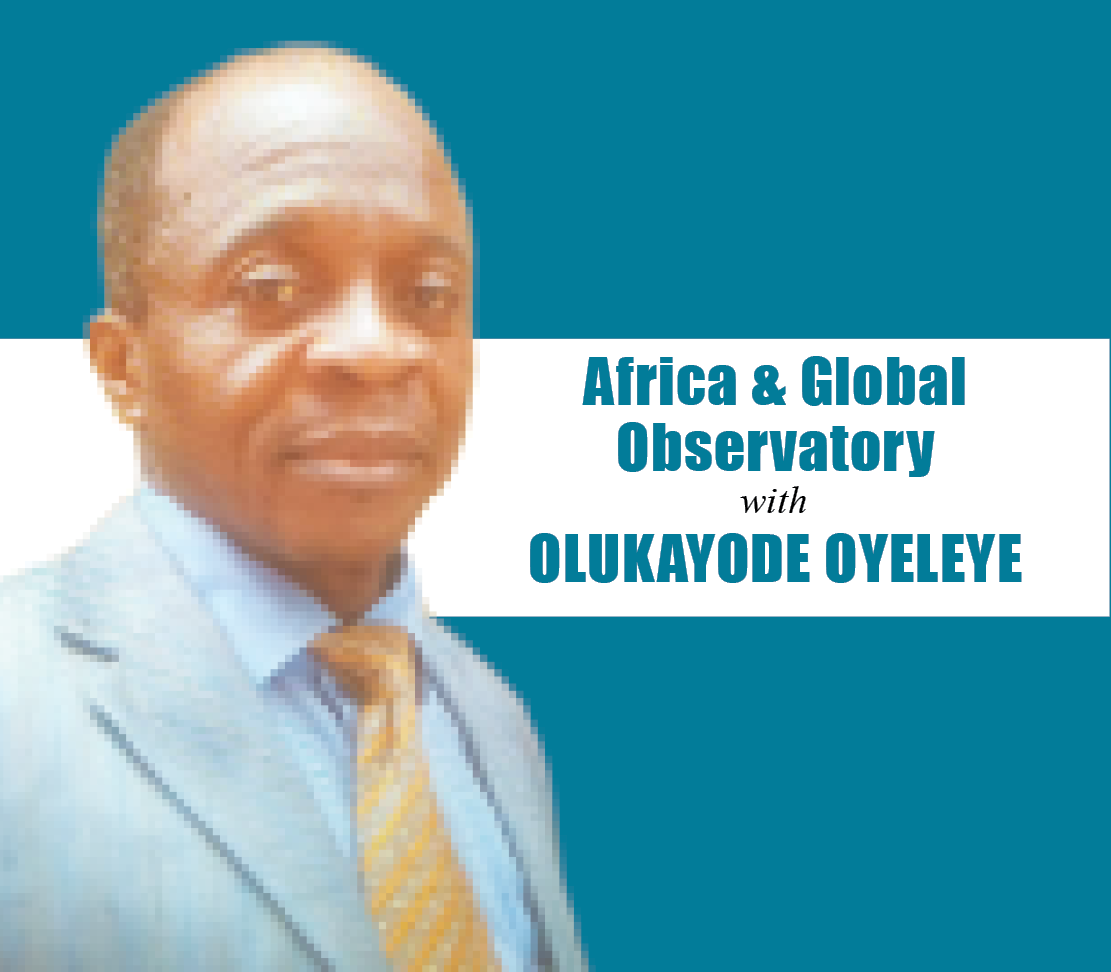 Dr. Oyeleye, a consultant, journalist and policy analyst, can be reached via:
oyeson2@yahoo.co.uk
Twitter: @OlukayodeOyele1
September 5, 2022651 views0 comments
ENERGY WARS LOOM GLOBALLY, not necessarily in the conventional context of trench battles, military operations, firing of cannons and missiles, but in the form of tit-for-tat diplomacy, business decisions, economy and politics. This finds expression in the diplomatic showdown between the European Union (EU) and Russia, which shows no immediate sign of easing as the EU has recently chosen more stringent measures to alienate Russia. Midweek, on Wednesday, it was announced that Russia's access to the EU bloc would no longer be "business as usual" as a joint EU-wide decision has been agreed upon to henceforth restrict visa approvals to Russians. As winter approaches, the EU demand for energy is expected to rise. Rather than depend on Russia as usual, the EU bloc now has its face elsewhere. Despite the hard-hitting impact since the past couple of months, the EU seems resolute to purchase energy and fuels from elsewhere other than Russia, at least in the foreseeable future. While Russia itself seems recalcitrant and decided also to cut the amount of the gas it sends to Europe by shutting the key Nord Stream 1 pipeline for the second time this summer under what appears to be a pretext of repairs and maintenance, the real reason could be to use it as a political weapon, keep the price rising and to further raise the stakes in what could be described as high level of confidence in the centrality of energy to the world economy.
Russia may be right on the assumption that – for a long time in the future – the world would continue to require and depend on more energy from conventional sources to power its ever growing economy. In particular, this assumption applies directly to the EU. But any assumption that the world would sooner than later resort to Russia for these conventional energy supplies could be presumptuous, wrongheaded and delusory. On the right assumption, the EU has turned again to coal, a pointer to the fact that coal may not go into irrelevance soon. Major suppliers of coal from elsewhere now have huge incentives and opportunities to sell to the EU. This is in addition to the earlier moves to seek gas supplies from sources other than Russia in attempts to fill the yawning energy gap within the EU bloc. The coming winter will be a test case for coal and gas as the temperate countries in the northern hemisphere brace for the looming challenges in energy supply in the cold months ahead. Although the November meeting of COP27 in Egypt will reopen discussions on "phasing out" or "phasing down" of coal, there might be overwhelming arguments on the retention of "phasing down," at least for the time being, in view of current realities. This might take a disproportionate amount of discussion time but, in the end, may still remain unresolved as various vested interests will muster as much vigour, gusto and logic to defend their positions.
It should not be surprising that the state of the global economy since the end of the first quarter of 2022 will become a more prominent focus in this year's climate discussions than any other time before. Defenders of the status quo on conventional energy sources will come from a broad spectrum of backgrounds depending on how the past six months have affected their endeavours, enterprises and prospects. But those who want to wish coal – or the fossil fuel energy sources generally – away so soon may be forced to have a rethink at Sharm El Sheikh in November. A great deal of circumspection on energy transition will likely be urged by some leading and possibly influential voices. Two major arguments might suffice, even if they serve some interests better than others. First, the food crisis that has hit the world since the month of March has been largely attributed to Russia's invasion of Ukraine. The millions of tonnes of grains said to have been held up in Ukraine as a result of the invasion obviously got the attention of the world as contributory to the short term shortage in global food balance sheet. It took the intervention of the United Nations (UN) to facilitate the shipments that were done about a week ago. If the Russia-Ukraine war lingers for much longer, this food shortage scenario may become escalated.  In reality, however, how these scenarios play out may need to be figured out as fears of a food crisis will be increased, particularly under the scorched earth war strategy of Russia against Ukraine. What is interesting in this food crisis discussion is that limited emphasis has so far been placed on alternative sources of wheat supplies in an unlikely event that Ukraine is unable to export its wheat in store or unable to produce more in the years ahead in case of a protracted war.
Although Ukraine is significant as a major producer of wheat, it is clearly not the largest – not even the second or third largest. So, circumstances surrounding the export and shipment of grains from elsewhere need to be brought into the conversation as it appears that the media hype about Ukraine may have caused commodity speculation and artificial rise in price in the global commodity market. Operations of the World Food Programme (WFP) humanitarian support may suffer a little setback as a consequence of the Russian invasion of Ukraine. The second argument that may whittle down the influence of energy transition advocates at COP27 could be pure economics. The record global inflation since the Ukraine invasion by Russia has upset the global economy on the back of energy supplies.  Countries and regional groups are in desperate moves to direct their policy priorities on coping strategies as costs of energy rise. The US, EU bloc and many other countries are presently facing unprecedented reduction in energy supply at the same time as rise in costs while renewable sources still provide insignificant proportion of the total energy needed globally at the moment. A sudden, short-term and tension-soaked reduction in energy supply in 2022 is providing an insight into the future scenarios. One thing has become clear, energy transition has to be done carefully, less hastily and with multi-dimensional considerations if more elaborate, unpredictable unintended consequences are to be avoided.
Another point worth making is that advocates of energy transition and renewables need not see the old and the new as mutually exclusive, but rather as complementary. Abrupt shifts from the old to the new will very likely have devastating side effects. Vocal activists who are calling for an end to fossil fuels need to understand that a sudden shift is not realistic. Moreover, many industrialised countries of today built their economy and industrialisation on the back of fossil fuel. To demand a sudden and absolute shift for all countries will still run into some headwinds, especially when considered against the backdrop of equity and socio-economic realities. And, without any global consensus on the phases and stages of energy transition, we should expect a lot of open oppositions, quiet disagreements, subtle sabotage and outright rejection in various instances. The wide gap between the developed countries and those still struggling to be free from underdevelopment may widen even further if the energy transition does not take into consideration the wider impact on the world. How energy transition will help Africa's economy in the short term and long term will be of great interest.
Naïve environmental activists would want to seize the stage and force smaller countries to comply while finding it difficult to persuade big countries to adapt. African leaders would have to be naïve to agree to such selective measures without questioning.  Three of the leading economies in Africa depend on revenues from oil and other petrochemicals. Nigeria, Egypt and Angola produce and export enormous amounts of oil and gas, earning a bulk of their revenues from these sources. And some other countries are coming up. The economy of beleaguered Mozambique would probably have been worse if petroleum revenue was absent. Uganda is now set to exploit the economic benefits from petroleum. But the country's recently launched project, the Uganda–Tanzania Crude Oil Pipeline (UTCOP), also known as the East African Crude Oil Pipeline (EACOP), is up against serious opposition from environmental activists and auditors even as construction work is almost commencing. Broad opposition and possible blackmail of financiers may succeed in stalling one of Africa's most ambitious fossil fuel projects, one which includes crude oil extraction in Uganda and installation of a 1,443km pipeline from the Ugandan oil wells to the Tanzanian coastline.
While not making a case for the corporate interests from France and China that are behind EACOP, it needs to be emphasised, however, that the use of fossil fuel energy will still be around for the time being. That means, African countries should not be deprived of opportunities to boost their economy with fossil fuels while the demand still remains high. The continent can thus develop its decarbonisation project and harness the benefits within the context of phased transition in order not to allow its economy to become worsened. There are clear paths to manage the risks involved: to the environment, people and investments. It is acknowledged and agreed that a clear, stringent and effective environmental stewardship programme needs to be in place to hold operators in oil and gas extraction accountable and to serve as best practices benchmarks for the industry under this circumstance. But preventing those countries from venturing at all appears unjust and overbearing especially as some obstacles and opposition have been generated from local communities, climate and environment groups against EACOP, making it now difficult for financiers to secure $3 billion worth of debt financing for the take-off of the project that is expected to usher in economic development across the region.
Any extreme position on EACOP could be devastating, and such extremes should be avoided at all costs as neither would be beneficial for Africa. For instance, an overbearing and incorrigible government will not be helping the populace in the events of massive environmental pollution. On the contrary, civil society organisations could do more harm than good if they go on overdrive or altogether ignore the upsides of such a project in their determination to stop it from becoming operational.  Thought leaders in Africa therefore need a middle-of-the-road approach to the continent's climate advocacy, environmental risk management and stewardship, with the continent's peculiarities in mind as global benchmarks may not be applicable everywhere without modifications to suit local realities. And if, indeed, it is truly and widely acknowledged that the contribution of Africa to global greenhouse gases and global warming is just about three percent, the greater pressures should therefore be on greater polluters to minimise their pollution-emitting activities proportionately while Africa is given some period of grace to operate within some defined limits while working on its own energy transition programmes and reducing activities that contribute to global warming. The economic wellbeing of the continent should therefore be considered alongside the environmental challenges under a delicate balance. An impoverished Africa is one that will contribute more to global warming in an unprecedented and uncontrolled way as the people would very likely descend heavily on natural resources like forests, land and water, over-exploiting to the extent of devastating the ecosystem and biodiversity to meet livelihood needs. That can be avoided. But a right balance should be established and applied.  Africa should not be shut out early on fossil fuel. To do that is to be unfair to the continent. Those representing Africa at Sharm El Sheikh during COP27 should be mindful of this. They should not shy away from their reality.
business a.m. commits to publishing a diversity of views, opinions and comments. It, therefore, welcomes your reaction to this and any of our articles via email: comment@businessamlive.com