Commodities
Agric mechanization to shape up as Brazil plans $1.1bn tractor plant for Bauchi
Temitayo Ayetoto is  Businessamlive Reporter.
You can contact her on temitayo.ayetoto@businessamlive.com with stories and commentary.
October 23, 20181.1K views0 comments
T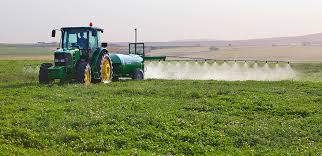 he quest for mechanization in Nigeria's agricultural production processes appears to be inching closer with talks of a possible tractor assembly plant being established in Bauchi state from Brazil's intervention of $1.1billion.
Ricardo Guerra de Araujo, the Brazilian ambassador to Nigeria said at an interaction between diplomats and captains of industry on the Agritech Nigeria Programme in Abuja, that Brazil will soon inject $1.1 billion into Nigeria's agriculture on the heels of an agreement between the tow countries, which will be concluded by October.
He believes sustainable use of tractors and modern technologies for farming in Nigeria could boost productivity, enhance mechanisation capacity for value addition, food systems development and avail farmers with opportunities to explore.
The mechanisation gap in Nigeria's agricultural practice has remained a key challenge limiting the local capacity to produce at commercial scale. According to a PwC study earlier in the year on scaling up productivity through mechanization, the aggregate number of agricultural tractors in Nigeria is estimated at around 22,000, relative to one million and 2.5 million in China and India, respectively.
This outcome, the report stated, is culmination of low income, limited access to affordable financing and the lack of technical skills required for the adoption of mechanisation across the rice value chain.
It estimated that scaling up mechanisation in the next five years could double, for instance,  rice production to 7.2 million tonnes. But to achieve this, Nigeria will need to at least triple its current stock of machinery over the same period. In addition to raising production, adequately increasing mechanisation has the capacity to raise yields, increase labour productivity, reduce post-harvest losses, increase income generated by farmers and deepen import substitution.
These projections could be on track to becoming real should this partnership become implemented. For the largest Latin American country, agriculture is a significant industry that has advanced over time with the adoption of technology in the production of produce, including soybeans, wheat, rice, corn, sugarcane, cocoa, citrus and beef.
Cattle farming remains one of the country's key industries, since it produces millions of tonnes of beef yearly. Significantly, Brazil is also the second-largest producer of soybeans with its beans and their derivatives used extensively and actively providing a substitute market for China in the face of a trade turf with United States. Brazil is as well a leading player in the production of sugarcane, harvesting more than 600 million tonnes of it every year.
"The intervention is expected to improve efficiency in the use of resources, enhance market access and help in mitigating climate-related hazards," the ambassador said.
Under a proposed term of financing of 13 years, including 10 years of repayment, the project to be financed by the Brazilian Exim-Bank would come in three phases with the Central Bank of Nigeria to make available concessional resources through local banks.
Bilateral relations between Nigeria and Brazil, the largest country in Latin America dates back to the 18th century.
Rauf Aregbesola, Osun state governor expressed hopes that the technological approach to agriculture will further stem the tide of youth migration overseas in search of greener pastures.
Aregbesola, represented by his deputy, Titilayo Laoye-Tomori, said the federal government and the Osun government were organising the International Agro-Technology Exhibition and Conference as part of the Agritech Nigeria Programme, noting that agriculture has been globally recognised as a tool for economic transformation and his administration believed that sustained agricultural production with modern technology would facilitate efforts to stabilise and improve the national economy.
"Agritech Nigeria is coming at a period when the Federal Government is diversifying the nation's economy from reliance on petroleum resources to agriculture, as part of the economic recovery and growth plans of President Muhammadu Buhari,'' he said.
Over 200,000 participants from different countries drawn from the various spectrum of agriculture, were expected as well as prospective investors in various value chains of agri-business.
Aregbesola solicited the participation of embassies and high commissions in Nigeria in the forthcoming event, urging that they have pavilions at the exhibition venue to showcase their countries' agricultural technologies and allied products at the Agritech Nigeria Osun 2019.
"We are also calling on international and local financial institutions to support and sponsor youth empowerment programmes during the event. Agritech Nigeria Osun 2018 is an international conference and exhibition that offers a meeting place for manufacturers, researchers, investors, academics, purchasers and decision makers, representing both local and international interests,'' he said.
According to Fahad Al Taffaq, United Arab Emirates (UAE) Ambassador to Nigeria, Nigeria has a lot of opportunities to benefit from the experience and expertise of his country, particularly in the area of agriculture.
He pledged that UAE was ready to deepen bilateral cooperation between the two countries, especially in science-based agricultural development and other areas, to boost agricultural production.