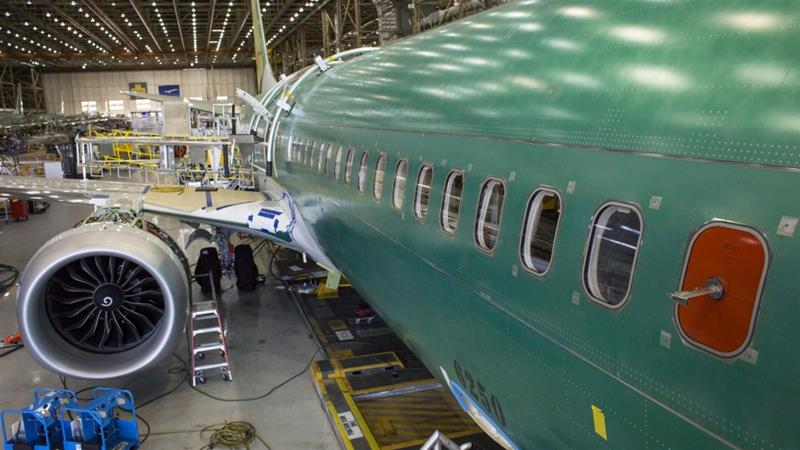 By Samson Echenim
American giant planemaker, Boeing says it suspended production of its controversial B737 MAX because it was no longer sure of when and how the grounded flagship aircraft could make it back to the airspace, among other factors.
Boeing had announced on Monday that it has suspended production of the aircraft which was grounded after two fatal crashes within six months that killed 346 people on board.
The aircraft manufacturer had reported its largest-ever quarterly loss of $3.4 billion in July due to the troubled plane, hinting that if hurdles with regulators worldwide continue, it would consider reducing or shutting down production of the 737 MAX entirely.
"We believe this decision is least disruptive to maintaining long-term production system and supply chain health.This decision is driven by a number of factors, including the extension of certification into 2020, the uncertainty about the timing and conditions of return to service and global training approvals, and the importance of ensuring that we can prioritise the delivery of stored aircraft," Boeing said in a statement on Monday.
The company however said it would continue to assess the possibility of returning the plane back to the plants.
 "We will continue to assess our progress towards return to service milestones and make determinations about resuming production and deliveries accordingly. During this time, it is our plan that affected employees will continue 737-related work, or be temporarily assigned to other teams in Puget Sound," the company added.
Boeing's entire fleet of flagship 737 MAX planes was grounded in March after issues with the model were linked to an Ethiopian Airlines flight crash that killed 157 people.
Five months earlier, 189 people were killed when a Boeing 737 MAX operated by Lion Air crashed.
Boeing has been working on fixes for its Mcas anti-stall flight control software, as well as other issues identified by regulators, including the US Federal Aviation Administration.
Boeing, which has customers in 150 countries, is still waiting for approval from regulators.
The company said no layoffs or furloughs would happen for now as a result of the fleet's suspension.