Oyeleye
Any true refuge for Africa's vulnerable?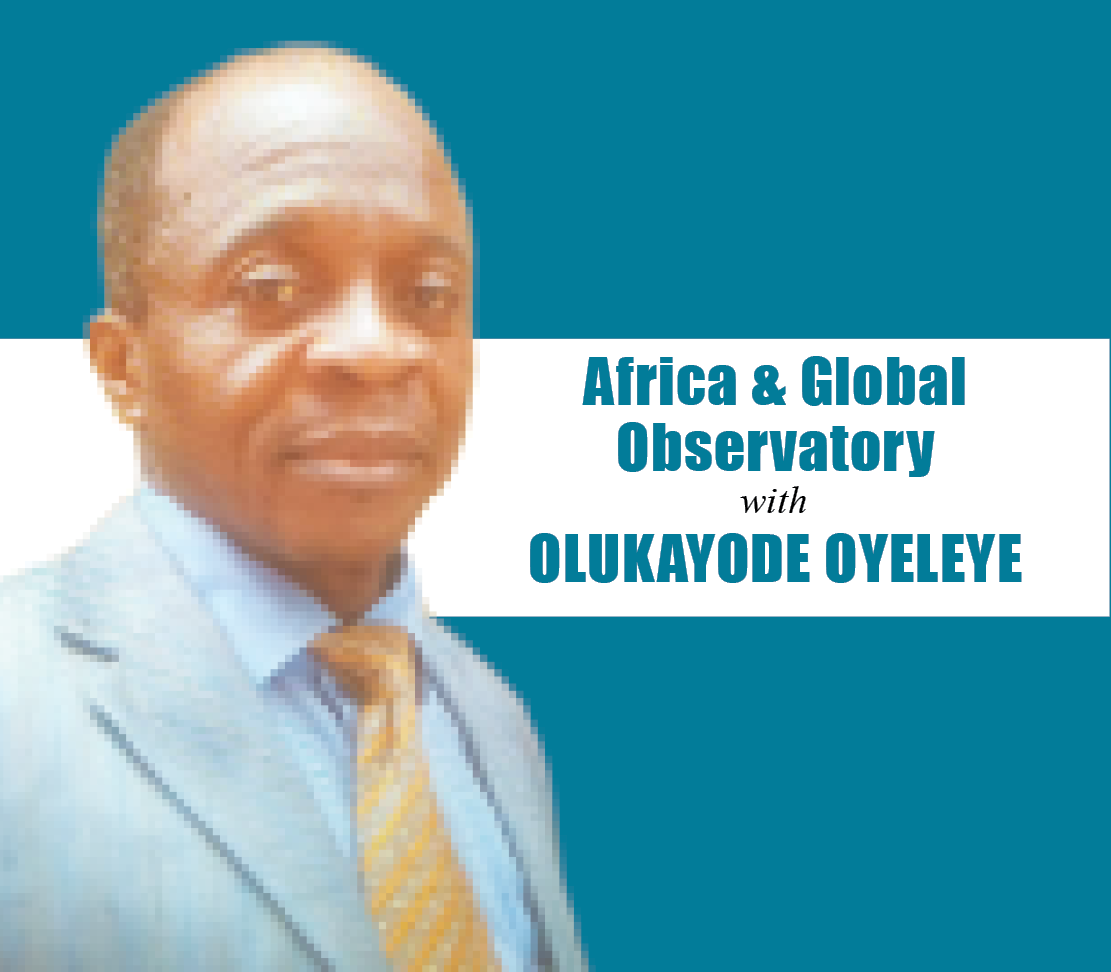 Dr. Oyeleye, a consultant, journalist and policy analyst, can be reached via:
oyeson2@yahoo.co.uk
Twitter: @OlukayodeOyele1
October 3, 2021294 views0 comments
SOCIAL SAFETY NETS have been much hyped in global development discourse and conversations. In Africa, pockets of interventions by non-state development practitioners and humanitarian assistance actors have been described in the context of social safety nets. A significant proportion of such interventions come in form of direct responses to outcomes of crises precipitated by bad political leadership. Otherwise, why would Zimbabweans need any form of social safety net? Why should Somalia, Sudan, Cameroon or Central African Republic? More distressing of all, why should Nigeria need, or have any reason to depend on, social safety nets from sources other than government, especially, considering the size of economy that the country purports to have? Shouldn't these raise the questions of mismanagement of public resources to the exclusion of the vulnerable? In simple terms, social safety net can be understood in the context of non-contributory assistance provided for the purpose of improving lives of vulnerable families and individuals experiencing poverty and destitution. But sadly enough, not a few Africans are within this category.
While the response of development and humanitarian actors, donors and volunteers is commendable, concerns over issues of sustainability, donor fatigue, threats to the safety of field actors and misdemeanours of some individuals on and off the field raise particular concerns. This is because of rhe possible complications that might arise in the absence of, or in cases of lack of, continued flow of such support. It has been acknowledged that the number of poor people continues to rise in absolute terms in Sub-Saharan Africa, despite a slow decline in the poverty rate, which is in relative terms. By a 2018 estimate, with about 40 per cent of the population of Africans living below the $1.90-a-day poverty line and Sub-Saharan Africa reported as accounting for two-thirds of the global extreme poor population, there is clearly a cause for worry. In 2021, even with what appears like a continually decreasing percentage of the poor, an estimated 490 million people or 36 per cent of the total population in Africa still reportedly live in extreme poverty, a number said to have increased from 481 million in 2019. This additional increase of over nine million people transcends a mere statistical analysis of passing interest and needs to be understood against the backdrop of an overall increase in population by roughly 30 million within the same time frame.
The poor in Africa find themselves between the rock and a hard place. They are mostly found among those who become victims of war, climate change, epidemics and social upheaval. They are easily the majority among the internally displaced, the homeless and those who experience food shortage. This vulnerable population is further held in poverty by physical, social and economic constraints that prevent them from embarking on any meaningful or productive social and economic activities that could lift them up and out of the poor group and vulnerable camp. They thus remain dependent on regular hand-outs and donations, mostly in kind. Perpetuating this trend and situation portends a very bleak and hopeless future for the whole continent of Africa — North, West, East, South and Central. It means Africa's place in the world of the future remains uncertain and the prospects remain bleak. In 2020, the population of the internally displaced in Africa was estimated at 29 million people. These  have been forcibly displaced from their homes and majority of them now live in camps and depend on helps for their daily basic needs of food, shelter and clothing. The 29 million figure in 2020 represents a 16 per cent increase from the preceding year. Various unfolding events and their aftermath have shown clearly that there are possibilities that the absolute numbers of the poor and the displaced will continue to rise. And the reasons will mostly be because of bad political leadership, poor governance, official corruption, inept bureaucracies, dysfunctional institutions and failing states, all of which will either cause — or provide the right conditions that allow — these crises to fester.
Although, infrequent, but high impact weather events are well beyond anyone to prevent from happening, the aforementioned leadership failures make the poor more vulnerable to their impacts. The absence of early warning systems, effective disaster response or recovery programmes or appropriate infrastructure to ensure safety of the people all predispose them to the impact of such calamitous events and leave them helpless and worse off even thereafter. For well over two years after the March 2019 Cyclones Idai and Kenneth that left more than 1,300 people dead, countless number of people missing, and many more homeless in Mozambique, Zimbabwe, and Malawi, enough social safety nets have not reached the survivors of. In particular, the victims in Mozambique have had to deal with additional threats of terrorism that has upset the social and economic lives in the northern part of the country since 2017. From the Mozambique's farmers who lost their crops to the flood, to the house owners who  lost their houses to the inundation, mostly without any compensation or rehabilitation intervention from the government of the country, many victims are yet to recover from the impact of what has become one of the worst tropical cyclones in the Southern Hemisphere, that has caused catastrophic damage, and a humanitarian crisis.
The poor are more vulnerable to social, environmental and economic shocks than the affluent. Those in the former category are often forced to leave their pre-disaster comfort for the inconveniences of crowding together in camps. In some cases, these camps become a semi-permanent abode with limited prospects of breaking free to start new and independent living all over again. Forces of nature has been associated with some of the events that throw the poor off-balance, especially when external supports for recovery are not forthcoming. A combination of factors keep the poor perpetually vulnerable. The multiplier effects of their impacts become more complex when the factors leading to their poverty are more than one at a time.
Mozambique is an example of a country that has to deal with many existential problems at the same time. It was rocked by two cyclones in quick succession in 2019, which internally displaced many people while still dealing with the growing threats posed by the armed terrorists' incursion since 2017. Mozambique typifies a country in which its debt to equity ratio is in excess of 100 per cent. It means a lot is spent on debt servicing and very little on the welfare of the ordinary Mozambique citizen. And very little is available for protecting the people from the impacts of further disasters. Somalia, South Sudan, Central African Republic are among those at the forefront in leading countries producing the Internally Displaced People in Africa because of the wars and hostilities that predispose the vulnerable to migration for safety and security reasons.
The rise in the population of the internally displaced or those who have sought safety as refugees in other countries has also placed a lot of demands on many philanthropic non-governmental organisations, humanitarian service providers and multilateral donors. Chief among them is the World Food Programme (WFP), with extensive coverage of Africa. Not too long ago, WFP won the Nobel Peace Prize, which was announced while the head of the institution was on a field mission. Another is the World Health Organisation (WHO), an organisation that has been roundly criticised criticised for its lacklustre handling of the Ebola disease in 2014 and now the Coronavirus that has become a pandemic and could turn endemic.
Wars, terrorists' incursions and hostilities have produced a lot of internal displacement and refugees in Africa. These call for humanitarian supports in forms of food, healthcare, shelter, security and clothing. But it is rather deplorable that many military personnel in peace keeping missions and the WHO field officers have reportedly been involved in some predatory behaviours that tend to cast a big slur on these interventionists and their field personnel.
Although exploitation of a vulnerable population is now a common occurrence, this act is reprehensible, deplorable, criminal, callous and inhuman. Dr. Tedros Adhanom Gebreyesus, the Director General of the WHO, has only recently just apologised on behalf of many who were hired by the WHO for health and humanitarian assistance in DR Congo in 2018, but who turned predatory, sexually exploiting the locals. Measures to address or remedy the actions and pacify the victims should go beyond mere apologies, redeployment of culprits or their disengagement. They need to be tried, just as done in the International Criminal Court, not in their respective home county where justice may not be adequately dispensed or the culprits would likely be shielded by corrupt system. The very bad leadership that has only succeeded in producing the situations that have been leading to these deplorable conditions need to be brought into greater focus. Everything that leads to pervasive poverty and internal displacement will have to be corrected and those interventions for addressing those vulnerabilities should henceforth be given greater scrutiny while the personnel should be critically examined for suitability. Africa can no longer afford the embarrassment of those deplorable deeds. It is time to demand for greater leadership qualities among those trying to alleviate the sufferings of the poor.