Commodities
Apple stakeholders push more Nigerian production to checkmate $29.7m import bill
February 19, 2021906 views0 comments
By Onome Amuge
Nigeria possesses an efficient soil that would do very well in the production of apples and its commercial production is capable of closing over $29.7 million spent on the importation of apples.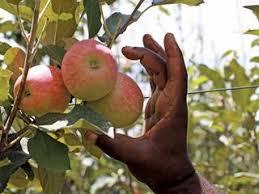 Clement Ohiaueme, interim president of the proposed National Apple Farmers, Processors and Marketers of Nigeria (NAFPMAN), made the disclosure during the inaugural official apple stakeholders' meeting held in Abuja.
Speaking on the economic relevance of local apples, Ohiaueme explained that the cultivation, processing and marketing of the apples will help expand the market frontiers of the produce to other countries of the world and also, reduce unemployment through the creation of jobs for the youths and women involved in the value chain.
According to him, locally grown apples are more medicinal and nutritious than the imported ones and the objective of the association was to encourage the influx of more people into its production.
Adamu Modibbo, chairman of the constitution drafting committee for the association stressed the need for Nigerians to engage in the production of local apples to mitigate bulk of the produce being imported from Cameroun.
Buttressing the need to sensitise Nigerians into the cultivation of local apple, Modibbo said most of the apples Nigerians eat come from the neighbouring country and a piece of small apple is sold at between N200 to N350, while the red ones are sold for N500 depending on the size.
"Our ability to exploit local production will determine how we are going to handle it in the future by stopping its import just the way rice producers are curtailing rice imports," he added.
On his part, Suleiman Audu, director, Commodity Export Department of the Federal Ministry of Industry, Trade and Investment (FMITI) expressed the federal government's preparedness towards the development of apple production in the country through agronomics training in production, processing and marketing under a well-structured association aimed at improving and expanding the national economic diversification policy.
Towards ensuring an association with efficient documentation of operation, a seven-man committee across the six geo political zones were appointed, chaired by Adamu Modibbo from North East and Eniwaye Atunuke representing the North Central. Other members of the committee include, Clement Ohikhueme (South-South), Azumi Musa (North Central), Sunday Eugene (North West), Tunji Oladeji (South West) and Ruth Nweke (South East).