WORLD BUSINESS & ECONOMY
Asian cities dominate list of world's most expensive places for expats
June 22, 20171.5K views0 comments
Hong Kong is now the second-most expensive city worldwide for expatriates, according to Mercer's latest cost of living survey, after ceding the top spot to Angola's capital Luanda.
Asian cities continue to dominate the rankings, with five in the top 10. Seoul climbed to sixth from 15th, while Mumbai was one of the biggest movers, surging 25 places to 57 due to its rapid economic growth, inflation and stable currency. India's capital New Delhi stands one shy of the century mark, at 99.
Hong Kong, which ECA International also recently ranked as the most expensive city in Asia for expatriates, is followed by Tokyo (3), Singapore (5), Seoul and Shanghai (8), according to the Mercer rankings, which are based on a survey conducted in March.
"Although a number of Asian cities remain amongst the world's most expensive cities, key financial hubs such as Hong Kong and Singapore still continue to attract talent and remain a top choice for relocation," said Mario Ferraro, global mobility leader for Asia, Middle East and Africa with Mercer.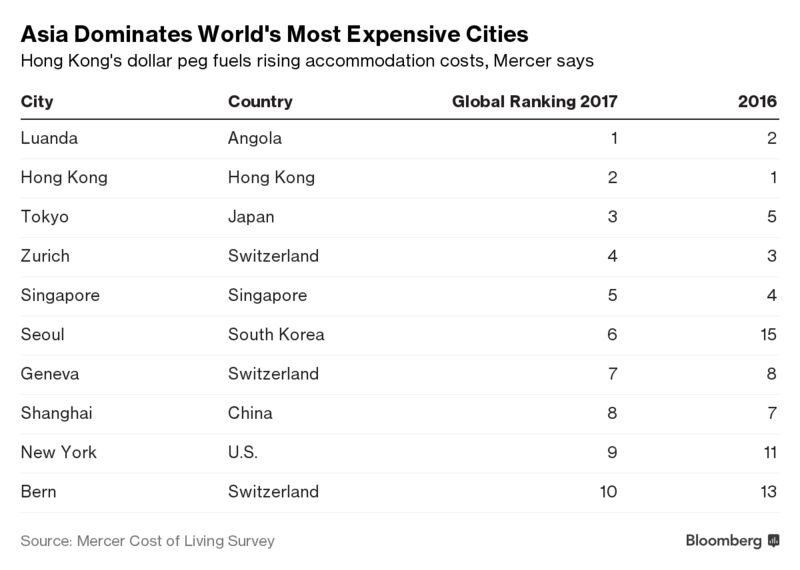 "Although this year's movements were due mainly to currency fluctuations, in particular against the U.S. dollar, we did see cities — such as Mumbai — move up the ranks due to their strengthening economy and growing opportunities," Ferraro said.
Most Chinese cities fell down the rankings as the yuan weakened against the dollar, while Japanese destinations climbed on the stronger yen, high cost of expatriate consumer goods and "dynamic housing market," added Mercer's Nathalie Constantin-Metral, who is responsible for compiling the survey ranking.
New York City and Bern returned to the top 10 this year, while Beijing fell one place to 11th. Zurich and Geneva also featured in the top 10. Luanda's rise to the top was driven by cost of goods and security, Mercer said.
The annual survey uses New York as its base point of comparison and includes more than 400 cities across five continents, measuring the cost of more than 200 items including housing, transportation, food, clothing, household goods and entertainment.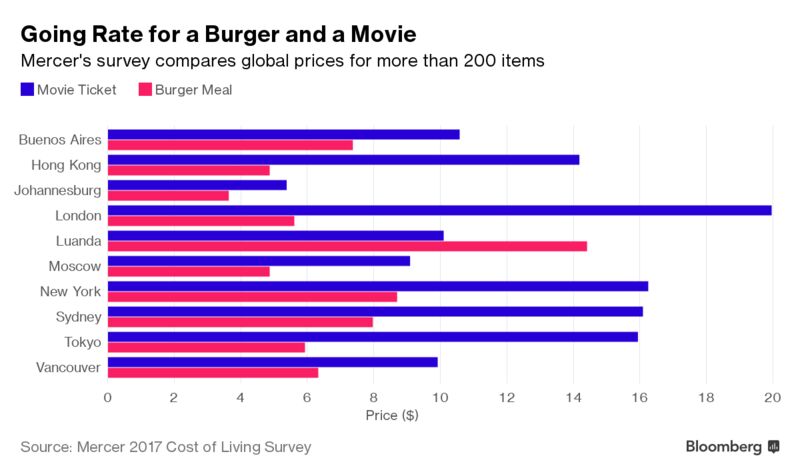 Elsewhere, Sydney gained 17 places to 25, equal with Taipei, while Melbourne and Perth both cracked the top 50 on the strengthening Australian dollar. The Russian ruble's gains saw Moscow and St. Petersburg soar up the rankings to 14th and 36th place, respectively. London tumbled 13 places to 30th as the pound weakened against the dollar following the Brexit vote.
The world's least expensive city for expatriates is Tunis, according to the survey, followed by Kyrgyzstan's capital Bishkek and Skopje in Macedonia.
---
Courtesy Bloomberg