By Zainab Iwayemi
Uber ATG's CEO won't be crossing to Aurora
In an agreement with Uber, Aurora Innovation, an autonomous vehicle start-up, backed by Sequoia Capital and Amazon, has consented to acquire the ride-hailing firm's self-driving unit, Uber ATG, in a complex deal that will value the combined company at $10 billion.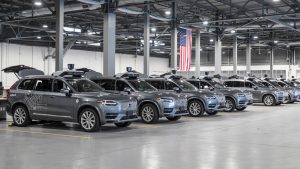 However, the transaction is a cashless one as Aurora is expected not to pay cash for Uber ATG, which as at last year was valued at $7.25 billion following a $1 billion investment from Toyota, DENSO and SoftBank's Vision Fund. Rather, Uber is expected to hand over its equity in ATG as well as invest $400 million into Aurora.
According to a filing with the US Securities and Exchange Commission (US SEC), this would enable it to hold a 26 percent stake in the combined company.
Data from US SEC revealed that as a fresher, Uber held 86.2 percent stake on a fully diluted basis in the Uber ATG. As it stands, shareholders in Uber ATG will now be known as minority shareholders of Aurora. After the deal, it is expected that Uber, together with existing ATG investors and the ATG employees who continue their employment with Aurora, will collectively hold about 40 percent interest in Aurora on a fully diluted basis.
Since it was founded in 2017, Aurora has focused on building the full self-driving stack, the underlying technology that will allow vehicles to navigate highways and city streets without a human driver behind the wheel. This has led to a push in investment and attention from high-profile venture firms, management firms and corporations like Greylock Partners, Sequoia Capital, Amazon and T. Rowe Price, in part as a result of its founders Sterling Anderson, Drew Bagnell and Chris Urmson, who are all veterans of the autonomous vehicle industry.
Before emerging at the Alphabet business, Waymo, Urmson led the former Google self-driving project. Similarly, Anderson is known for spearheading the development and launch of the Tesla Model X and the automaker's Autopilot programme. Bagnell, who is an associate professor at Carnegie Mellon contributed to helping Uber's effort in autonomy and perception team at the Advanced Technologies Center in Pittsburgh.
In compliance with the plans by Aurora to bring autonomous trucks to market first, Urmson has opted that the company is in the process of pursuing other applications of its self-driving stack such as robotaxis.
The new deal with Uber ATG, therefore, avails Aurora with talent and operational facilities as it also delivers on two core areas – relationships with Uber ATG investors, especially Toyota, and a partnership with Uber to enable access to its vast ride-hailing platform.
"The way we want to build this company has been with this mind-set of let's build it to scale – let's create an environment where people can do their best work.
"And then let's go look for great teams and bring them in. It's one way to get a combination of talent and technology, and in this case, also relationships," Urmson said.