Finance
Awori named Ecobank Group CEO as Ayeyemi retires
September 14, 2022549 views0 comments
BY MADUABUCHI EFEGADI
Ecobank Transnational Incorporated (ETI), the parent company of the Ecobank Group, has announced the retirement of Ade Ayeyemi as group chief executive officer, having attained 60, in accordance with the bank's policy.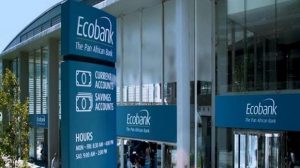 The ETI board of directors has also selected Jeremy Awori to succeed Ayeyemi, with effective dates yet undecided, according to Alain Nkontchou, Ecobank Group chairman.
Ayeyemi is leaving Ecobank after seven years on the saddle. Nkontchou, the group chairman, expressed appreciation of Adeyemi's headship of the pan-African lender, describing him as having made "immense contribution".
"Ade can be rightly proud of his success in leading the implementation of the Roadmap to Leadership strategy, navigating Ecobank through challenges, seizing opportunities, and positioning Ecobank for sustainable long-term growth. Ade's deep knowledge, unrivalled vision, commitment and infinite passion made all the difference," Nkontchou said from the bank's headquarters in Lomé, Togo.
Jeremy Awori, the incoming group CEO, comes with valued leadership in the banking industry with significant achievements in his previous capacities.
The board of directors said it strongly believes that Awori's drive and strong focus on results will be vital in steering the banking group in its next phase, according to the chairman, Nkontchou.
Ecobank Group, a leading pan-African lender with operations in 36 countries across Africa, was licensed in Nigeria in 1986. Today, it operates an extensive distribution network of over 250 branches and over 50,000 agency banking locations in the country.
Ayeyemi, the retiring group CEO, said he was grateful for the opportunity to lead the Ecobank Group.
"It is a privilege to lead an amazing team of Ecobankers in bringing the Ecobank Group back to growth and continuing to realise our commendable pan-African mandate," he said, expressing he would ensure a smooth transition and onboarding of his successor.
For Awori, the incoming group CEO, he looks forward to consolidating the transformation of Ecobank, a truly pan-African institution full of talented people, while innovating to create value for all the bank's stakeholders.
"I am humbled by the opportunity to contribute to the (African) continent's economic development and financial integration with Ecobank Group," Awori said.
He is joining the bank with a 25-year banking industry career, with almost a decade leading the Absa Bank Kenya Plc as the CEO & managing director. Before joining Absa, Awori held multiple leadership roles at Standard Chartered Bank across the Middle-East and Africa.