Technology
Banks to face more disruptions as technology innovations deepens
September 18, 2018845 views0 comments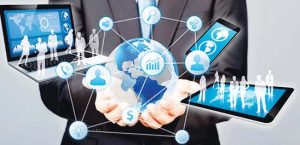 The financial services sector, especially banks will further face more disruptions and challenges of competition not only from themselves but also from non-banking financial entities due increased technology innovations.
In a survey conducted by PwC, 25 percent of respondents reported concern that their business could be lost to standalone fintech companies within five years. 81 percent banking CEOs were concerned about the speed of technological change.
According to experts, different technology innovations will continue to emerge from online banks and fintech companies and startups already posing the biggest threat to the financial sector.
Many of the fintech startups in Nigeria were already attracting funds and interest from venture capitalists and angel investors. These investments are channeled towards beefing up technology innovations.
Banks will need to shift aware from the strict and bureaucratic way of doing things and be more innovative because there are both internal and external threats, Dipo Faulkner, IBM country manager, said in round table meeting by banks, organized by Tenece in Lagos.
Experts said traditional banks are losing their monopolies and comparative advantages, which they have occupied before as they are not able to contend with the constant pressures from non-banks leveraging technology to solve payment problems.
According to them, banks will continue to get disrupted to a point that they will have to run out of business because technology will continue to advance, unless the banks continue being more innovative, invest in technology and sign strategic pacts with the fintechs.
"If banks are not innovative they will lose fees and commission on their services and products. To make them relevant they have to offer differentiated value added products," an economist noted.
The economist said since customers now have more choices and are more fragmented, disintermediation by fintech companies is making it harder for banks to get income from fees through services.
"Legacy infrastructures, like banking branches, are doing lesser activities and continue to depress margins because customers have moved to new tech oriented channels," the economist noted.
Many fintechs have built financial disruptive solutions that mostly do not allow anybody to visit the bank to carry out certain transactions. Some of such solutions include the DOT application developed by Payant, a fintech startup based in Kaduna.
DOT is a modern banking solution on your mobile phone that allows anybody to send and receive money instantly, buy airtime and pay bills. The account is also coupled with a card that allows customers to withdraw cash at ATMs and make payment at POS/Web terminals across Nigeria.
"It's everything you need from a bank without the bank," the fintech startup told business a.m.
Such technology innovations according experts will take the financial sector overboard if they decide not to rethink their business models and strategies. Banks are already loosing cash and customers due to digital technologies, which they are yet to fully embrace, expert said.
Studies from McKinsey and IBM estimated that up to 35% of the banking industry's profitability would be wiped out by digital technologies. Fintech players are putting downward pressure on fees, so banks are going to have to make their money throughout value-added services, according to IBM.
Nigerian banks underrated the fintech when they were starting up, as at that time, they were not as competitive as this. The banks will just have to continue strategic partnerships with them, Faulkner said.
Interestingly, Nigerian banks are beginning to shift and redirect focus on technology. They are transitioning from conventional and traditional methods of doing business to a more technology-based method. Majority of the banks have developed technology-driven products and services are also being introduced as technology advances.
United Bank for Africa (UBA) Leo Artificial Intelligence application that allows customers carry out banking activities virtually; Eco Bank's mobile banking app designed with help of partnership with MasterCard, a global payments and technology company is one of such digital products and a host of other technology driven solutions.
Experts further recommend that in the era of competition and online digital technology, traditional banks have to try hard to maintain their position in economy. They need to brand themselves through customer service, new innovative digital tools.
At the moment, Nigeria is still lacking some of the resources to drive technology and banks still have the chance take advantage of that by seeking more collaborations and partnerships with international and innovative organizations, experts said.