Metal
Best run in 11 years beckons for metals as China drives rally
August 25, 20171.4K views0 comments
Industrial metals including copper and aluminum are heading for the longest run of weekly gains in London in more than a decade on investor optimism driven by China, with demand holding up in the largest user just as policy makers press on with reforms that should curb supply.
The LME Index climbed 2.4 percent in the four days since Monday, and if the advance sticks, the gauge will cap a seventh weekly increase. That would be the longest rally since a nine-week run in 2006, before the global financial crisis from which industrial commodities have since struggled to fully recover. The index, as well as copper, are both at the highest level since 2014.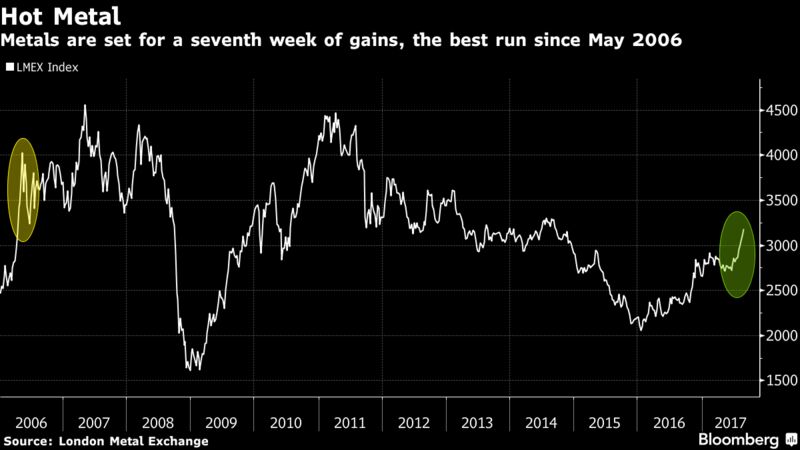 There's increasing speculation that China's measures to cut capacity and sharpen environmental controls will tighten markets that are still benefiting from healthy demand. Citigroup Inc. this week boosted its outlook for a sweep of metals, saying markets had been surprised by China's tough execution of the reforms. Antofagasta Plc told Bloomberg TV that the Chilean copper producer doesn't see any reason why the good times won't continue.
"The gains appear to be largely driven by cutbacks in Chinese production, particularly in things like aluminum, and the rest of the market is sort of adjusting to that," Ric Spooner, chief market analyst at CMC Markets Asia Pacific Pty, said by phone from Sydney. "Demand levels are continuing at a steady rate, but Chinese authorities are going to have to tread the path between continued growth, and healthy balance sheets."
Among the standouts this week:
Copper hit $6,740 a metric ton on the London Metal Exchange, the highest price since November 2014. The metal's on course for a seventh straight weekly rise, and traded at $6,730 at 2:38 p.m. in Shanghai
Aluminum rose to $2,122.50 a ton, the most expensive since February 2013, and it's the top gainer among the six main metals this year with a 25 percent climb. It was last at $2,112 a ton
Zinc spiked to a decade-high of $3,231.75 a ton, while nickel rallied to $11,825 a ton, the highest since November