Belmonte Calabro, Calabria, Italy
In the summer, we drove from Naples through Campania and Calabria, then took the ferry to Sicily. Along the way, we broke the journey at fantastic agriturismi and guesthouses but the most intriguing place was EcoBelmonte, Calabria's only albergo diffuso. This ancient, car-free village was once home to 3,000 people, now there are just 30 permanent residents but, thanks to the painstaking work of Gianfranco Suriano, who grew up there, 14 of the village houses are available for tourists to rent. Clinging to a hillside, invisible from the road but with views over the sparkling Tyrrhenian sea, the thick-walled houses are stacked on top of each other – and linked by twisting alleyways. On our meanderings, we occasionally came across one of the elderly residents, or bumped into Gianfranco's wife Gabriella, who runs the project. Most of the time we felt like we had the place to ourselves: it was both eerie and enchanting. For relief from the scorching August heat, we drove down the hill to the beach – a long, straight stretch of pebbles shelving into clear water. Returning hot and sandy felt like stepping back in time to a magical village that's barely changed in centuries.
• From €30pppn, children €5, ecovacanzebelmonte.it
Isabel Choat
Shell Beach, Western Australia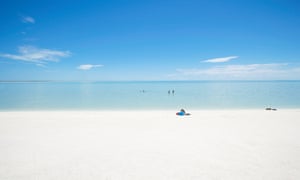 A beach that's a sight for sore eyes after the nerve-jangling drive up the North West Coastal Highway from Perth, on high alert for kangaroos that can bounce across the road at any time. It doesn't settle the nerves any to know you're in a place called Shark Bay, but it turns out the most western point in Australia is a world heritage area, home to living fossils called stromatolites (a single-celled photosynthesising microbe) and to a beach that's one of the natural wonders of the world. Shell Beach is made up of billions of shells, specifically cockle shells that breed unchecked due to the high salinity of the water and the lack of predators able to survive in all that salt. It stretches for 70km, looks like a vast salt pan and feels like an oasis on the border of the outback.
Andy Pietrasik
Lake Gaube, French Pyrenees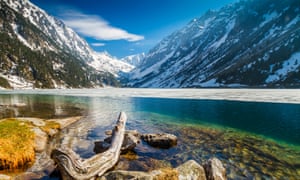 Crystalline waters, soaring mountains, wildflowers and the best-situated cafe I've ever visited (even topping the one at Cirque de Gavarnie which, with my two boys, I'd visited the day before). We reached this beautiful lake after parking the hire car at Pont d'Espagne and walking past a series of epic waterfalls and up a steep-sided valley for an hour or so. On reaching the lake on a hot day, the grassy, boulder-strewn area around the cafe was perfect for crashing out, enjoying a slice of blueberry pie – a local speciality – and contemplating the wondrous scene. At the far end of the lake is jagged 3,300-metre Mount Vignemale, France's highest Pyrenean summit. We walked towards the peak to the other side of the lake where there was another, more remote-feeling, area of streams, boulders and pines. It felt as if I were in the Canadian Rockies, not a two-hour flight from home.
Adam McCulloch
Ari neighbourhood, Bangkok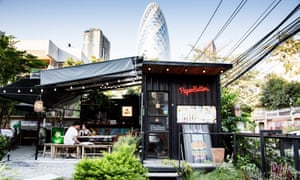 The first time I visited Bangkok, I was on a backpacking trip that included a de rigueur stay in a hostel just off the gap year-apocalypse of Khao San Road. Returning this spring, I wanted to see a different side of it, so went to Ari, a residential district that has fewer tourists and a ton of street food-style restaurants, cafes and bars. It's also on the Skytrain line, meaning you can zip back and forth across the city. Our base was the Yard Hostel: a modern space made out of shipping containers, with a courtyard bar to wind down in. In front of the hostel is a coffee shop, as well as the amazing burger joint Paper Butter & the Burger. A few minutes walk, on Aree Soi 2, you'll find Summer Street grill – a food truck serving up huge plates of clams, mussels and crayfish delivered fresh for you to barbecue at your table. Or, in our case, cooked by the waiter, who took our plate away after seeing us obliterate one too many scallops on the grill.
Will Coldwell
Pendine Sands, South Wales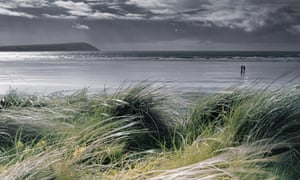 I've often found myself writing about finding solitude, or space, while on trips, whether it's in Oregon, or Iceland, so getting away from people must be a "thing" for me. I wasn't expecting to discover the great wide open in Wales, but I did – and it was on Pendine Sands. On a sunny autumn day, I walked for about a mile from shore to the sea (and back, naturally) but I could have walked further: this area on Carmarthen Bay has seven miles of beach. And it has history, too: in the early 1900s its flatness and distance saw it used for motorbike races and land speed record attempts. The drummer in my band even learned to drive here in the 1980s. I'm not naive enough to praise it for total seclusion – the area has plenty of holiday camps and caravan parks – but there is plenty of space on that long, wonderful beach.
Robert Hull
Omunity, Bali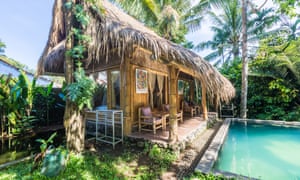 Spirituality has become somewhat commercialised in Bali. There are no end of "healers" offering to balance your chakras, but I came across a place in Singaraja in the north, far from the majority of tourists, which is the real deal when it comes to an authentic local experience. A little shrine greets you as you step through the old wooden gates into gardens leading to a river, with 10 rooms dotted around the natural swimming pool and yoga shala. It's an eco-homestay: stepping into the life of owner Zanzan, his wife and three young children. Vegetarian meals are eaten together, starting with chanted blessings. Zanzan was born in the village and returned after working in hospitality, with the aim of showing visitors the real Bali – so a stay includes excursions: hiking in the mountain scenery, visiting local craftspeople, joining temple ceremonies and heading to the quiet black sand beach nearby.
• $96pp a night, including all meals and activities (10% discount for couples), omunitybali.com
Jane Dunford
Homestay near the Taj Mahal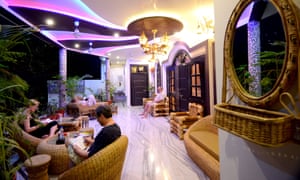 The Taj Mahal is wonderful but the sheer number of coaches, tour guides and chain hotels in Agra can make it a mass-market experience. We countered this by staying in a cheap homestay a short distance from the Taj. Aman Homestay is run by Ranjana, who loves to swap life stories and express rueful exasperation at her ne'er do well husband. Comfortable en suite doubles cost about £22 a night, and there's a garden, two tiers of balconies and the roof terrace. To make our own way on foot to the Taj after breakfast (missing the sunrise crowds, but before the main rush) was the perfect way to enjoy this most stunning site.(Dinners at the homestay are basic; for something more interesting, Bamboo Cafe on the corner – 30 Shilpgram Road – does curries, thalis and koftas for about £1.50 a head.)
• on Facebook 
Liz Boulter
The Thames below Greenwich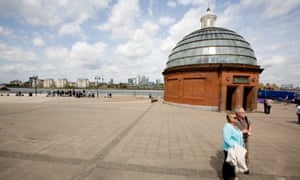 It may seem ridiculous to suggest that the Thames is a discovery of the year but I don't mean the bucolic splendours of its upper reaches. I mean below Greenwich. Lured in by the Silk River arts project, I walked to Southend, crossing via foot tunnels (at Greenwich and Woolwich) and ferries (last one is Gravesend-Tilbury). There is post-industrial devastation but also luminous beauty. At Rainham Marshes you might see osprey, in Gravesend there is the grave of Pocahontas, at Dartford railway station a plaque to Mick Jagger and Keith Richards, who first met there. Time things right and you can catch the Waverley paddle steamer back upriver to Tower Bridge.
Kevin Rushby
Lews Castle, Isle of Lewis, Scotland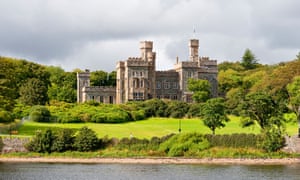 Lews Castle overlooks Stornoway harbour on the Isle of Lewis in the Outer Hebrides. It was built in 1847 and had many uses over the years – private home, naval hospital, college – before falling into disrepair. For nearly 20 years it was empty. But no more: the castle has been transformed into a museum and hotel, where I stayed in May. There's a mix of rooms and apartments, a cosy bar and a grand ballroom, plus gorgeous woodland grounds – the setting for the HebCelt music festival each July. The museum's centrepiece is six 12th-century Lewis chessmen pieces. Stornoway is a lovely place to browse: buy contemporary tweed from By Rosie and local pottery or seaglass jewellery from Salka, then watch a band at McNeill's. Don't miss a Stornoway Seafari (I saw white-tailed sea eagles, risso dolphins and otters), the prehistoric Callanish Stones and the fabulous beaches.
• Doubles from £110, naturalretreats.com
Rachel Dixon
The shrine of Difunta Correa, San Juan, Argentina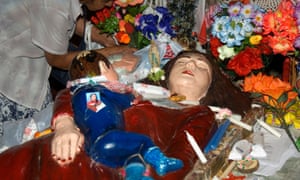 In the 1840s, the husband of teenage bride Deolinda Correa was conscripted to fight in the Argentinian civil war and dragged from their home in the largely desert state of San Juan. She vowed to track him down and set off with her baby son but soon ran out of supplies and rested on a hillock. Days later, passing gauchos found her dead body but were astonished to see the baby feeding from her "miraculously" full breast. It was the first of many miracles accredited to La Difunta (The Deceased) Correa.
Leechpool and Owlbeach Woods, Sussex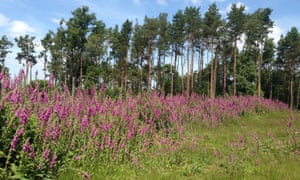 Owning a dog gives me the opportunity to explore more of the countryside, and one of the many other benefits is an excuse to duck out of family shopping excursions. That's how I discovered these ancient woodlands in the High Weald of Sussex, a short drive from Horsham.
A Google search later and we'd swapped the stalls of the Christmas market for stands of oak, ash, hazel and hawthorn; the world of piped carols for cathedral-like quiet; silver spray-painted holly wreaths for a carpet of frost-rimed leaves. You'd never know that half of Leechpool wood was wiped out by the Great Storm of 1987, so enveloping is the sense of seclusion. In places, the forest paths are knotted with the roots of ancient oaks – these woods were once part of St Leonard's Forest, a hunting ground in medieval times, and there's a sense of time travel tramping through the tunnels of trees. In two hours, we didn't make it over to the 55 acres of restored heathland at Owlbeach – the dog was busy chasing squirrels and I was in a portal to another world. AP
Frioul Islands, Marseille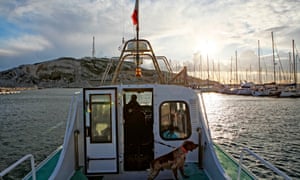 Multicultural Marseille is an underrated city-break destination. I spent my birthday weekend there this year and found so much to do I missed the flight home. One of my best discoveries was the Frioul Islands, a four-isle archipelago 4km off the coast, part of the Calanques national park. Frequent ferries call at If for the eponymous chateau, the real-life prison of the fictional Count of Monte Cristo, though it was too windy to dock when I was there. Instead, I landed on Ratoneau, the only island with bars and restaurants. Saint Esteve beach has a tempting snorkel trail but I crossed the causeway to wilder Pomegues to hike among sea lilies and lavender. There is no accommodation on the islands at the moment but the French designer Ora Ïto is turning Fort Brégantin on Ratoneau into a hotel in 2018. RD
The Hooghly river above Kolkata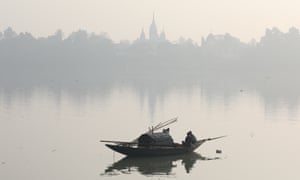 There's an Indian government statistic that suggests only 2% of the tourists who visit India make it to Kolkata. If so, I can't imagine what tiny fraction make it up the Hooghly river to towns such as Serampore, Chandannagar and Azimganj. A lack of infrastructure makes this 300km river journey more of a train odyssey with occasional ferries but the chance to delve into Bengali small town life is a rich one. Check out the incredible pottery quarter of Krishnanagar, the lost colonial architecture of Denmark's Indian empire (Serampore) and the slightly less decayed delights of Azimganj's Jain merchant houses, plus palace home stays (Cossimbazar is recommended) and handicrafts galore. KR
New Inn Brilley, Herefordshire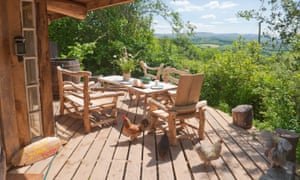 A great glamping spot near the Welsh border, New Inn Brilley is a small guesthouse – a lovely two-hour walk from Hay-on-Wye – with several wagons and cabins in its magical garden. Tibetan peace flags are strung between the trees with fairy lights and signs with Buddhist teachings all along the little pathways. We stayed in an old Gypsy Wagon with a woodburner, surrounded by decking with an outdoor kitchen built of scrap wood, and a big outdoor bathtub. It was a bit like staying in a deconstructed shack, but how often can you have a hot bath with a view across the Wye valley?
• Rooms from £70 a night, glamping from £60, newinnbrilley.co.uk WC
Salt and Straw, Portland, Oregon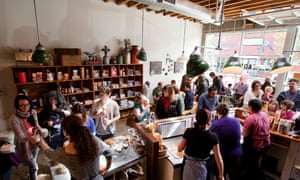 I love ice-cream, love it more than coffee or cake, and so I was in my element when I found Salt and Straw in Portland's Alberta arts district. A single scoop of sea salt with caramel ribbons plus hot fudge also allowed me to stop and take in the day while I lost myself in a sweet-but-not-sickly moment of (fro)zen wonder.
• saltandstraw.com RH
Xanthos, Turkey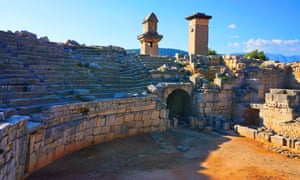 Visitor numbers to Turkey fell dramatically in 2016 following a failed military coup and a series of terror attacks, and President Erdoğan's authoritarian rule continues to discourage many. UK Foreign Office advice currently only warns against travel to areas close to the Syrian and Iraq borders and at the moment tourist numbers are starting to pick up. Those who do go will find welcoming locals, low prices and uncrowded sites. I visited Kaş and Kalkan in October, when temperatures were still in the mid-20s. One of the most impressive places I discovered was Xanthos, in the Antalya province, where the ruins of the ancient capital of Lycia sit on a hilltop and you can wander soaking up thousands of years of history. There's a Roman amphitheatre, remains of a Byzantine church, mosaic floors and endless views to the river and over farmland to the sea. JD
Hostal La Torre, Ibiza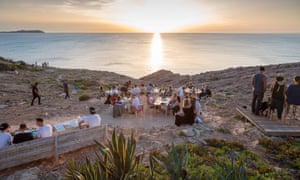 A moment that really summed up my stay at Hostal La Torre this summer was when Mark Barrott – the DJ and producer behind Balearic revival label International Feel – strolled over to our table and proudly identified the record he'd just played as "an edit of a Sade track by Sade that was never released". If you want to get deep into the varied and discerning sounds that underpin the island's musical heritage, then this is probably a good place to drop by. The chic white-walled boutique hotel and restaurant spills down the rocks to the cliff edge and has superb views. Resident DJs Barrott and Pete Gooding – along with regular guests ranging from DJ Harvey to Kolsch – soundtrack the sunset with an eclectic mix of obscurities from Ennio Morricone to Soft Machine, timing a tune to stop at the precise moment the sun disappears.You can relive it thanks to two compilation albums picked by the residents – La Torre Volumen Uno and Volumen Dos – but nothing quite lives up to the real thing.
• latorreibiza.com WC
Sandwich and Pegwell Bay national nature reserve, Kent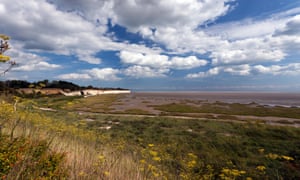 I've spent a lot of time in Kent but 2017 was my first visit to this coastal reserve south of Ramsgate; it won't be my last. Wander along mudflats and marshland, close to the water's edge and you'll spot plenty of birdlife (come in winter or spring for best twitching potential – the reserve is known for its waders and wildfowl). In the distance you might spy seals on the estuary – you can get a boat out from Sandwich to see them – and on clear days you can see across to France. Paths lead through longer grass and pasture, where herds of long-haired, long-horned highland cattle graze. Afterwards, go to the Belle Vue Tavern in Pegwell, which has amazing views from its cliff-top terrace, and good pub grub too.
• Reserve free, car park £1.30 a day/£2 weekend, kent.gov.uk JD
Fish market, Chioggia, Veneto, Italy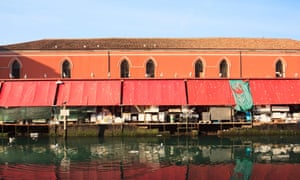 Shouty, bustling and unpretentious, Chioggia's fish market is one of those places where people mean business and tourists can darn well keep out of the way – or get busy buying. The retail market (there's also a wholesale one, which starts even earlier, at 4am) is in a covered space that backs onto the Canale Vena, where you'll see fishing boats moored up. It's in a building off the city's main street, Corso del Popolo and has around 30 stalls (called mògnoli). I watched the skipper of my boat casting his eye over cuttlefish, squid, lobster, crab, mussels, sole, sea bass, scallops, anchovies and more, wondering what we should have for lunch when back on board. Chioggia is close to Venice but, aside from the beachy resort feel of nearby Sottomarina, has the lively air of a city just going about its work. RH
Casa do Visconde de Chanceleiros, Portugal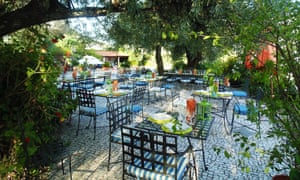 Portugal saw a boom in tourism in 2017 – and it's the year I truly fell for it, too. One of my favourite discoveries was Casa do Visconde de Chanceleiros in Pinhao in the Douro valley, east of Porto. There are many fancy hotels around here but this 18th-century manor house is stylish yet homely, not flash. Each morning, owner Ursula asks guests if they'll be around for her homemade, three-course dinner – served on the terrace overlooking the vineyard-clad valley. There's a sauna in an old wine barrel, an honesty bar and the rooms are spacious, featuring lots of wood and stone.
---
The best travel discoveries of 2017 – chosen by Guardian writers