cryptocurrency
Bitcoin returns over $11,000 as Ethereum founder warns on digital currencies
February 20, 20181.1K views0 comments
Bitcoin returns above $11,000 on Monday, continuing a strong rebound after undercutting $6,000 intraday on Feb. 6., after Ethereum's co-founder warned that cryptocurrencies "could drop to near-zero."
Bitcoin rose 7% to $11,138.33 on Monday, according to Coindesk. Bitcoin retook the $10,000 mark last Thursday. Bitcoin Investment Trust rose sharply last week in sympathy with Bitcoin and other digital currencies, Overstock.com also rallied while Riot Blockchain tumbled on a CNBC investigation.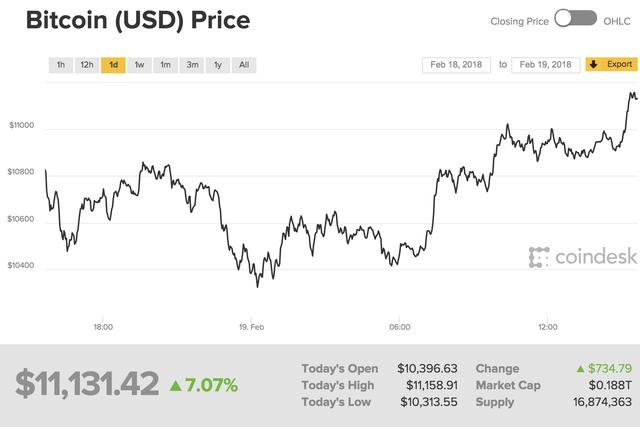 Bitcoin had plunged from around $20,000 in late December following a climax run and as regulators around the world, especially South Korea and China, stepped up curbs and rhetoric vs. cryptocurrencies. Bitcoin rebounded from its 200-day line on Feb. 6, the same day as U.S. financial regulators expressed caution vs. Bitcoin but didn't signal a move toward banning or severely restricting cryptocurrency trading.
Meanwhile, Vitalik Buterin, Ethereum co-founder tweeted Saturday that cryptocurrencies are a "hyper-volatile" new asset class.
He said, "cryptocurrencies are still a new and hyper-volatile asset class, and could drop to near-zero at any time. Don't put in more money than you can afford to lose. If you're trying to figure out where to store your life savings, traditional assets are still your safest bet."
Ethereum and Ripple rose about 2% Monday, while Litecoin gained 4.5%.