Martin
Boko Haram, ISWAP and an unjust country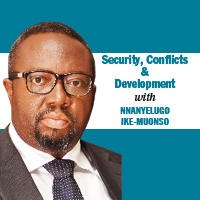 Prof Ike-Muonso is MD/CEO, ValueFronteira Ltd, and a Visiting Professor at the Institute for Peace, Conflict and Development Studies of Enugu State University of Science and Technology can be reached via email at martinoluba@gmail.com
June 14, 2021861 views0 comments
The tremendous impacts of religion in our society are well known. Early missionaries, well focused on their proselytization agenda, built several schools, hospitals, water infrastructure, and many other essential public services that supported Africa's journey towards prosperity. The various religions they brought offered powerful platforms for social cohesion: the rich, the poor, the sick, the criminal, the evil-minded, the good minded and so on, gathering in communion. Unarguably, religion presents excellent solace for the hopeless and vulnerable by making them put their hope in an all-powerful divine source. Karl Marx captured this role of religion as an escapist route for the poor in his proclamation that "religion is the opium of the people". This view appears to be consistent with opium as a potent analgesic by the ancient Greeks and Romans and as a joy plant by the Southeast Asians. However, all substances within the opium family, particularly derivatives from opium plants such as heroin, often lead those who consume them to deviate from acceptable norms. Usually, those who perpetrate criminal acts function under such influences. All over the Internet are several instances of the opiate effects of religion. We have been entertained by pastors asking their adherents to eat grass, suck their private parts, kill somebody and a range of other such strange behaviours. Boko Haram and ISWAP are not exempt. However, it appears that they consume excessive doses of the substance.
Regardless of how different religious contexts present it, most faithful persevere in their beliefs in the expectation of becoming citizens of a realm of intense joy, blissfulness and abundance prepared for them after death. The 1997 mass suicide of members of the Heaven's Gate religious movement in San Diego, California, to facilitate their souls' onboarding of a spacecraft to another level above human existence was one good instance of such extreme. Both Heaven's Gate and Boko Haram/ISWAP have their ultimate goals: attaining nirvana or paradise. However, while the Heaven's Gate religious group's suicide is their passport, Boko Haram and ISWAP's passports are obtained when their lives expire in the process of shedding other people's blood. Over history, humanity has misrepresented spiritual injunctions in the pursuit of its selfish objectives. According to Qasim Rashid in a July 8, 2017, article in the Washington Post, titled "jihad is not a dirty word", the word jihad does not mean to kill the infidel or even wage a holy war.
On the contrary, it means "to struggle". Qasim further explained that the Koran outlined only three types of jihads, of which none of them has anything to do with terrorism. These three forms of jihad are the jihad against oneself, the jihad against Satan [greater jihad], jihad against an open enemy [lesser jihad]. The article also cited Koran 22:41, expressly encouraging the Muslim faithful to embark more on lesser jihad and protect churches, mosques, temples, and synagogues. Again, Boko Haram's self-contradicting ideology of declaring Western education as bad further punctuates the illusory opiate-driven end-in-mind. In what appears to be a snake swallowing its tail, it is hard to reconcile its substantial dependence and deployment of munitions and communication technology created through Western education in the same terrorist acts to annihilate Western education.
Like the Al Qaeda terrorists feeding off the vast Afghanistan opium fields, the leadership of northern Nigeria have historically fertilized their fields and made them available for nurturing Boko Haram/ISWAP, bandits, and other species of terrorists to have their fill continuously. Northern leaders knew, like their counterparts in the South, that education is the route to prosperity. Yet, the entrenched feudalistic society watered and reinvented by them deprived most of the population of education. These privileged ones dug out and fed their poor and illiterate followers with unprogressive religious opium that their socio-economic conditions are God-ordained and should suffice. It is incontestable knowledge that no one can question God. The constant reinforcement of this unprogressive religious ideology by their leadership technically puts social mobility aspirations in reverse gear.
Consequently, all indicators of social and economic progress between the northern and southern parts of the country are polarized extremes, with that of the former insanely appalling. The former CBN governor, who later became the Emir of Kano, reemphasized this reality when he warned that "if the North does not change, the North will destroy itself." That warning earned him a deposition from the throne. For instance, as of 2018, the average literacy rates in the Southeast, South-South, and Southwest geopolitical zones were 83%, 83.75%, and 84.8%, respectively. It was 61.25%, 41%, and 44% in the north-central, northeast, and northwest. The picture is more apparent when focusing on some northern states. For example, the literacy rates in Yobe, Katsina, Sokoto, Zamfara and Bauchi were 7%, 10%, 15%, 19% and 19%, respectively. Now, compare it with Imo, Lagos, Ekiti, Rivers and Abia states, 96%, 96%, 96%,96% and 94%, respectively. Abysmally low levels of literacy correlate directly with low productivity and lower-income. It is therefore not surprising that northern Nigeria majorly constitutes the poverty dots on Nigeria's map. Sokoto, Taraba, and Jigawa all have more than 87% poverty rates in the same country, with Lagos, Delta, and Osun states having 4.5%, 6%, and 8.5% poverty rates. Therefore, refusing to educate its people, the northern leadership only succeeded in amplifying the poverty level in most states of the region, making them highly susceptible to the effects of religious opiates of killing other people to enter paradise.
While most of the northern population suffered neglect and deprivation of education and other forms of socio-economic empowerment, Al Qaeda and other kindred terrorist groups were paying attention to the incredibly welcoming fertile ground made by northern Nigerian leaders. The Maitatsine provocations, riots, and deaths in the early 1980s tested these fertilized grounds. As early as the 1990s, as much as it is today, the interests of terrorist organizations have been in impoverished areas in Africa where ideological opiates are quickly sellable. Good examples of such places include Somalia, where the al-Shabab reigned, and post-Saddam Hussein Libya and the northern Sinai. The terrorist journey to Africa started with Osama bin Laden's relocation to Sudan between 1991 and 1996, which turned Africa into a new operational base for their activities. The proselytization and attendant recruitment and creation of terrorist cells found meaning in the bombings of the United States embassies in Dar es Salaam, Tanzania and Nairobi, Kenya, on August 7, 1998. Three years afterwards, and with the 9/11 attack on the United States trade centre in 2001, the global marketing of the capabilities of the terrorist group took a more potent form. By 2002, Mohammed Yusuf announced Boko Haram in Nigeria. After a few years of existence, the group severally broke into different fragments. By 2015 one of the breakaway factions pledged allegiance to the Islamic state and rebranded itself as the Islamic State of West Africa Province [ISWAP].
Despite substantial military efforts by the Nigerian government to downgrade Boko Haram, the latter continuously unleash terror and death upon Nigerians. Aside from human carnage numbering more than 40,000, its terror scope covered attacks on police stations, churches, mosques, prisons, embassies, and schools. In 2014, it kidnapped more than 300 girls from a school in Chibok and, by that action, set the foundations for the current trend of hostage-taking of large numbers of school children. They do not also spare aid workers. Unfortunately, its activities contradict and betray the originally projected jihadist goal as it does not necessarily discriminate between Christians and Muslims in its bloodletting heists.
Notwithstanding that, the group alongside the more recent faction – the ISWAP – seems to be growing in strength due to real unemployment, illiteracy, poverty in the country's northern parts, and the misleading ideology. These facilitate the ease of recruitment. The death of its leader Abubakar Shekau may equally not substantially degrade the voltage of terrorism in the region. Most converts will merely transfer their loyalty to the Islamic State of West Africa and continue to have fun murdering people. They have continued to survive and regenerate despite the onslaughts suffered at the hands of the federal government's military.
Terrorized Nigerians hardly know the difference between Boko Haram and its splinter faction, ISWAP. Despite the alleged more moderate temper of the latter, it is on record that both have collaborated in many dastard operations. However, the game appears to be changing as both have recently fought each other, which led to the Boko Haram leader's suicide. The Islamic State in West Africa province seems to have warmed itself to Muslim communities where it operated mainly in the Lake Chad basin and has gained significant civilian support in those places. Unlike the Nigerian government, its Army and Boko Haram, ISWAP shows better governance and service delivery standards. It provides its host communities with support in infrastructure development such as digging wells for water, policing cattle rustlers, and limited health services. By strengthening its ties with local communities, ISWAP, which is now technically in control of terrorist operations in Nigeria, is making it much more difficult for the Nigerian government to win the battle entirely by military combat. Yet many soldiers executing these operations on behalf of Nigerians are disenchanted and performing poorly.
Finally, the continued survival and growth of both Boko Haram and ISWAP is because we have failed to address the root causes of the problem, which is injustice and unfairness. While a military solution remains necessary, winning the war requires that the Nigerian government be fair both to its military and the deprived and severely impoverished women and the children of northern Nigeria. First, it is delusive for the Nigerian government to expect to achieve substantial wins in this war if it cannot correctly equip and treat its security forces well. Many viral videos have shown the complaints of many Nigerian soldiers expected to win the battle with anachronistic ammunition under highly unacceptable welfare conditions. The cases of the diversion of funds meant for military equipment and the provision of better welfare for the fighting soldiers are all well known. Secondly, it is unfair and morally unjust to ask millions of generations of Northerners deprived of education and dispossessed of their capacity for gainful employment and meaningful income, impoverished and hungry not to be angry. Behind the veil of religious warfare is a vivid protestation against the Nigerian government and pockets of privileged elites from the region that have kept them in those conditions. Today, many of those political leaders who cornered funds meant for their socio-economic development can no longer freely visit their homes.