Markets
Bourse closes bearish with market capitalization down N25 billion
January 24, 2023166 views0 comments
By Cynthia Ezekwe
The Nigerian Bourse (NGX) closed negative on Tuesday, as market capitalisation declined by N25 billion.
The All share Index (ASI) depreciated by 0.08% to close at 52,612.55 points.
Also, market capitalization declined by N25 billion to close at N28.681 trillion
An aggregate of 182.3 million units of shares were traded in 3,470 deals, valued at N4.82 billion.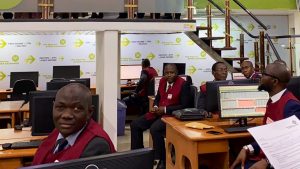 The Market breadth closed on a positive terrain as MBENEFIT led 21 gainers, against 14 equities that  recorded losses in their share prices, topped by NB.
MBENEFIT topped the gainers chart with 10.00 per cent growth  to close at N0.33;  UNILEVER  appreciated  9.91 per cent  to close at N12.20; CILEASING increased by  9.84 per cent  to close at N3.46; ABCTRANS was  up + 9.68 per cent  to close at N0.34; while INTENEGINS advanced by 8.16 per  to close at N0.53.
On the contrary,NB topped the losers chart as it shed 9.90 per cent  to close at N41.85; CAVERTON lost 9.52 per cent to close at N0.95; CHAMPION was  down by  8.00 per cent  to close at N4.60;WAPIC lost 6.67 per  to close at N0.42; while NGXGROUP declined by  5.93 per cent  to close at N25.40.
As of the close of the day's trading, the stock market value stood advanced by 1,016.89 basis points.