Frontpage
Breaking:  CBN leaves all key policy parameters constant at 11.5% in line with expectations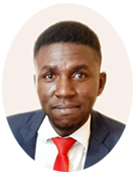 A graduate of Economics and Statistics from the University of Benin. An experienced researcher and business writer in the print and digital media industry, having worked as a Research Analyst at Nairametrics, Voidant Broadcasting Ltd, Entrepreneurs.ng, and currently a Market and Finance Writer at Business a.m. For stories, press releases, exclusive events, call +2347052803696 or send a mail to abuedec@gmail.com.
November 23, 2021119 views0 comments
Estimates Nigeria's economy to grow at 3.1% in 2021
The Central Bank Monetary Committee (CBN MPC) has  decided at its just-concluded MPC meeting held in Abuja to keep all key policy parameters unchanged.
Godwin Emefiele, the governor of the Central Bank of Nigeria (CBN)  disclosed this while reading out the committee's communiqué on Tuesday at the CBN headquarters, and explained that the committee decided to keep the monetary policy rate (MPR) at 11.5 percent, Cash Reserve Ratio (CRR) at 27.50 percent, the Liquidity Ratio (LR) at 30 percent and the asymmetric corridor of +100/-700 basis points around the MPR.
The MPC urged the apex bank to continue its support and efforts aimed at revamping the economy, noting that a decision to tighten would increase the cost of funds, while loosening would further fuel inflationary pressures, and a decision to hold would allow for reconsolidation and enable it to monitor inflationary pressure and other key variables in the economy.
This decision comes following significant improvement in output growth in the third quarter of 2021 and is in line with analysts' expectations from the last MPC meeting for the year.
Analysts had noted that the MPC at this final bi-monthly gathering for the year, would, in the face of output expansion and moderating inflation, maintain the use of unorthodox tools within its arsenal as all corners of the domestic economy lighting green will give it no room for a rates maneuver after the 2-day deliberations.
More details shortly………