U.K
Brexit effects may be catching up with U.K. homebuilders
November 9, 20171.4K views0 comments
This year's rally in U.K. housebuilder shares is showing signs of fatigue.
In the months following the U.K.'s vote to leave the European Union, strong home completions and rising profit at firms from Redrow Plc to Taylor Wimpey Plc helped the sector's shares soar past their pre-referendum level, leading some investors to speculate that concerns of a major slowdown were overblown. Now, those Brexit effects may finally be catching up with the industry.
A gauge tracking the equities is heading for its worst two-day drop since mid-September after updates from Redrow and Persimmon Plc showed a pause in momentum in the housing market. Redrow is down 4.8 percent at 10:12 a.m. on Thursday after the builder said it's seen a slight slowdown in sales in recent weeks as a result of ongoing political and economic uncertainty. Persimmon's update yesterday showing plateauing sales in the third quarter sent the stock down 3.5 percent, with the shares retreating an additional 2.7 percent today.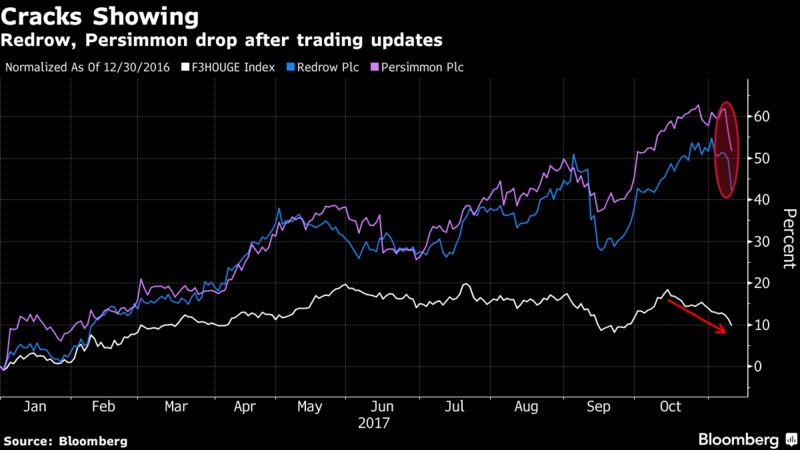 "In the wake of Persimmon's disappointing trading statement, Redrow's announcement this morning will do little to cool any jitters around market sentiment on new housing," Davy analyst Colin Sheridan wrote in a note to clients.
Those jitters include a frail economy and slowing house-price growth, as well as concerns about labor supply in the construction industry. Persimmon said yesterday that the market for key trade skills and some materials remains tight. About 8 percent of the U.K.'s construction workforce is from the EU, according to a Shore research note. The percentage is bigger in the Home Counties in southeast England and is as high as 50 percent in London.
The FTSE 350 Household Goods & Home Construction Index is still up about 10 percent this year. While concerns surrounding Brexit will persist for a while, the sector will continue to benefit from the U.K. government's support, according to analysts at Peel Hunt. Last month, Prime Minister Theresa May pledged a 10-billion-pound ($13 billion) extension to the Help to Buy program, under which the government lends buyers as much as 20 percent of the cost of a new home.
---
Report courtesy Bloomberg