Oyeleye
Bring Africa to the heart of Glasgow climate talks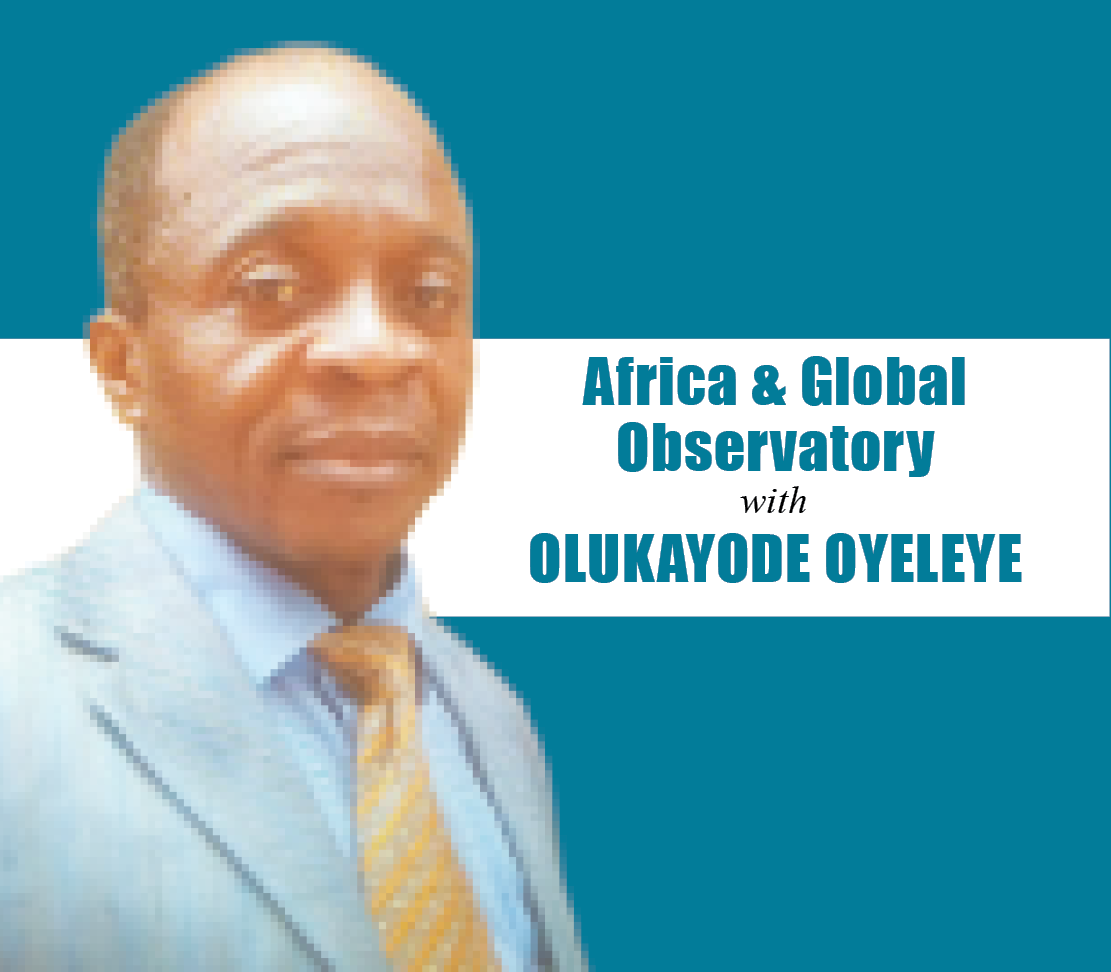 Dr. Oyeleye, a consultant, journalist and policy analyst, can be reached via:
oyeson2@yahoo.co.uk
Twitter: @OlukayodeOyele1
November 1, 2021403 views0 comments
DICHOTOMY IN THE FIGHT AGAINST climate change is not difficult to find when the global north is juxtaposed with the global south. Even within countries on either side of the great divide, cleavages are apparent. Hidden hypocrisies, double standards, vested interests and limited commitment to a successful realisation of a safe environment are all too evident in the advocacy on climate change. While the expected gains may seem obvious to some, others reckon that it is not worth the efforts. Whether the world needs safeguards against extreme climatic conditions is not supposed to be a matter of debate in the first instance. But the issues playing out behind the scene have made such debates necessary and urgent.
From the time of Gro Harlem Brundtland and the publication of "Our Common Future" in the 1980s, awareness about the danger ahead of the world has increased significantly. The world has gone through promising theme-based solutions encapsulated within the Millennium Development Goals (MDG) lasting through 2000 to 2015 and later metamorphosing into the Sustainable Development Goals (SDG) from 2015 and expected to remain relevant in global public discourse till 2030. Declarations within these discrete goals appear reassuring. What is not reassuring, however, is the adherence to the spirit of the goals as many countries are not implementing them, whether partly or wholly – particularly in Africa. Climate change and global warming have become the twin monsters that the world is "trying" to rally against. But doing so has not been altogether in ways that are expected to bring maximum impacts. Paris 2015 Conference of Parties (COP) 21 was a defining moment where countries were urged to make Nationally Determined Contributions (NDC) to decelerate the speed of climate change and reduce the global temperature increase to somewhere around or lower than 1.5oC. Five years on, it is doubtful if much has been achieved on these scores.
The gathering is here again, and Glasgow in Scotland is the talk shop for this year, codenamed COP26. Countries led by high profile officials, international organisations represented by vocal persona, NGOs and Civil Society Organisations with militant leaders at the forefront, financial institutions coming to make esoteric financial pledges and commitments, research scientists and authors coming to give new prices of visible smokes or invisible carbon, corporate multinational business organisations ready to battle and spend fortune to keep status quo, critical journalists and many passive observers are expected to congregate in person or join the meetings remotely online. What has not been receiving the needed attention in the climate talks and debates has been the inequalities in the industrialised world and the underdeveloped countries. This year may well go down in history as another bungled chance if the plights of the underdeveloped countries are left to the fringes or reports on them are reserved for footnotes. It is bad enough that all through recorded history since the end of slave trade, the industrialised countries of today have plundered the natural environment of the developing countries, particularly Africa, to stabilise their own countries.
Consumption in developed countries will keep Africa at the back bench for the time being except and until these imbalances are tackled head-on. Africa still remains a major source of commodities for export as the extractive industries still continue to thrive. The developed countries therefore still largely depends on the developing countries for sustenance. Africa is particularly underprivileged. It is a major source of commodities that oil the engine of European economy till today. The extractive industry takes away from the African environment but does not return anything. Niger Republic is one of the poorest in Africa. Nearly three-quarters of the uranium it exports is used to power the nuclear plant that supplies France's electricity. And France, with all good conscience, will talk about a Niger Republic that is able to hedge against climate change just the same way France does? No!! Or, Cote d'Ivoire, a major producer and exporter of cocoa to the big EU chocolatiers. Will that West African country be expected to do some magic on its forest preservation and child labour with an opaque cocoa value chain riddled with environmental scandals, orchestrated by the big cocoa exporters and their ultimate final buyers and processors? It is doubtful if COP 26 will yet be able to cope with these seeming mysteries as there may be some long talks and little commitment to some drastic and definite changes.
Or, is it the authoritarian Communist Chinese Party-led government from China that will like to commit to an immediate end to the plundering of DR Congo's forest through logging and timber business? While China, the world's foremost polluter, is trying to impress the world about the number of e-vehicles now on its road, it still cannot wean itself from dependence on Australia for coal in the foreseeable future. Nor is it likely to let go of DR Congo's pristine forests as it embarks on large scale deforestation of the same forest that the climate campaigners use as reference point for climate action. The story of China's involvement in that forest needs greater highlight. One of the dark sides of the "green" advocacy is the fact that much of the renewable energy devices are products of environmentally destructive activities. Take lithium and cobalt. The extensive mining that needs to be done to extract the raw form – like just any other mineral prospecting – upsets the natural ecosystem, leaving heaps of soil and valleys or artificial gullies that are prone to erosion. COP 26 participants will be doing a fantastic job by focusing on these details with regards to Africa or any other continent that sells raw minerals, including fossil fuels, into the world market – essentially the developed countries' markets.
Africa may well become a climate change tourism destination as many landmarks abound that are reminiscent of unpleasant climate events and human activities, particularly from the extractive industries. Egypt, Ethiopia, Kenya, Madagascar, Malawi, Senegal, Somalia, South Sudan and Sudan are exemplars. One major cause of intractable and current trans-border hostility involving three countries is the Grand Ethiopian Renaissance Dam (GERD), a grandiose project that will inexorably become a major climate issue, in addition to the strong and yet-to-be-resolved disagreements between Ethiopia and neighbouring Sudan and Egypt about the filling of the dam and the anticipated impact on the population downstream. Despite the promise of large scale energy supply, GERD still remains one of the renewable energy projects with obvious environmental disadvantages.
Will COP26 participants and drivers of discussions focus on de-industrialisation and concomitant poverty in Africa? Will they establish and connect the dots between poor development policies and the pauperising effects on Africa? What about how de-industrialisation has forced Africans into informality where it is difficult to enforce climate compliance? The two extreme ends of poverty-affluence continuum can contribute negatively to climate change in peculiar ways. If those champions of climate action truly want to show that they care for the underdeveloped countries, they need to trace the links between the power of big coordinated corporations to establish measures that would mitigate climate change and compare it with the absence of power of the fragmented informal to do the same, particularly at scale. The typically unregistered, unregulated and untaxed workers in Africa – making up the informal or traditional sector – represent a whopping 86 per cent of all jobs. Among these are people felling trees for direct firewood charcoal, or indiscriminate sand mining, thus upsetting the environment. It is easier, on the other hand, to track and monitor the compliance of big corporate organisations to environmental and climate action, especially through their value chains. Countries struggling to supply kerosene or cooking gas to the populace, or which do at exorbitant rates, force many people to seek cheaper alternatives. In Nigeria, in particular, the high costs of these cooking fuels have forced many to patronise charcoal sellers that continually disrupt and destroy the country's vegetation from the savannah to the mangrove forests, in addition to the smokes they emit and the respiratory ailments they cause.
Africa needs alternative pathways and peculiar intervention models for addressing climate change. This is because the nature of climate change and the type of the African continent's contribution to global warming is utterly different from that of the industrialised nations. Deforestation is a fact in Africa. It is found alongside poverty in direct proportions. It is also prevalent in socio-political environments with environmental policy failures, setting the stage for unrestrained offensives against natural resources. Dysfunctional institutions are at the heart of the tardy approach to environment and climate issues. Compliance enforcement is therefore weak. Politics of opportunism and denials of the obvious are also rampant as politicians pander to certain vested interests to retain their political relevance. Mediocre policy stance has led to actions against countries by political actors themselves. Kenule Saro Wiwa, a Nigerian environmental activist, was killed in 1995 by Sani Abacha, then head of state, on trumped up charges of involvement in the killing of some tribesmen. His unstated crime was that he criticised the destructive impact of the multinational petroleum industry—the main source of Nigeria's national revenue—on the Niger delta, his home region, as that industry recklessly dumped petroleum waste in the region. Thus, Abacha the military dictator sacrificed a patriot to please business entities at the expense of his countryman. Very recently, the current federal government of Nigeria under Muhammadu Buhari, has openly acknowledged Ken's death, but still came far short by contemplating posthumous pardon for him.
Man-made causes of environmental disasters are often a consequence of poor governance, corruption and insurgency. Foreign Direct Investments (FDI) in commodities extraction is a major contributor to climate change in Africa for reasons earlier explained. They extract resources worth billions of dollars from the top of the soil in form of crops or from the sub-soil in form of solid minerals and fossil fuels, leaving the environment devastated. Erroneous beliefs encourage many small scale farmers in many parts of Africa to set bush on fire before cultivation. Africa's rapidly urbanising countries need robust and built-in mechanisms to help in taking appropriate measures to forestall undesirable environmental consequences of urbanisation. Failing public utilities become greater failures when given to private operators on concession. Their activities under private operators, and geared towards profits, are often at cross-purposes with the public goods. It is important therefore for African countries to do a thorough review of privatisation of public utilities. Prevalent poverty forces individuals to do many environmentally destructive things. Efforts on helping Africa mitigate against climate change will require a broad inclusion of poverty alleviation interventions. Overall, the story of Africa in Glasgow only becomes meaningful and relevant if told with these issues in mind. Otherwise, COP 26 would have succeeded in discussing the first world's worries about climate, leaving behind the third world countries of Africa. And that would be unfair.