Frontpage
Britain's financial power is already seeping away
June 24, 20171.5K views0 comments
Britain's financial power began ebbing away just days into the Brexit negotiations as the European Central Bank sought authority over a key marketand banks from Morgan Stanley to Nomura Holdings Inc. fleshed out plans to move operations from London to Frankfurt.
The shifts underscore the threat posed to the U.K.'s financial industry by the decision to quit the European Union, made in a referendum a year ago. They will intensify pressure on Prime Minister Theresa May to safeguard the City of London in any trade deal she strikes with her EU counterparts, who may resist if they see an economic advantage for themselves.
Among the matters at stake in those talks, which began in Brussels on Monday, is whether London can maintain its status as a global hub for finance after Brexit or be forced to watch as business flows to the continent or New York. Such an exodus would jeopardize an industry responsible for nearly a tenth of the economy and some 1.1 million jobs.
"There will be a lot of political pressure to get as much of the finance industry moved to the EU as possible," said Tom Kirchmaier, a fellow in the financial-markets group at the London School of Economics. "The big question will be what the final role of the City will be in Europe."
The latest shot across Britain's bow came early Friday when President Mario Draghi's ECB said it will try to revise the statute governing its powers to gain "clear legal competence" over the clearing of euro-denominated financial instruments.
The Frankfurt-based institution said the change would secure "a significantly enhanced role" for the ECB and euro-area central banks in supervising clearinghouses, particularly systemically important ones located outside of the EU. The move would also help to clarify how oversight would be shared between the ECB and other bodies, such as the Paris-based European Securities and Markets Authority. The proposed amendment was sent to the European Parliament and to EU governments for approval.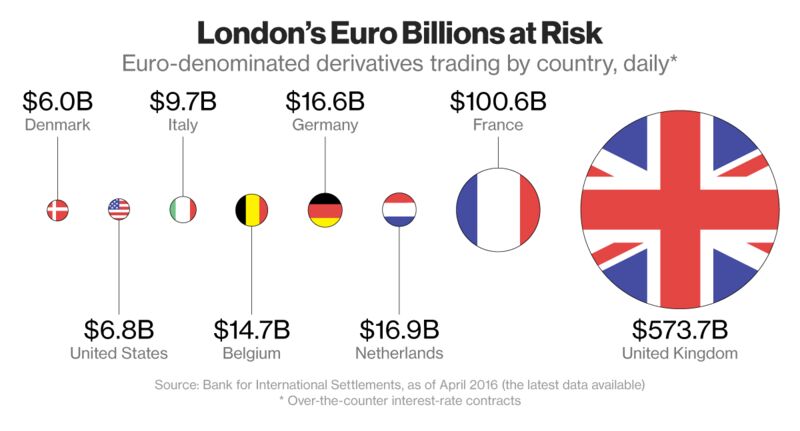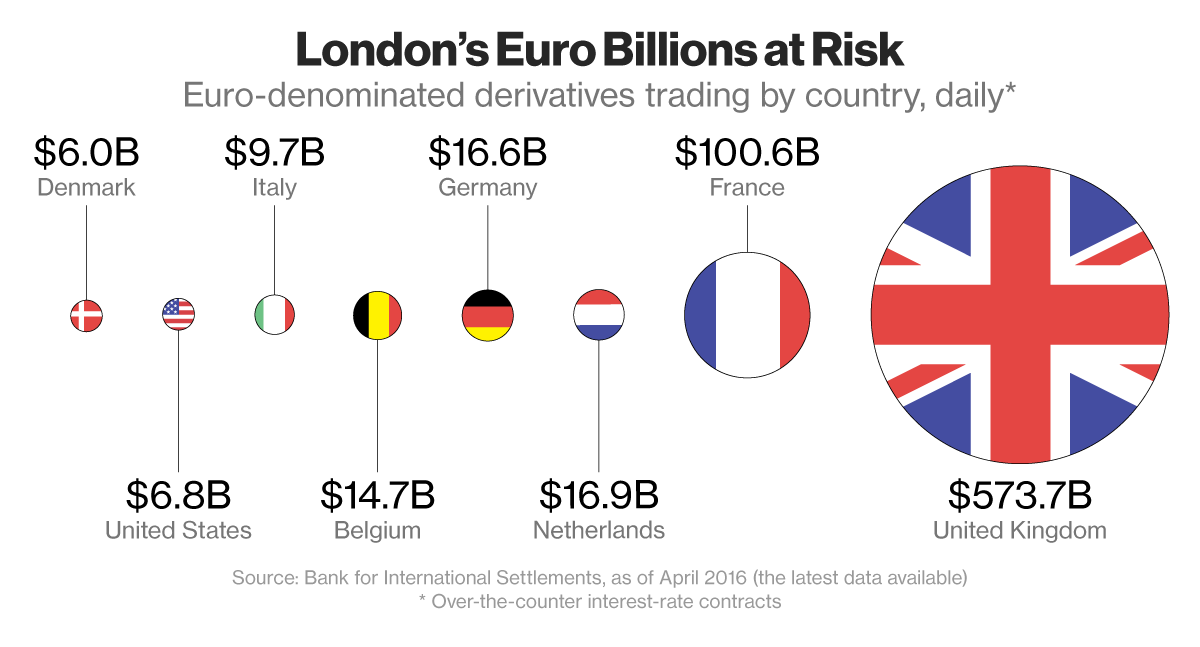 Clearinghouses stand between the two sides of a derivative wager and hold collateral, known as margin, from both in case a member defaults. The dryness of their task belies their financial power. London's clearinghouses alone hold about $174 billion of cash and bonds as collateral, compared with Frankfurt's $62 billion and Paris's $25 billion.
About 75 percent of trading in euro-denominated interest-rate swaps now takes place in the U.K., according to Bank for International Settlements data from April 2016. Who should regulate them was a matter of dispute even before Brexit. The ECB lost a court case in 2015, after trying to bring clearing inside the euro area.
With Brexit looming, European policy makers are sounding increasingly assertive on the issue. Bank of France Governor Francois Villeroy de Galhau, an ECB Governing Council member, on Thursday pressed the case for forcing major euro clearinghouses to base their operations in the EU, while colleague Benoit Coeure on Tuesday hailed an EU Commission proposal on the matter.
The squabble over location has spurred warnings from the industry of skyrocketing costs. Chief among the doom-mongers is Xavier Rolet, the chief executive officer of London Stock Exchange Group Plc, the majority owner of the world's largest clearinghouse, LCH.
He has warned stripping London of euro clearing will cost 232,000 British jobs and force investors and banks to pay an extra $100 billion over five years to trade off-exchange interest-rate derivatives. An LSE spokeswoman said she couldn't immediately comment on the ECB's statement.
Just this week, Bank of England Governor Mark Carney and Chancellor of the Exchequer Philip Hammond united to warn against allowing Brexit to damage the U.K.'s financial industry, arguing that doing so could hurt Europe too. Hammond said the "fragmentation" of services would increase prices of financial products, while Carney called for a new system of cooperation between Britain and the EU over derivatives clearinghouses.
Such overtures were likely directed at May, who after a disastrous election is being pressed to soften her approach to Brexit by focusing more on safeguarding jobs and trade rather than cracking down on immigration, as she previously planned. May was told Friday by officials in Europe that her plan to safeguard the residency rights of EU citizens in the U.K. didn't go far enough
Banks aren't waiting to discover the outcome of the Brexit talks, fretting that the ultimate pact will cost them their ability to easily service customers in the EU from bases in London. The U.K. capital could lose 10,000 banking jobs as a result of Brexit, think tank Bruegel estimated earlier this year.
Frankfurt is so far beating out other cities in luring business from London. Morgan Stanley is close to picking Germany's financial capital as the EU hub for its broker-dealer business, while Nomura will also move staff there following Brexit, people familiar with the companies' planning told Bloomberg News this week. Daiwa Securities Group Inc. also said on Thursday it will establish a subsidiary there.
Frankfurt offers proximity to regulators at the ECB as well as easy access to the bloc's most populous country and its biggest economy.
"The move of the banks to Europe is a natural consequence of the tendency to move the regulation to the ECB," said Kirchmaier.
---