By Samson Echenim
Passengers are most likely to lose their luggage and never see it again at Birmingham airport, according to an analysis of Civil Aviation Authority (CAA) data, conducted by Telegraph Travels.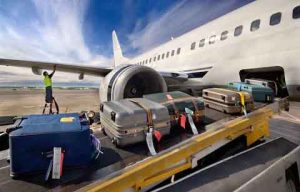 Birmingham saw two unresolved lost luggage claims per one million customers between 2015 and the end of March 2019, more than any other airport in the UK.
The CAA data on lost luggage claims, obtained by the financial advisory website, MoneySuperMarket, revealed the top 10 airports (among those with more than one million passengers since 2015) for unsolved lost luggage issues, by total number of claims.
London Heathrow came top with 636 claims while London City Airport had the fewest overall with 15.
The CAA is responsible for handling lost luggage disputes that are unresolved by the airline.
Telegraph Travel said for comparisonit calculated the number of unsolved claims each airport saw per one million passengers for the period the data covers (between January 2015 and the end of March 2019).
The top 10 airports for unresolved lost luggage claims were as follows: Birmingham: 2 per 1m passengers; Heathrow: 1.95 per 1m passengers; Manchester: 1.68 per 1m passengers; Gatwick: 1.49 complaints per 1m passengers; Newcastle: 1.1 per 1m passengers; Edinburgh: 0.87 per 1m passengers; London City Airport: 0.78 complaints per 1m passengers and Glasgow: 0.66 complaints per 1m passengers. Others are Stansted: 0.57 complaints per 1m passengers; and London Luton: 0.43 complaints per 1m passengers.
In another separate survey for MoneySupermarket, more than 2,000 adults who had flown in or out of a UK airport in the previous 12 months were questioned about lost luggage.
Passengers have to wait an average of 7.8 days for lost luggage to be returned, according to this research. Some 8 per cent were never reunited with their luggage while, according to the research.
Damaged luggage was also an issue with 32 per cent experiencing broken suitcases or broken items within their luggage when flying to or from the UK.
Among those questioned, 521 respondents had had their luggage lost while flying to or from a UK airport.
Airlines are responsible for reuniting luggage with passengers and customers have a legal right to claim compensation from an airline if checked-in luggage is delayed, lost or damaged. Airlines contract handling agents to complete this task.
Around 50 airlines operate at Birmingham airport, while around 80 operate at Heathrow.
A Birmingham airport spokesperson said "It appears from the data that airports recording the highest percentage all have a diverse traffic mix so there could be a number of factors that have led to these results. As baggage delivery is the responsibility of the airlines, we are unfortunately unable to offer any further clarity around this matter."
A Heathrow spokesperson said: "It would be misleading to suggest that baggage services at Heathrow are unreliable given our scale. Over 80 million passengers travel through Heathrow annually and the figure identified represents less than one per cent of passengers affected.
"We don't want any passengers to travel without their bags, which is why we continue to invest millions of pounds in new technologies that will help to reduce this figure even further."