By Business A.M.
President Muhammadu Buhari has directed the Central Bank of Nigeria (CBN) to  extend the deadline for the use of the old N200 notes by 60 more days, stressing that the banknote will remain a legal tender till April 10, 2023.
The president,  however, noted that the  old N500 and N1,000 banknotes are no longer legal tender in the country as specified earlier by the apex bank.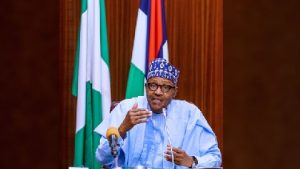 President Buhari, stated this in a nationwide broadcast on Thursday morning,  directed the CBN to allow the new notes available to all citizens.
"To further ease the supply pressures particularly to our citizens, I have given approval to the CBN that the old N200 bank notes be released back into circulation and that it should also be allowed to circulate as legal tender with the new N200, N500, and N1000 banknotes for 60 days from February 10, 2023 to April 10 2023 when the old N200 notes ceases to be legal tender.
In line with Section 20(3) of the CBN Act 2007, all existing old N1000 and N500 notes remain redeemable at the CBN and designated points," he stated.
The president also apologised to Nigerians over what he described as "unintended outcomes"  He blamed unscrupulous officials in the banking entrusted with the process of implementation of the new monetary policy industry for the naira scarcity suffered by "innocent Nigerians".
"I am deeply pained and sincerely sympathise with you all, over these unintended outcomes," the president said.
To this end, he stated that the CBN has been directed to deploy all legitimate resources and legal means to ensure that the citizens are adequately educated on the naira redesign policy; enjoy easy access to cash withdrawal through availability of appropriate amounts of currency; and ability to make deposits.
President Buhari further stated that he has directed that the CBN should intensify collaboration with anti-corruption agencies, so as to ensure that any institution or person(s) found to have impeded or sabotaged the implementation should be made to bear the full weight of the law.
He, therefore,  admonished every citizen to strive harder to make their deposits by taking advantage of the platforms and windows being provided by the CBN.
The president also assured Nigerians that his administration will continue to assess the implementation with a view to ensuring that Nigerians are not unnecessarily burdened.
"In this regard, the CBN shall ensure that new notes become more available and accessible to our citizens through the banks," he pledged.