Oyeleye
Building Africa's resilience for sustainable food security post-COVID-19 (1)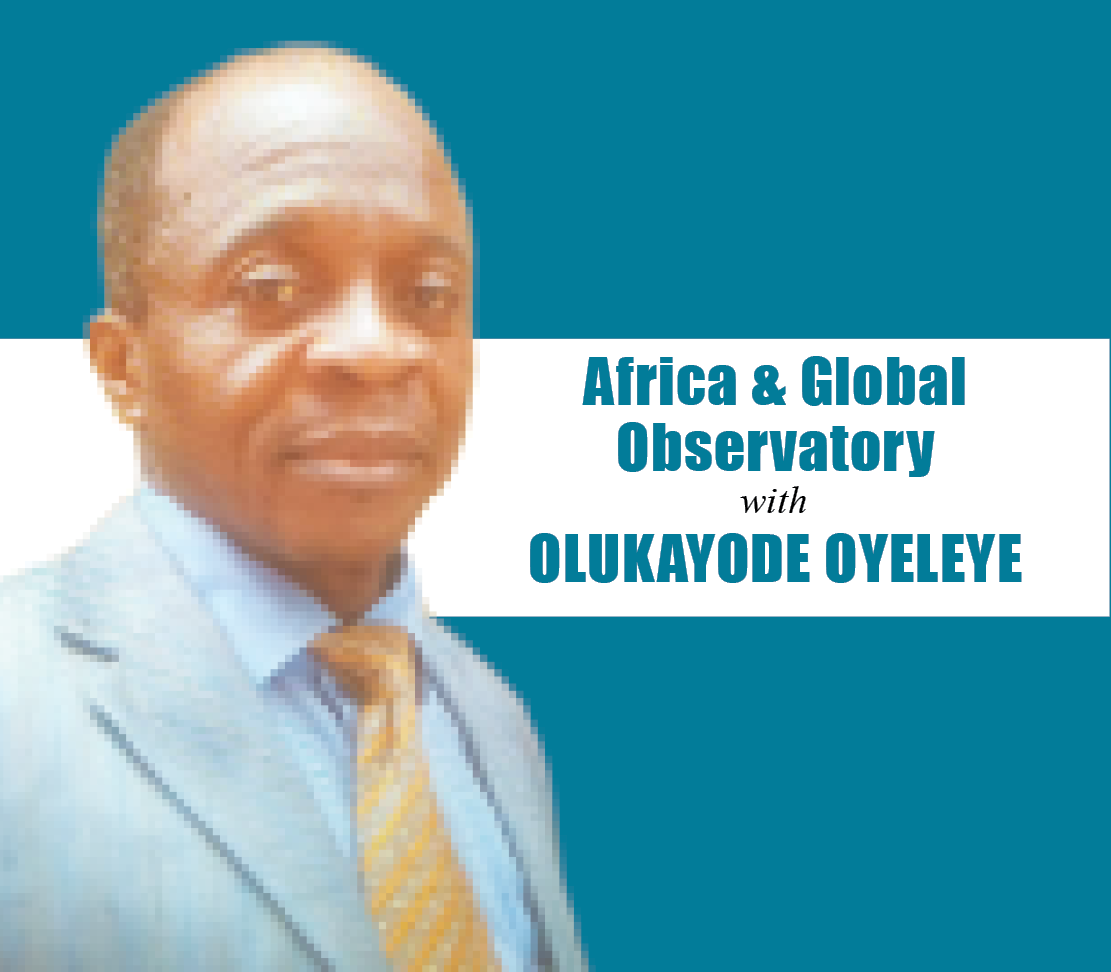 Dr. Oyeleye, a consultant, journalist and policy analyst, can be reached via:
oyeson2@yahoo.co.uk
Twitter: @OlukayodeOyele1
April 20, 2020993 views0 comments
WHILE THE ENTIRE world is engrossed in the concerns about the consequences of COVID-19 pandemic and many investments are irredeemably going down the drain, the sunny side and the silver linings around the dark cloud should be reassuring and encouraging. Realising the enormity of damage done, it becomes clear that escaping the devastating consequences of the pandemic would require extra effort, commitment and tenacity of purpose. Recovery would take time and will be unequal in all parts of the world and between various sectors. In the agriculture and food sector, in particular, peculiar problems thrown up would require extraordinary interventions for the common good all across the all continents, including Africa a major food-importing continent. This is more so as Africa's food balance sheet will be severely upset as prospects of importation may dim because food exporting nations would consider their own countries' internal food security first before exporting, at least in the immediate aftermath of the pandemic. The impact may not be immediate, especially if the stocks in storage worldwide are huge enough to meet the immediate need. It may nonetheless become apparent after the harvesting season later in the year.
Despite a wide array of national differences in experiences, sizes and shares of agriculture in national GDP and the sheer number of people actively involved in the agricultural sector, a common strand running through the entire continent is the preponderance of smallholder farmers that are generally prone to vulnerabilities of various types, magnitudes and durations. While governments would be needed at the frontline of defence and protection for the farmers and other stakeholders within the agricultural value chains after this pandemic, the intervention of the development community, humanitarian actors, civil societies, faith-based organisations, community-based organisations, research institutions and financial institutions will be no less required. Crisis management will be prominent. Coordination of interventions will be vital at the community, national, regional and continental levels. Losses will have to be absorbed and specific organisations will be needed to do the loss absorption. Damages will have to be repaired in the social and sociological milieu. Collapsing investments will have to be rebuilt and failing businesses will need to be revived, with an injection of a new lease of life.
Considering the vulnerability of African farmers and African agricultural sector to disaster-induced shocks, the widespread impacts of COVID-19 pandemic will amplify the weaknesses within the sector, which will further predispose it to additional shocks. Infrastructural failure, technological inadequacy and knowledge deficit will all have profound and amplified impact on Africa's food outlook in 2020. Interventions needed at this time would therefore require building resilience and ensuring sustainable development within the sector, particularly as various parts of Africa have – in recent times – been through unpleasant circumstances. About this time a year ago, Mozambique, Malawi and Zimbabwe experienced various degrees of damage to their agriculture, infrastructure and livelihood prospects resulting from the two successive cyclones Idai and Kenneth. The three countries are yet to recover from the devastating impact. Now, the COVID-19 shock is here. Drought has hit many parts of southern Africa hard, resulting in crop failures and poor harvests in the past two to three years in a row. Zimbabwe's farmers had previously gone through crop failures and poor harvest, to be further buffeted by the cyclones, thereby worsening their situations. Recently, some countries in East Africa have been devastated by the scourge of locusts which could push the region to the verge of a food crisis, if the swarms of locusts are not controlled. In 2020 alone, some parts of East Africa have seen two waves of invasion. Considering the damage they do, the implications for agriculture and food security remain disturbing. For most farmers, the locust invasion was unforeseen.
The inability of most of the farmers to individually overcome the shocks is a reason why external support is needed to bring them back on their feet. It is known that farmers all over Africa are generally uninsured. They absorb shocks individually without external supports. At the very best some farmers form cooperatives which help them in various ways, ranging from input procurement to produce sales. But the cooperatives are limited by knowledge, skills and extent of intervention they are capable of making. When losses occur, the cooperatives are sometimes unable to rescue the victims, especially if the unfortunate events are widespread impacts are huge. Sometimes, their responses are inadequate, slow in coming and unsustainable. The conventional insurance instruments appear a little out of touch with the traditional smallholder farming. The farmers are mostly scattered, illiterate or half-educated. The sizes and spatial distribution of the small farms are considered unattractive, making intervention cumbersome and unappealing. But because food is a critical component of any economy, Africa's approach to handling losses within the sector now requires transformative interventions, innovations and responsiveness. Political leadership must put the right foot forward and in the right direction in helping the agricultural community out of any crisis. Various knowledge-based instruments are needed, either separately or in combination, in the interventions.
As part of the broad spectrum of interventions for the helpless farmers, the index-based insurance presents a new pathway to explore. Index insurance solution offers provision that pays out benefits based on a pre-determined index or loss of assets and investments. It was originally designed based on the premises that many of the world's populations, particularly the small farmers, are vulnerable to climate shocks. The unfolding, but rather unforeseen, realities require a modification of the inherent principles to suit disaster responses – such as in Coronavirus pandemic – to accomplish the risk transfer solutions and index-based insurance in developing countries. This could reduce some of the problems associated with traditional, indemnity-based insurance programmes and could rescue most farmers from permanent and irreversible losses. It could therefore serve as a risk mitigation mechanism. The World Bank, a champion of index insurance, is gaining traction in its work to improve and scale up the use of extreme weather insurance instruments as risk management tools for the poor and the most vulnerable smallholder farmers particularly affected by climate change. The tools can nonetheless be modified and adjusted to fit into situations of health and security crises, as in COVID-19, for effective and productive outcome.
The need to help smallholder farmers build resilience, reduce food insecurity, and offset economic losses cannot be over-emphasised in a crisis time such as this. This will have a multiplier effect on food availability, job creation and economic development. Hitherto, index insurance has rarely been offered by insurers in developing countries. The peculiar nature of the circumstance, perhaps, makes it unappealing as it is perceived to be a difficult and complicated product to evaluate and not many insurers possess the knowledge and technical capacity to develop circumstantially adaptable, sustainable and profitable index insurance products. Although many of the world's populations are vulnerable to climate shocks – to drought, flooding, irregular rainfall and natural disasters – farmers are mostly left to sort things out by themselves after the calamities. Victims, who mostly need continued access to finance and building resilience against future risks, should find index-based insurance useful as a critical risk-management tool. But the World Bank's index insurance coverage needs to be expanded to cater for unforeseen tragedies such as COVID-19. The loss of assets and investments resulting from extreme weather or other catastrophic events warrants such an expansion. This expansion becomes more relevant as it can greatly improve risk management and poverty reduction.
An opportunity was presented to Nigeria in 2018 when Shadreck Mapfumo, a senior financial sector specialist in the Finance and Markets Global Practice of the World Bank Group, was in Abuja to embark on a week-long training on agricultural and index-based insurance advisory services for representatives of insurance companies and intermediaries, in collaboration with the National Insurance Commission (NAICOM). Two years on, the impact of such training ought to be manifesting by now. Nothing remarkable has been heard from government or the insurers on the progress made after the one-week training in which risk modelling was practically conducted for participants, this write inclusive. Apart from industry practitioners, the policy makers are expected to have mainstreamed this concept into the policy mix of Nigeria in the actuarial system and agricultural sector. Two years are long enough as disasters may warn but don't seek people's consent before they happen. Sometimes, they give early warnings. Sometimes they don't. By the nature of smallholder agriculture, a practice so prevalent in Nigeria, it is expected that the insurer will not have the resources to assess each claim individually, after a disaster, in a short period even in the best conditions. The principles of index insurance, properly applied, would help spread the intervention across the board such that no intended beneficiary is left out. A prepared Nigeria would readily have found such a tool useful in the aftermath of COVID-19, creating opportunities for the insurance professionals, beneficiary farmers as well as well as helping government make definite and far-reaching impacts on the agricultural community, ensuring sustainable food supply after the COVID-19 crisis.