Frontpage
Markets
Bulls rule Nigeria bourse as price appreciation in top stocks drives market, delivering N17.8bn to investors
November 26, 2020817 views0 comments
By Charles Abuede
The local bourse improved marginally on Thursday by 0.10 per cent. Price appreciation was witnessed in Guaranty Trust Bank – GTB – (+2.6%), International Breweries (+9.6%) and Mobil Plc (+9.9%) to drive the benchmark index higher by 10 basis points to 34,803.00 points. As a result, investors gained N17.8 billion as market capitalisation rose to N18.185 trillion from N18.167 the previous day, while the year to date return improved to 29.6 per cent.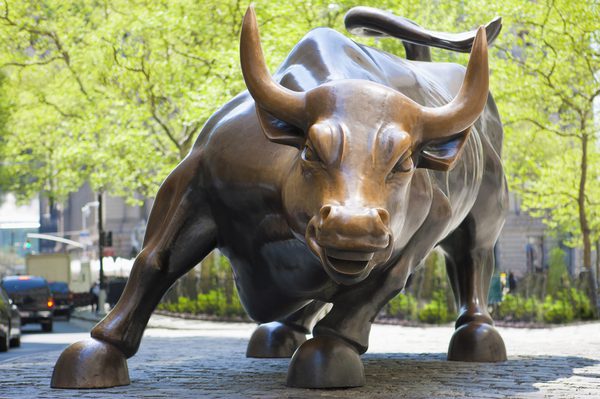 However, the activity level declined as volume and value traded fell by 40.8 per cent and 48.9 per cent to 257.6 million units and N3.5 billion respectively. The most traded stocks by volume were Zenith Bank (40.6million units), Transnational Corporation (23.2million units) and Access Bank (20.9million units), while Zenith Bank (N999.3million), MTN (N686.1million) and GTB (N242.0million) led by value.
Bullish sector performance 
Similarly, the performance across sectors was bullish as 4 of 6 indices closed northward while the industrial goods and AFR-ICT indices closed flat. The oil & gas index led gainers, up 2.8 per cent due to bargain hunting in Mobil Plc (+9.9%) and Oando (+9.2%). Similarly, the insurance and consumer goods indices rose 1.0 per cent and 0.6 per cent respectively, owing to buying interest in WapicPlc (+7.3%), AIICO Insurance (+5.3%), International Breweries  (+9.6%) and Guinness Plc (+7.2%). Finally, price appreciation in GTB (+2.6%) marginally drove the banking index higher by 2 basis points.
Investor sentiment weakens
Meanwhile, investor sentiment as measured by market breadth (advance/decline ratio) weakened to 1.0x from the 3.4x recorded previously as 21 stocks gained against the 21 that declined. UPDC Investment (+10.0%), NCR (+10.0%) and Mobil (+9.9%) led the top gainers,while Royal Exchange (-7.7%), Union Diagnostics (-7.4%) and Africa Prudential (-5.8%) led the decliners.
The NSE 30
The NSE 30 Index marginally increased by 0.08 per cent to close at 1,483.78 points as against 1,482.56 points the previous day. Market turnover closed with a traded volume of 167.03 million units. 11 Plc (Mobil) and International Breweries were the key gainers, while UBN and Fidelity Bank were the key losers.
FX market
The naira accelerated its decline against the dollar by N7 to trade at N494 per dollar on Thursday, bringing the week to date depreciation to N11 from N483 per dollar in the parallel market; while at the I&E FX market, the naira remained stable at N393.25 per dollar. Most participants maintained bids between N383.00 and N395.00 per dollar.
Treasury bills
Despite the low yield environment prevailing in the NT-Bills market, investors were willing to buy up to N445.94 billion due to the abundant system liquidity as the NT-Bills secondary market closed on a flat note, with the average yield across the curve remaining unchanged at 0.10 per cent. Average yields across short-term, medium-term, and long-term maturities closed flat at 0.06 per cent, 0.09 per cent, and 0.13 per cent, respectively.
On Wednesday, the CBN conducted a Primary Market Auction, selling NT-Bills worth N150.60 billion across the 91-day (N20.37 billion), 182-day (N19.16 billion), and 364-day (N111.07 billion) tenors. Stop rates trended lower as the 91-day, 182-day and 364-day tenors cleared at 0.02 percent (-2 basis points), 0.09 per cent (-6 basis points) and 0.15 per cent (-15 basis points), respectively. Demand was robust with the oversubscription in the three tenors by 2.81x (91-day), 2.86x (182-day), and 3.01x (364-day).
Trading activity in the OMO bills market remained muted with the average yield across the curve closing at 0.15 per cent. Mild selling pressure was seen across long-term maturities with the average yield rising by 1 basis point.
However, average yields across short-term and medium-term maturities both closed flat at 0.15 per cent each. The highest yield increase was witnessed in the 26-Oct-21 maturity bill, which rose by 5 basis points, while the highest yield decline was seen in the 24-Aug-21 maturity bill, which fell by 5 basis points.
Bond Market
With the expected bullish sentiment in the market as investors seek opportunities to re-invest proceeds from the OMO bills maturities, owing to relatively better yields, the FGN bonds secondary market closed on a positive note on Thursday, as the average bond yield across the curve cleared lower by 1 basis point to close at 1.61 per cent from 1.62 per cent on the previous day. Average yields across short tenor and long tenor of the curve compressed by 1 basis point and 7  basis points, respectively; while the average yield across medium tenor of the curve advanced by 10  basis points.
Consequently, the 26-APR-2049 maturity bond was the best performer with a decline in yield of 27 basis points, while the 22-JAN-2026 maturity bond was the worst performer with an increase in yield of 48 basis points.