Equities
Capitec overtakes Nedbank to become 4th largest by market value in SA
September 8, 20171.5K views0 comments
Capitec Bank Holdings Ltd. passed Nedbank Group Ltd. as South Africa's fourth-largest lender by value to extend a market-beating rally that has made it the country's best performing stock.
The shares of Stellenbosch, South Africa-based Capitec rose 2 percent in Johannesburg on Thursday to close at 891.03 rand, giving it a market capitalization of 103 billion rand ($8 billion) and extending gains this year to 28 percent. Nedbank climbed 0.9 percent to 205 rand for a market value of 102.1 billion rand, paring its decline in 2016 to 14 percent.
Capitec's assets don't amount to even a 10th of those of Johannesburg-based Nedbank, which owns a retail and investment bank, wealth-management businesses and a stake in Africa's most geographically diverse lender.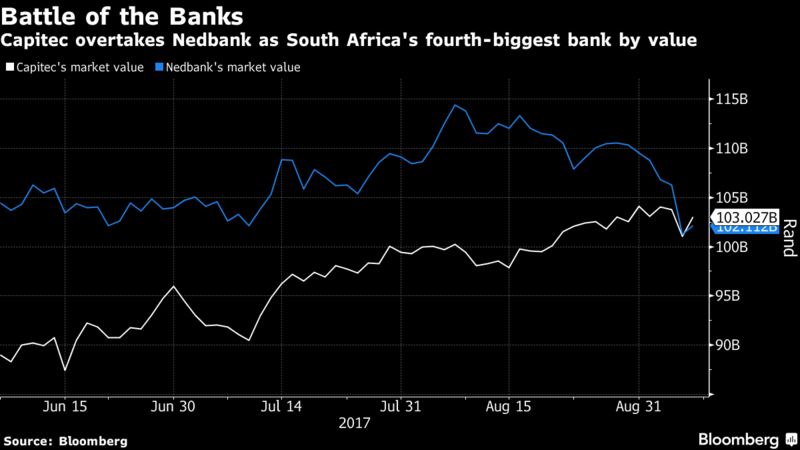 Capitec's stock has gained in all but one of the years since it began trading in February 2002 at about 2.60 rand. That's the most among banks across emerging markets during the period and the best performer in South Africa's benchmark Top40 Index.
"Capitec is gaining retail clients at a rate that makes it bigger than Nedbank," said Patrice Rassou, head of equities at Sanlam Investment Management in Cape Town. The lender also grabbed market share when it launched its card business, which is "a huge growth vector," he said.
Originally a purveyor of unsecured lending, Capitec broadened its product range into savings and credit cards to defy an economy ravaged by political turmoil and growth that the central bank estimates will reach 0.5 percent this year. It has expanded faster than the nation's four biggest banks, adding 1.3 million customers in the last fiscal year alone to 8.6 million.
"Capitec's simple bank model, the absence of brick-and-mortar branches, modern technology, and the high growth rate has appealed to investors both locally and abroad," said David Shapiro, the deputy chairman of Sasfin Wealth in Johannesburg. "Management was nimble and easily attacked the big banks in a segment of the market that they had overlooked or perhaps felt was too difficult or risky to service."
Earnings per share in the six months through Aug. 31 will probably increase as much as 18 percent, Capitec said on Sept. 6, extending a run that has seen its annual net income jump almost 130 times since 2003. Nedbank said on Aug. 2 that first-half net income declined 3.7 percent, weighed down by losses at Ecobank Transnational Inc., which makes the bulk of its money in Nigeria.
The company's run might be nearing an end, with Capitec trading at more than 20 times future earnings compared with less than 8 for Nedbank, according to Richard Hasson, a money manager at Electus Fund Managers in Cape Town.
It is "unlikely that they will deliver growth in earnings at similar levels to the past," he said. "Capitec is overvalued relative to their growth prospects."
---
Report courtesy Bloomberg