Finance
Frontpage
CBN tasks Africa central bankers on tighter banking regulations
March 16, 2023150 views0 comments
By Luther Animashaun
The Central Bank of Nigeria (CBN), has urged central bank  governors and other  African financial sector regulations to be more vigilant  in their regulatory and supervisory roles to forestall any run on banks in their respective jurisdictions.
Godwin Emefiele, the CBN governor, gave the advice while speaking at the recently conducted African Central Bank Conference, held at the Global Leadership Centre, Johannesburg, South Africa.
Speaking on the current global dynamics and specific policy developments implemented in Nigeria to address emerging shocks, he advised central bankers on the continent to draw lessons from the recent failure of Silicon Valley Bank (SVB) and Signature Bank in the United States of America, by putting in place regulations that will prevent any run on banks in their countries.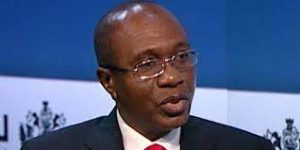 Emefiele, who recounted Nigeria's experience in regulating banks, noted that the threats posed to the financial system necessitated the release of new guidelines and regulations to tackle potential infringements and, in the process, protect depositors' funds as well as promote greater transparency in the sector.
The CBN governor said regulators must be actively engaged in their responsibilities by ensuring that banks under their regulatory watch are financially healthy and do not suffer a similar fate as the Silicon Valley Bank, which, until its collapse recently, catered to many of the world's most powerful tech investors.
The two-day conference was declared open by Saara Kuugongelwa,the prime minister of Namibia,and topics discussed centred around "African Solution for African Problems" and "Africa's  Seat at the Table," among others.
Lesetja Kganyago, governor, Reserve Bank of South Africa,also gave a presentation on issues bordering "Calibrating for a New World Order" and "Unlocking Development Finance and Mobilising Institutional Investors for Development in Africa".