Oyeleye
China's models Africa must avoid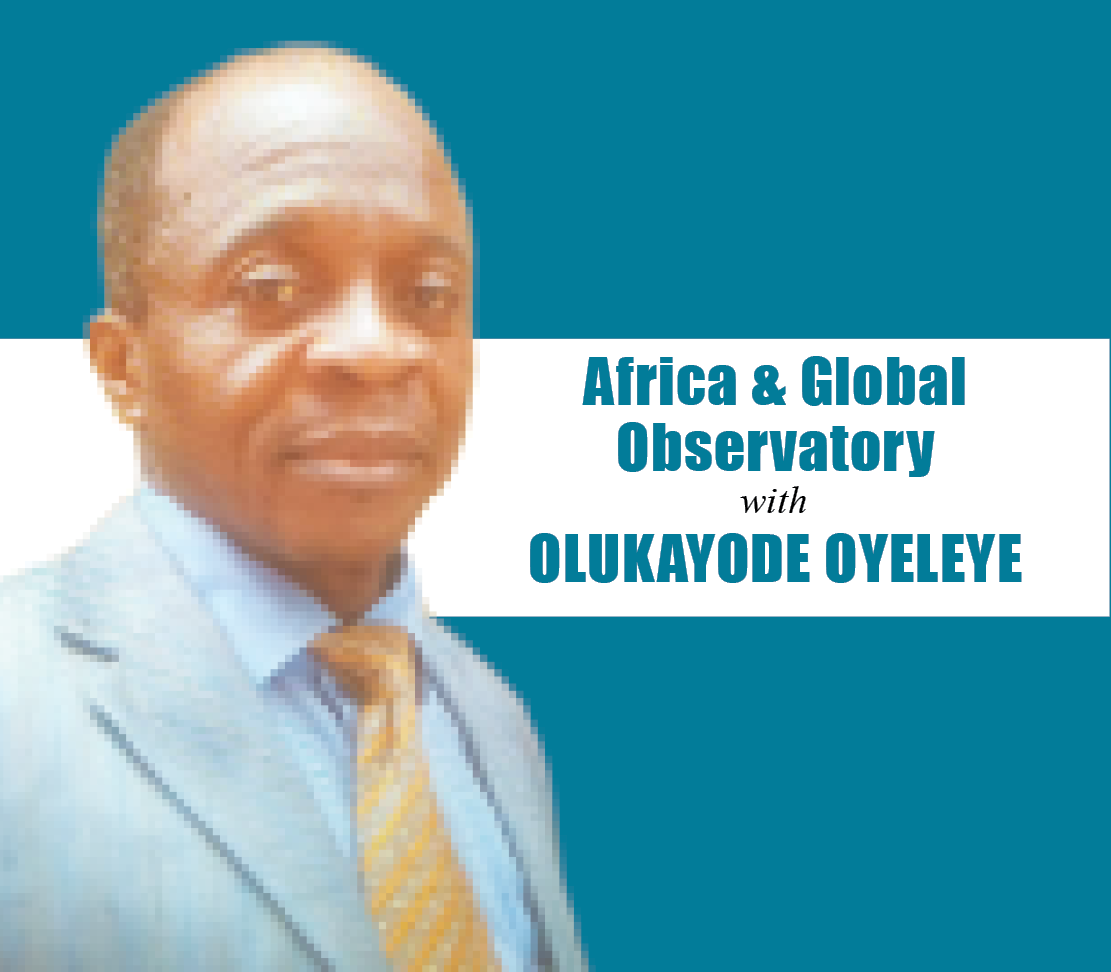 Dr. Oyeleye, a consultant, journalist and policy analyst, can be reached via:
oyeson2@yahoo.co.uk
Twitter: @OlukayodeOyele1
November 15, 2021277 views0 comments
CHINESE PRESIDENT, XI JINPING, has just secured a mandate that will enable him go for a third term as the helmsman of China next year. At the weekend, a 'crowd' of about 400 insiders in the Chinese corridors of power, the Central Committee members, voted to pave way to re-elect Xi in a country with a population of over 1.4 billion people. The wider populace needed not vote. It was enough for the handful of people to choose the leader from the only political party, the Chinese Communist Party (CCP), of which the president is also the General Secretary. In addition to that, he also doubles as Chairman of the Central Military Commission (CMC). As a successor to Hu Jintao, Xi assumed office in November 15, 2012, effectively becoming President of the People's Republic of China (PRC) since then. Xi has been praised for his role in the rise of China as an economic and strategic power, even though these have come at some cost to the country.
Undoubtedly, many African political leaders and despots would privately applaud this move for a tenure extension. It is likely that some would privately send him congratulatory notes for a fait accompli. Since most African state leaders are wont to rushing to China alone or en masse in quest of loans, technology, infrastructure and other miscellaneous helps, they are very likely to cheer Xi privately or publicly as a generous and benevolent benefactor. This they are under some kinds of obligation to do if they must remain in Xi's good books. And his example will be used as justification by the old-timers like Yoweri Museveni of Uganda, Theodoro Obiang Mbasogo of Equatorial Guinea, Paul Kagame of Rwanda and the new members of depots' club such as Alpha Conde of Guinea Conakry and Alassane Ouattara of Cote d'Ivoire. Those who like to copy ideas need to think of how to make them work. In China, dictatorship which seems to have worked well over the years, may have reached a tipping point and a watershed moment as the country appears set for a downward spiral, the type no African country should experience.
China's economy began to slow down since 2015, although pundits from that country would not publicly acknowledge it, especially with record superlative projects in the military hardware, avionics, telecommunication, financing, navy and manufacturing so much so that China was dubbed the manufacturing powerhouse of the world. But then came the disruption triggered by COVID-19 outbreak in early 2020. For China, things are not the same again. China may lose its place as the second largest economy in the world sooner than is imagined. China has been preparing for this eventuality for so long. As a country, China has been using double standards in dealing with domestic and foreign affairs, particularly in manufacturing and trade. But things are about to change. The Financial Times has quoted the head of a leading American business lobby group in China as warning of an imminent "exodus of western executives from the world's biggest consumer market."
The removal of preferential tax treatment enjoyed by foreigners for decades may force some foreign investments out of China. In recent times, China has been going through inflation, rising costs of commodities, as well as power crunch, leading to energy crises, power outages, selective load shedding and erratic power supplies. For those who have enjoyed freedom and privacy elsewhere in the world, the intrusiveness of Chinese authorities and constant surveillance are enough reasons to leave. The prolonged lockdown in response to COVID-19 pandemic is enough reason for some. The official clampdown on private entities owned by Chinese nationals is discouraging investments. The regime of Xi Jinping has been particularly hostile against investment. Cheap labour industries catapulted China to the forefront in the world market, with supply chains largely focusing on China. Now, that is coming to an end. No fewer than 32 countries are ending their preferential tariffs for Chinese products in what will hurt manufacturing and exports from China. A Taiwan News report earlier in November disclosed that "China Customs says 32 countries will no longer provide preferential tariff treatment to the world's largest exporter" from December 1, and an economic expert predicted that labour-intensive businesses "will bear the brunt of the development."
According to a statement recently issued by the General Administration of Customs of China (GACC), 32 countries will remove China from their trade preference lists of beneficiaries of duty-free tariff treatment of certain products, Hong Kong media reported. The GACC applauded the move as "a recognition from other advanced economies that China does not belong to the bracket of low-income and lower-middle-income countries anymore and that Chinese products are competitive enough in the market that (they need) no protections." That means China will have to pay like any other. This will render affected Chinese products uncompetitive in domestic and export markets. As a result, many will decide to embark on transactions with some other countries. For so long, China has played by its own rules while ignoring best practices in global trade. The practice of trying to have it both ways will not continue to be condoned as the US, the UK and the EU have complained about China's tardiness to comply with international trade rules aimed at establishing a level playing field for operators in the multilateral trading system.
The stock market in China is going through a tumultuous time. It was in panic mode the day the Communist Party leaders were meeting. Evergrande, the cash-strapped developer owing $300 billion, was in trouble without bailout. According to Matthew Chow, a property analyst and director at S&P global ratings, "we remain sure that default is almost a certainty." Evergrande owes money to 171 domestic banks in China. The implication is that if the company defaults, it could bring many of these banks down with it. The obsession of the Chinese Communist Party with power, internal security and stability is not helping matters. As at July 2021, according to the Wall Street Journal, American investors have lost $400 billion as a result of crackdown on Chinese companies. The decision of CCP government under Xi to henceforth prevent private education apps from profiting has led to a loss of $12 billion by US and European investment banks. China is now perceived as a risky investment destination. Global investors are losing faith in the Xi regime for its capricious policies that are unfavourable to investments. Neighbouring India seems to be a major beneficiary of these China's official policy missteps.
 China's grandstanding on climate action has become very evident. The same country that makes a lot of fuss about working towards halting climate change is the greatest emitter of greenhouse gas globally. China still burns a lot of coal for the purpose of energy supply. That is not about to end soon. The watered down outcome of COP26 at Glasgow this November could have been as a result of lobbying by many users of huge stocks of fossil fuel, particularly coal, gas and petroleum. And China is at the forefront. While calling on the World Trade Organisation (WTO) to stand up to China on adherence to basic production rules and best practices, it is hereby suggested that the WTO specifically pronounce an end to China's claim to being a developing country – a claim that propelled China's economy and gave it a quantum leap and exponential rise since 2001 upon accession to the WTO. The industrial and economic growth in China had happened at the expense of the environment and has led to huge contribution to the greenhouse gas loads that the world currently grapples with. This claim enabled Chinese products to be competitive in the world market, but it happened through massive consumption of fossil fuels to run gigantic plants and manufacturing firms.
If the carbon footprint of the various companies in China is to be traced, then China owes the world a lot in terms of climate financing as it has contributed the greatest as the so called celebrated workshop, or manufacturing hub, of the world. Moreover, the WTO is hereby implored to force China to comply with demands for sustainability and environmental friendliness as conditions for continued access to multilateral trading system. Dr. Ngozi Okonjo Iweala, the WTO Director General, must be bold enough to call China out for violations of environmental stewardship ideals. This is important for the sake of developing countries in Asia, Caribbean, Pacific and Africa and making them competitive. Sustained human rights violations will affect the fortunes of many industrial productions in the future in China. Earlier in the year, Adidas, H&M and Nike were among the Western brands that boycotted Xinjiang cotton, in response to a complaint from the Better Cotton Initiative (BCI), citing alleged "forced labour" in Xinjiang. Despite China's denials and threat to blacklist, responsible production of cotton and derivatives should be made obligatory as part of competitive strategy. These should help Africa in no small measure.
African despots who want to emulate China need to watch and be wary of what is befalling China today and what may happen in the future. Rather than blindly following China, it makes more strategic sense to avoid betting on a potential failure. Can despotic leadership guarantee African countries any modicum of sustainable economic growth? Should China continue to be allowed to plunder DR Congo's forest or cobalt deposits, or Zambia's copper mines, or yet Nigeria's gold? African leaders have choices to make. Rather than continuing to depend on China for imports, Africa needs to chart its own alternative pathways to industrial development, economic freedom, climate action and responsible consumption. China's development template may not be what Africa needs to leapfrog in development. Africa's future should not be built around despots, sit-tight rulers or whimsical military men who rule by fiat.  The cherished freedom, liberty and open society, not dictatorship or anti-investment policies are what Africa needs to prosper. The road to the East may seem wide and attractive, but it could lead Africa to a dangerous terrain between the rock and a hard place. Africa must avoid China's model, mentoring and tutelage as much as possible.