Frontpage
Chinese manufacturers seek friendlier incentives to play in Nigeria's transport, energy sectors
September 6, 20181.1K views0 comments
Chinese manufacturers have urged the government to back its investment drive towards backward integration with friendlier policy incentives, saying many producers were interested in the domestication of their production processes
 in
 the transportation and energy sectors.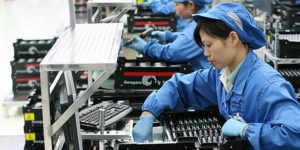 Binu Pillai, the chief operating officer, Meorient International
,
 speaking at the official opening of the China Homelife Fair Nigeria said more opportunities have begun to sprout from the bilateral ties between Nigeria and China, with more Chinese firms embarking on project export initiatives for local production.
He said: "We are particularly looking at the transportation and energy sector as priority sectors. Our manufacturers are looking forward to the incentives that the market can offer. It could be land, repatriation of profit, in terms of if you bring any raw materials that is used for manufacturing,  can there be any tax exemptions? So basically how they can leverage."
According to him, the focus of the fair with 160 participating exhibitors is to provide a platform for real interaction between business partners and potential clients and investors. "They have come to talk to the stakeholders directly so that they have a very good understanding of the market. There could be cultural or language differences but they want to come here and bridge that gap," he said.
Pillai believes with the 
$60
 billion recently offered by the Chinese government  in aid and loans for Africa, a higher scale of collaboration will be witnessed in business interactions of the two countries.
On Monday, the Chinese President Xi Jinping announced 
$60
 billion in aid and loans for Africa during the hosting of more than 40 of the continent's leaders in Beijing, saying the fund came with no expectation of reimbursement.
"When you talk about the 
$60
 billion we are talking about project export. It's a trend in China and China in some cases have over capacity, so there are companies interested in moving their factories to produce locally. Also there could be some collaborative projects in multiple  fields such as oil and gas," Pillai noted.
Mu'azu Ruma, general manager, Nigeria Export Processing Zones Authority  (NEPZA) addressing concerns over incentives fiscal incentives were being developed, adding that a review of undertaking with the industrial incentive council under the Federal Ministry of Industry, Trade and  Investment that was ongoing to create an enabling environment that is standard worldwide. The cost of production and all other concerns including security, he said, we're being looked into.
 Speaking of the deliverables, however, Roma described the exhibition as one of the means to further strengthen the existing bilateral relations and multilateral business relationship between the two countries. He said it will open a way of utilising Nigeria's resource base for further business productions and bring about economic development into Nigeria.
"Its an opportunity opening for Chinese investors that have never been to Nigeria to explore all avenues for further investments and businesses. For me its a way forward to wards economic development and a consolidation of the agenda of the current government. What this coming means is that Nigerians will get employed, wealth will be created and drying there would be so many integrations both forward and backward," Ruma said.