Commodities
Cocoa jumps as unrest continues in top producer Ivory Coast
May 16, 20171.3K views0 comments
Cocoa rose, extending last week's surge in prices, following a failure of talks between army commanders and mutinous soldiers over the weekend in Ivory Coast, the world's biggest producer.
The beans jumped as much as 4.4 percent in London and also gained in New York trading after Ivory Coast's military was said to have given soldiers an ultimatum on Sunday to drop their pay demands and end a revolt. Special forces will take action against the soldiers should the talks fail, a person familiar with the matter said.
There were reports of shooting early Monday at the main army barracks in Abidjan, the commercial capital, and the country's second-biggest city of Bouake.
"There has been a slight pick-up in the price in the last few days and that may actually reflect people getting a bit nervous," said Edward George, head of research at Ecobank Transnational Inc. "Bouake is one of the centers of the cocoa trade, so obviously people are worried."
Cocoa for delivery in July rose 1.3 percent to close at 1,590 pounds ($2,053) a metric ton on ICE Futures Europe in London. Last week's gain of 7.4 percent was the biggest advance in five years. July futures were up 1.4 percent to $2,043 at 12:28 p.m. on ICE Futures U.S. in New York.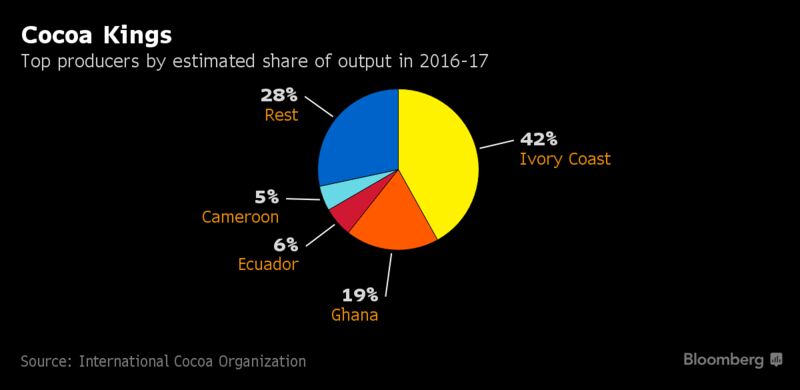 The unrest was sparked by an announcement from President Alassane Ouattara on Thursday that the government reached a compromise with troops who revolted earlier this year over unpaid bonuses. The nation last month revised its budget amid lower prices for cocoa, its main export, limiting its ability to pay soldiers.
Cocoa has fallen 30 percent in the past 12 months in New York on expectations of bumper harvests in West Africa including record supplies from Ivory Coast. Money managers have held a net-bearish position in cocoa futures and options in New York since November though trimmed the wager last week. Any bullish news could prompt speculators to make purchases to cover their short positions, according to Marex Spectron Group.
Short-Covering
"The dangerous thing is, there is a very big speculative short in New York and the situation in Ivory Coast — that's a catalyst in the market to trigger short-covering," Jonathan Parkman, the co-head of agriculture at Marex in London, said by phone. "It's a political worry. Do I actually think it will restrict cocoa supplies? I seriously doubt that."
All import and export operations at Ivory Coast's biggest port in Abidjan are continuing as usual, spokesman Alexis Guie said by phone on Monday.
Soldiers have wounded civilians and blocked roads to the main border with Burkina Faso, while citizens opposed to the rebellion have organized protests across Ivory Coast. Special forces troops are moving toward Bouake in the center of the country, according to a person familiar with the matter, who asked not to be identified because he's not authorized to speak about it.
Meanwhile, in Cameroon, another top producer, stevedores called off a strike on Sunday after 200 members downed tools on May 12, stalling exports of cocoa and coffee.
"The thing is that there is ample cocoa out there," Ecobank's George said. "We've got a very good supply coming in in Ghana, so it's going to take something pretty spectacular to turn the market."
In other soft commodities:
Cotton futures surged by the daily limit in New York.
White sugar for August delivery fell 0.5 percent to $440 a ton in London, while raw-sugar futures for July delivery gain 0.8 percent to 15.64 cents per pound in New York.
Robusta coffee dropped 1.3 percent to $1,969 a ton while arabica-coffee futures for July delivery slid 0.8% to $1.339 per pound in New York.
---
Courtesy Bloomberg