By Onome Amuge
Copper and other industrial metal prices declined at the close of the week, dampened by demand worries amid rising Covid-19 cases and expanding restrictions in top consumer China.
Market reports showed that Chinese cities from Wuhan in central China to Xining in the northwest doubled down on Covid-19 curbs, sealing up buildings, locking down districts and throwing millions into distress in a bid to clamp down on  widening outbreaks.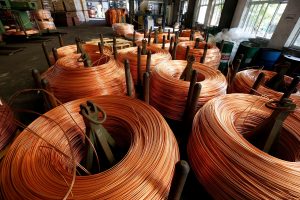 Three-month copper on the London Metal Exchange (LME) was down 1.8 percent to $7,626.50 a tonne, while the most-traded December copper contract on the Shanghai Futures Exchange shed 0.9 percent to 62,900 yuan or $8,696.97 a tonne.
China stocks fell as Covid-19 flare-ups added to concerns of a dim economic outlook, amid fears that growth will be sacrificed for ideology-driven policies under President Xi Jinping's new leadership team.
With the Covid-zero policies drowning out positivity in the metals market, analysts opine that base metals will remain bearish in the short term. Also weighing on the market was a firmer dollar, which makes metals priced in the U.S. currency more expensive for buyers using other currencies.
The dim situation saw metal prices tumble on the LME as aluminium slumped 1.8 percent to $2,245 a tonne, tin lost 3.6 percent to $18,010 a tonne, zinc shed 2.1 percent to $2,880 a tonne, and lead dropped 0.4 percent to $1,856.50 a tonne.
On the Shanghai Future Exchange (SHFE),  aluminium lost 2.8 percent to 18,160 yuan a tonne, nickel eased 1.7 percent to 185,010 yuan a tonne, tin declined 4.9 percent to 158,070 yuan a tonne, and zinc plunged 2.6 percent to 23,540 yuan a tonne.
Analysts said production cuts in Europe, driven by the energy crisis and low inventories, have sustained zinc prices over the last year, but headwinds emanating from growth and demand slowdown are now a bigger challenge for the market.