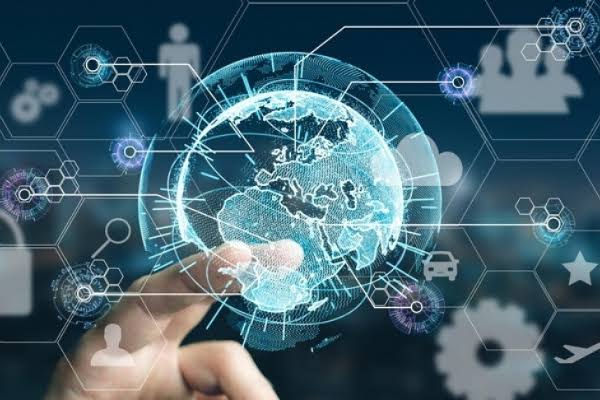 The impacts exerted on the business environment and the socio-economic sphere by Coronavirus pandemic have been felt globally. In the midst of this life-threatening situation, however, the digital economy drive of countries such as Nigeria is being put to test. OMOBAYO AZEEZ reports.
Coronavirus pandemic, now globally infamously known as COVID-19, has brought the global economy on its knees by disrupting economic activities. It has kept governments busy fighting for the lives of their people and life of their economies.
In Nigeria, this has warranted the government at the federal and state levels to enforce restrictions on movement, as well as total lockdown in some parts of the country, particularly Lagos, Abuja and Ogun State.
Consequently, big business organisations, as well as small and medium enterprises have inevitably put their offices under lock and resorted to suspension of operations, with some choosing to work remotely.
In the struggle to prevent the economy from shutting down completely, the federal government of Nigeria has encouraged, and where necessary, recommended business continuity plan, especially in sectors delivering critical services such as the financial, and telecommunications sectors, among others.
For instance, the Central Bank of Nigeria (CBN) and the Nigerian Communications Commission (NCC) have charged banks and telecoms companies under their supervision respectively to make their services available to their  customers and subscribers throughout the lockdown period.
Also, President Muhammadu Buhari last week took a further step to ensure the economy adapts to this new reality, as he directed the ministers of Industry, Trade and Investment, Communication and Digital Economy, Science and Technology, Transportation, Aviation, Interior, Health, Works and Housing, Labour and Employment and Education to jointly develop a comprehensive policy for a "Nigerian economy functioning with COVID-19″.
While the lockdown and restrictions in movement continue to hold sway in the country as the most viable measures to control further spread of COVID-19, most activities across the various sectors will be backed by digital mode of operations, and also, the policy for a Nigerian economy functioning with COVID-19 being developed by the ministers can only be executed by leveraging on digital options, which align with the digital economy drive of the country.
Digital Options and the lockdown
So far, the cyber space has received swarms of users whose freedom of movement has been restricted due to the Coronavirus pandemic and more individuals in the country and the world over are to adopting digital collaborative tools to perform their office tasks.
As seen in the Nigerian capital market, the Nigerian Stock Exchange (NSE) has been trading remotely and many listed companies that had the obligation of hosting their annual general meetings (AGMs) for the year ended December, 30, 2019 have proceeded online to fulfill this obligation while movement and social gatherings remain prohibited.
The country has also witnessed conduction of virtual meetings in governance, which perfectly resonates with e-governance under a digital economy. The Lagos state government tagged this as an historical experience on Monday, March 30, when it conducted its first ever virtual executive meeting, chaired by Governor Babajide Sanwo-Olu himself.
More times than can be counted, application and softwares such Skype, Zoom, WhatsApp video, among others, have been used in Nigeria to conduct trainings and virtual classes since the global health challenge started raging.
For the same reasons of staying safe and at the same time sustaining learning, e-learning has received a fillip as institutions, ranging from primary, to secondary to tertiary settings, are putting resources in place to promote e-learning in the country even as students are encouraged to shun lecture theatres.
The same increased adoption of digital tools goes with micro, small and medium enterprises in Nigeria since the struggle against COVID-19 became the topmost priorities of Nigerian authorities.
Speaking on the matter, Muhammed Rudman, chief executive officer of Internet Exchange Point of Nigeria (iXPN) told business AM that daily internet traffic and data usage in Nigeria has increased by 10 per cent courtesy of those working from home and others.
"This experience aligns with the digital economy drive of Nigeria which preaches digitisation of operations across sectors. The people have not really been doing it, and the people also have not adopted it widely. With  the current experience, however, I think gradually, people are beginning to understand that works are no longer defined by place, but just by operations," said Rudman.
Thrusts of Digital Economy
Digital economy is defined as an economy that focuses on digital technologies. It is based on digital and computing technologies. It essentially covers all business, economic, governance, social and cultural activities that are supported by the web and other digital communication technologies.
Since the term was coined in a book titled "The Digital Economy: Promise and Peril in the Age of Networked Intelligence" authored by Don Tapscott in 1995, governments, and global bodies such as the International Monetary Fund (IMF), World Bank, International Telecommunications Union (ITU), GSM Association (GSMA), among others, have identified with it as the future of the global economy.
Digital economy, according to experts, promotes use of the Internet with the attendant possibility of most daily office works performed on the Internet. It leads to rise in e-commerce. Particularly, The businesses that adapted and adopted the internet and embraced online business in the last decade have flourished and the digital economy has pushed the e-commerce sector into overdrive.
Deepened adoption of digital economy is also meant to promote e-governance and transparency in the corridor of power, even as it connects the people more conveniently with the government, leading to efficiency in management of public resources.
Nigeria and Digital Economy
Late 2019, the World Bank sounded a warning that despite recorded gains of technology in Nigeria, the country has not been pursuing holistic digital reforms that can engender a digital economy.
The global apex bank said in its "Nigeria Digital Economy Diagnostic Report" released on November 29, that the Digital Economy offers opportunities, but also brings risks of being left behind for countries such as Nigeria.
The World Bank noted that in 2016, the global digital economy was worth about USD 11.5 trillion, equivalent to 15.5 per cent of the world's overall GDP, while it added that this is expected to reach 25 per cent in less than a decade, quickly outpacing the growth of the overall economy.
The Bank however noted that Nigeria has not been doing enough to cash up with this pace and address issues that are impeding the process decisively.
"Nigeria is currently capturing only a fraction of this growth and needs to strategically invest in the foundational elements of its digital economy to keep pace," the World Bank counseled.
Meanwhile, the World Bank's diagnosis also acknowledged broadband as a key enabler to harness the digital economy transformation.
It however lamented that in spite of recent growth in fiber installations in Nigeria, national fixed-line infrastructure is still poor, and mobile systems remain the primary means for carrying retail and enterprise data traffic in the country.
"Furthermore, fixed broadband penetration in Nigeria is very low, with a household penetration rate of 0.04 per cent at the end of 2018, below the African regional average of 0.6 per cent, and well below the world average of 13.6 per cent."
This is ascribed to "poor backbone investment in Nigeria having focused primarily on major urban areas and inter-city routes, and unlike its West African peers such as Ghana and Senegal, Nigeria does not have a national backbone network through which high-speed Internet connectivity can be extended across the entire country."
Nigeria's 2017 ranking at 143rd of 176 countries by the International Telecommunications Union (ITU) in the ICT Development Index (IDI) underlined its limited broadband subscriptions.
The IDI is a composite index combining 11 indicators to monitor and compare developments in information and communication technology (ICT). Measuring the country's ICT readiness, intensity, and impact, the model correlates directly to the enabling environment for a growing Digital Economy, according to the World Bank.
Hope for Nigeria's digital economy
In recent times however, the Federal Government of Nigeria has channeled commendable efforts towards turning the tide to put the digital economy drive of the country on a top gear.
This is unequivocally amplified by government's rechristening of the communication ministry as the Ministry Of Communication and Digital Economy as well as launching of National Digital Economy Policy, both by President Buhari, in November, last year.
To realize the raison d'etre of the policy, the President directed Isa Pantami, communication and digital economy minister "to create a digital transformation technical working group that will work with the Ministry of Communications and Digital Economy to ensure seamless and coordinated implementation of projects, programmes and policies"
Nigeria has also advanced plans to deepen broadband penetration in the country to 70 per cent by 2025 as the digital economy ambition of the country rides copiously on broadband connectivity.
President Buhari has also inaugurated Communication and Digital Economy Complex (CDEC) in Abuja as efforts continue towards transforming the Africa's largest economy to a digitally-driven one.
The president described the CDEC as a building that will serve as a hub for effective coordination of the national digital economy operations. Expressing government's commitment towards delivering on the country's digital economy agenda, Mr president urged mobile network operators (MNOs) to ensure full attainment of the targets set in the new National Broadband Plan 2020-2025 by giving special attention to un-served and underserved areas while deploying their services.
The president, who expressed concern about the challenges faced by operators in the country, particularly vandalism of telecommunications equipment, also directed Pantami to work with all relevant government agencies to ensure full protection of critical national infrastructure like telecoms infrastructure.
This, therefore, puts the onus on all stakeholders involved in the process of raising the standard of internet connectivity in the country, ranging from private to public sector, to join forces for the required concerted efforts.
As at 2019, Nigeria ranks 75th in Global Connectivity Index report. The report states that as an early starter in ICT, the country has fallen behind others in terms of broadband penetration. Most GCI indicators place Nigeria below the global average, except for one impressive high-scoring dimension which is customer services.
"The nation needs to focus on its infrastructure establishment. Reliable and affordable broadband for businesses and homes are critical for future stages of ICT use. A larger group of Internet users and more online services could stimulate economic growth in this area," the GCI report reads.
Digital economy post lockdown
Indications are rife that the much anticipated post-COVID- era will present a different terrain to play for private and corporate individuals in Nigeria, with paradigm shift in mode of operation hopefully in favour of further adoption of digital solutions.
As indicated by the World Bank in its Nigeria's digital economy diagnosis report, the digital economy is based on the trio of digital citizen, digital government and digital private sector; driven by digital finance, digital entrepreneur, digital infrastructure, digital platforms and digital skills which all manifest in the larger socioeconomic setting in form of digital culture, digital health, digital transport, smart energy, ex learning, e -governance, e-commerce, and Industry 4.0.
The escape opportunities provided by adoption of digital solutions during COVID-19 may have opened the door for a drastic change and improvement in digital economy drive in Nigeria, as the current refuge and solace found in the digital world may outlive the global pandemic.
Last Line
The lockdown and restriction triggered by COVID-19 have brought people to realize digital channels as alternative ways of performing various tasks and operations. After surviving the pandemic, these realizations may stay and give boost to digital economy drive in Nigeria.