Finance
Crypto Company Seeks Shares in Top Football Team
May 29, 2022332 views0 comments
Crypto companies have recently seen a surge in exposure, permeating into pop culture and everyday life.
That's partly down to Elon Musk making predictions and statements about crypto, but also because interest in the industry has grown and given those involved more scope in expanding and developing their ideas. In some industries, such as video games, crypto has not always been well received. The same could be said for sports, but the landscape is changing rapidly.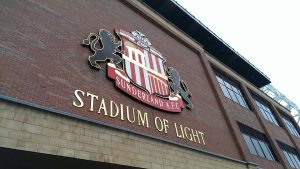 Early this year, WAGMI bought a controlling stake in English League Two side Crawley Town (don't worry, they're not the top team mentioned in the title). It didn't make major headlines as they're a small club very few people outside of their level have heard of, but it did receive some adverse reaction from the industry. Now, a second organization has targeted a much, much bigger fish.
Sunderland are a club of significant stature in English football, having played in the Premier League and residing in a ground that can hold 40,000 supporters. They've been the subject of a Netflix documentary, which perhaps didn't intend to record their demise and back-to-back relegation but did so. The Radio Times reports filming stopped after their unsuccessful attempt to get back into the Championship, which isn't a surprise, given that the show turned some staff members into fun figures.
The laughter is not pointed at the club anymore; they were promoted out of League One last season and are hoping to find their way back into the top flight. They're rated in the middle of the pack in the latest Ladbrokes Championship betting odds, but a club of their size will soon be at the right end of the table. That might not be the only newsworthy thing about them is The Fans Together (TFT) get their way; the crypto company want to buy a 39% stake from Charlie Methven and Stewart Donald.
The controversial owners are not popular on Wearside, not only because of the show but the decline witnessed under the stewardship. However, news that TFT is keen on buying a stake in the club has left supporters just as worried as those in Crawley. Many observers predict such a move would be disastrous for the club and football, but it is based on little more than fear of the unknown.
TFT is a fan token company that seeks to increase engagement digitally by selling digital tokens backed by crypto, offering certain benefits for the holders. Whilst the nature of their desired involvement in Sunderland is not clear, it is intimated that part of their business model could be to allow fans to buy a digital stake in the club. For some, it is a revolutionary concept that marks the future of sports support. For others, it is a method of separating dedicated, lifelong fans from money they can ill-afford to lose.
Before WAGMI took over at Crawley, they were linked with Bradford City, a link vehemently denied by Bradford. Kyril Louis-Dreyfus, the 24-year-old owner of the controlling stake in Sunderland, denies contact has been made between the two parties, whilst other outlets report a decision is close. Some opinion pieces have gone as far as to claim fans should be openly and unambiguously hostile to the proposed move.
Whatever happens over the coming weeks, the sleeping giant of Sunderland will kick off in the Championship for the first time since the opening day of the 2017 season, hoping they're on the right track. On the field, under their new manager, they might be. Off the field, it's a whole different ball game and what happens there could have a significant impact on the football industry for years to come.