Trade Fair
Customs seize 944 cartons of frozen poultry products in Ogun
February 5, 2020522 views0 comments
By Samson Echenim
The Ogun Area I command of the Nigeria Customs Service says it has intercepted movement of 944 cartons of frozen products into the country being smuggled from neighbouring Republic of Benin. The prohibited products have also been seized by the service and now awaiting destruction.
The command's spokesman, Abdullahi Maiwada said in a statement on Friday that the items which were intercepted in nine vehicles have been documented for destruction with the appropriate agency.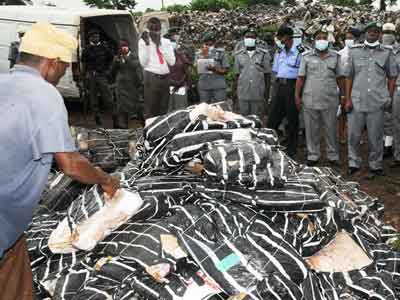 He stated, "In continuation with the fight against smuggling, the Officers and men of Ogun I Area Command under the leadership of Comptroller Agbara Michael on 27th of January 2020, based on credible intelligence intercepted nine vehicles fully loaded with frozen poultry products suspected to have been smuggled into Nigeria by daredevil smugglers.
"The said items were apprehended at Itaege, Idiroko Axis of Ogun I Area Command and brought to Sentry (in Idiroko) for proper documentation and destruction in tandem with the extant laws and guidelines. The exercise was successfully executed at the instance of the Customs Area Controller and relevant sister agencies as a pointer to one of the cardinal responsibilities of Customs to protect the society against the illicit actions of smugglers.
"This is indeed a demonstration of the gigantic contributions of NCS Ogun I Command towards making the theme of 2020 International Customs Day chosen by World Customs Organization (Customs fostering sustainability for people, prosperity and the planet) a reality.   
"To this end, the controller appealed to the general public to embrace legitimate means of livelihood and to avoid smuggling of such hazardous items that are practically inimical to attaining the vision of having a healthy and economically viable society."