Interview
Data hosting is next "oil money," but it's also Nigeria's biggest security problem —Adamu Garba, CEO IPI Solutions Ltd
July 31, 2019884 views0 comments
Data domiciliation and control is currently one of world's biggest markets, but Nigeria is still nowhere to be found in what appears to be the biggest source of its capital flight. Adamu Garba, CEO of IPI Solutions Limited and owner of local hosting platform, TucanaNG, in this interview with SAMSON ECHENIM, speaks on his company's efforts to retain a part of Nigeria's $60 billion loss in capital flight to foreign data hosting and the need for the government to see local hosting of data as a national agenda.
Excerpts.
During your panel discussions, one could observe that issues around cloud computing are getting intense. How serious is it for Nigeria?
IT IS A VERY SERIOUS ISSUE, a global issue. It is something that is shocking the entire world and it's a global evolution. That is why we call it industrial evolution. It is something that is evolving and involving the entire info tech value chain. So, it's a critical thing for every country to consider in order to realise its objective in information technology.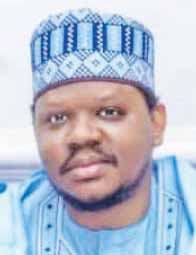 How does it affect Nigeria and what is the position of the government?
We need a national strategy around cloud computing because if you check…down to computing industry and now to the cloud, it is very key among those things that actually enabled those countries that spear-headed those technologies. What is Nigeria doing to ensure that the country comes clear to actualising these new technological changes that will enable a lot of opportunities, a lot of jobs and eliminate all the developmental problems of this country? That is why it is critical for us to consider but unfortunately, technology penetration is so low because of policy inconsistency and the territoriality of different regulatory agencies that come to synchronise to achieve a common objective. So, there is the need for collaboration so that these things can be achieved.
How much is Nigeria losing for hosting her data in foreign countries?
We are losing so much. Based on the checks I did with Fitch Ratings recently, Nigeria is losing close to $60 billion on data that is hosted outside of the country. We import everything and export nothing when it comes to hardware, software and now, data is completely outside the country. I can give you an example: the e-commerce value of Nigeria is about $12 billion as at 2017. As at 2018 it was $20 billion and by 2025 it is projected to be $75 billion. Now, where are they hosted? Where is Jumia hosted? Where is Konga hosted? So, this is a problem. About 116 million Nigerians are online. Now, these 116 million are sharing data. Where are the sites sitting? So, everything goes out. We give money to data providers, so we are losing a lot.
Where does your company come in?
Nigeria is getting matured in terms of network provision, but data centre collection is what Nigeria is missing. We have the data centre such as, Main one and Galaxy Backbone, and we also have the service providers, such as the MTN, Glo, Airtel and 9mobile, but all of them are serving the data provider. Who is the data provider? That's the missing gap. So our company is building applications. We built first application and launched it; we call it TucanaNG. It is a Nigerian platform for hosting Nigerian services and servers. Now we are building another product, one of the largest social media platform in Nigeria that has most of features of Instalgram, Facebook and Whatsapp built in one and all those features including e-commerce.
We are also building another application which will help Nigerians connect to service providers such mason, plumbers, electricians etc in their neighbourhood the same way you can call Uber service provider to your house. Our target is to collect the data and domicile it in Nigeria instead of us to ship them out through Facebook, Instagram and WhatsApp, Amazon and the rest of them. Why can't we have our own social media that will accelerate the lives of our people? We believe that data is where the next oil money is and that is why we are building our own data collection centre in our application so that Nigeria also can join the rising platform revolution.
That sounds interesting. When are you launching the app?
We are lunching the app in September. We are already 95 percent done. We just want to enable it. We are based in Lagos and Abuja. IPI is one of the most innovative companies in Nigeria. We want to be a platform organisation. You know IT has a lot of products, you have service and you have platform.
Let's talk about the data safety. What is Nigeria doing to ensure safety of government, business and private data?
Nearly zero. Once your data is outside your sovereignty, it is outside your control. Your data are at the mercy of the person that is domiciling or controlling it. So there is nothing you can do. If you like, implement almighty anti-virus, bring all the check and balances of network security, it won't stop anything. At the end of the day, your data are bundled and brought to another country under another platform and another regulation that you don't have control over. So, it means you are zero. We are badly exposed when it comes to data privacy and data security; we are like a motor park where everyone enters. What we need to do is to look at it as a national agenda; bring it to the office of the national security adviser. It is not something that can be handled at just the level of the ICT industry and its operators and that is actually one of my points here.
Now, your company is building a social media platform. How safe will the platform be for Nigerians?
With our app, Nigerians are absolutely safe. Now, think about it. Facebook now knows everything about you and they don't care about your safety as much as you think. Facebook can do virtually anything against us using our information with them. If they have a serious economic reason to compromise our data they will do it. But here, it is very much secured to be where you are sure; where there is a regulation within, than somewhere where what they do is just giving profits to their shareholders somewhere in Panama Island.
So, with you app, how do you intend to face competition and breakthrough against, mega social media platforms like Facebook, WhatsApp and Instagram?
We will breakthrough. Now, let me point out something. What makes Facebook big is because it has the backing of the US government where it came from. What makes Alibaba and the rest of them? They have the backing of their governments. Our intention also is to have the backing of our government through policy framework that will make it possible that even if foreigners are coming into our market, they can be made to partner with local providers so that our data can still remain with us. A situation where they have our data and they can decided to dump them somewhere is a problem for us. We can penetrate through robust marketing; we can penetrate through giving a value that the big names don't have, because we have merged so many features of applications in just one to make it easy for the user to pay subscription bills; to shop online; to be able to call in service providers like plumbers, electricians etc to your home; you will also be able to share your pictures and interact with your friends all in one portal and that will begin to happen in September.