The Dutch government is campaigning for former finance minister Jeroen Dijsselbloem to be the next managing director of the International Monetary Fund, according to a person familiar with the matter.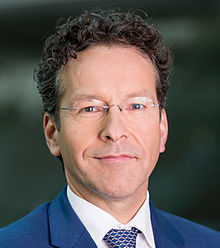 His appointment would put a senior euro-area crisis veteran at the top of the Washington-based lender at a time when the global economy is the weakest in a decade and increasingly threatened by international trade tensions.
Dijsselbloem is one of a handful of names being floated at the moment, including Bank of England Governor Mark Carney, while several possible candidates are already calling key finance ministries to drum up support, according to a senior European Union official.
Christine Lagarde of France, IMF managing director, will step down on Sept. 12 to become president of the European Central Bank once Mario Draghi leaves on Oct. 31. The IMF's last 11 managing directors all came from Europe.
Dijsselbloem, 53, who served as Dutch finance minister between 2012 and 2017, gained prominence in 2013 after he became president of the Eurogroup, the powerful gathering of euro-area finance ministers.
From that post he spearheaded the bloc's efforts to navigate the sovereign debt crisis, including striking bailout agreements for Cyprus and Greece. In 2015, he led testy negotiations with Athens, which included the IMF, that nearly saw the country leave the euro area. He also oversaw difficult talks on creating a euro-area banking union, including common supervision and resolution frameworks for the bloc's largest banks.